When you own an iPhone with OLED display it's very handy to use a tweak like Noctis12 dark mode to save battery life. You can also activate and use the app on older devices. Noctis12 is available for $1.99 in Packix Repository. Install the jailbreak dark mode tweak from Cydia Sources on iOS 12.
What is Noctis12?
Noctis12 is one of the most popular jailbreak tweaks for iOS 12 allows you to switch to Dark Mode. The application supports Widgets, Notifications, Dock, 3D Touch, Menus, Media Player, Alerts, Popups, and Many stock apps. Noctis12 is packed with system patches, segments and more.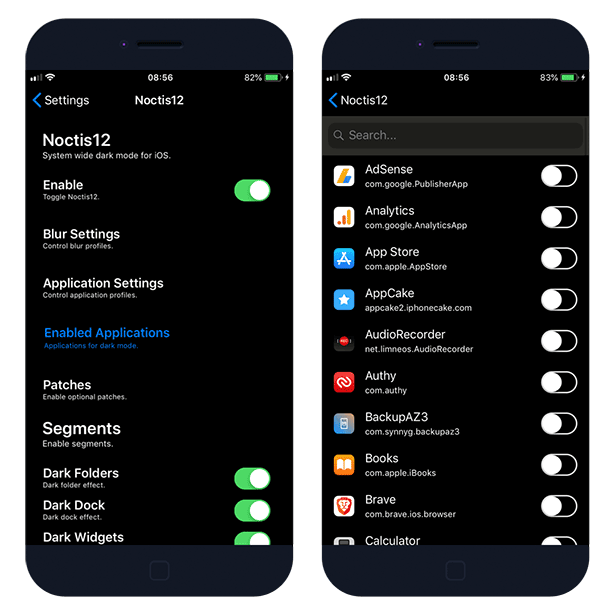 Eclipse is the only real alternative for this dark mode tweak for iOS 12, but Noctis12 is considered by many users as a better option to choose from. From app settings, you can configure blur options or select predefined profiles, activate Dark CC, Dark Keyboard, Dark CSS, and other patches.
Moreover, you have also controls over Segments including Dock, Folders, Widgets, Notifications, Media, and Alerts. Noctis12 support's also a dark mode for viewed websites via Safari browser.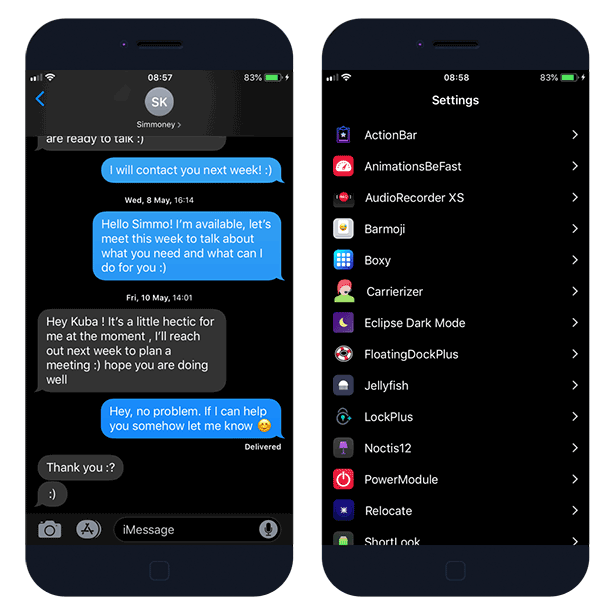 Before you can install Noctis12 it's required to download libcolorpicker-nepeta. This library is available in BigBoss Repo, but it can happen that the dependency will be not visible if you will try to download or search for it. To fix it there are available two possible solutions.
Install me.nepeta.libcolorpicker package using terminal commands on iOS from the repository or click this link from your Mobile Browser and allow to switch to Cydia app.
How to install Noctis12
You are just a few steps from installing the tweak from Cydia Sources. To add Noctis12 Repository to your list of Cydia Sources follow our step-by-step guide.
Step 1. Open the Cydia app on your device.
Step 2. Tap Sources → Edit → Add the official repo https://repo.packix.com/
Step 3. Switch to Search Tab and enter Noctis12.
Step 4. Tap the Install button.
Step 5. The tweak can be configured from Settings → Noctis12.
Changelog
Version 1.8.6
Added Quick Reply
Fixed rare crash when disabling Noctis
Fixed corner radius on media widget
Fixed some white flashes
Fixed message bubbles
Fixed albums in photos
Restored blur radius option in blur settings
Version 1.8
New Animations Mode
New Adaptive Light and Dark Mode
New Effects
Performance Improvements
Bug Fixes
Major Applications Overhaul
You might also like