NewGridSwitcher is a free jailbreak tweak allowing you to change the grid switcher for all iOS 11 - iOS 13 firmware. Install the tweak from BigBoss Repository for free and enjoy the new native app iPhone switcher. The tweak provides one of the cleanest alternatives to iOS default grid switcher. Works also with the latest jailbreaks.
What is NewGridSwitcher?
NewGridSwitcher tweak refreshes the look of default app grid switcher available in iOS. After installation, the jailbreak tweak will enable the native look and replace the switcher built into iOS 12 and iOS 13. There are no settings to configure. To use the native app switcher you must remove the tweak.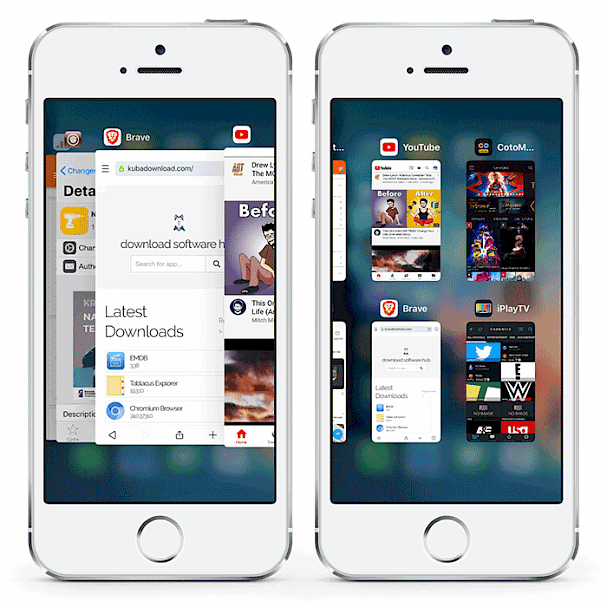 The tweak displays the list of opened applications in two rows allowing you to view four windows at once. This allows you to navigate and switch between apps much faster. What more, NewGridSwitcher is also compatible with KillX tweak that offers an option to close all apps with one slide down.
NewGridSwitcher tweak makes much better use of the available canvas space by replacing the native scrolling card-based switcher with a grid-centric switcher. The differences between each one are presented in the screenshot above.
For all developers interested to check how the tweak works can download the source code via GitHub. This tweak uses some source code from the LittleX tweak developed by iOS Creatix. NewGridSwitcher was released under a GPL license.
Add Repository to Cydia
You are just a few steps from installing the tweak from Cydia Sources. Add NewGridSwitcher Repository to your list of Cydia Sources to install the tweak.

Step 1. Open the Cydia app on your device.
Step 2. Tap Sources → Edit → Add the official BigBoss repo.
Step 3. Switch to Search Tab and enter NewGridSwitcher.
Step 4. Tap the Install button.
Step 5. The tweak doesn't require configuration.
You might also like