Did you know, Apple Mac computer shipments were 6.09 million units in the second quarter of 2021, up to one million from the same quarter the previous year. So, needless to say, Macs are popular devices.
But, not all Macs are ass popular as their counterparts. Take MacBooks for an example, theta is the most well know Mac device. Whenever you say Mac most people think about a MacBook. Then comes iMac. Robust, powerful, costly, and industry-oriented. And last in the pecking order is the Mac Mini.
Yes, it may just look like a metal brick but it packs some serious power and with this year's Mac Mini apple is trying to push its boundaries. So, what's new?
Well, let's find out...
History of the Mac Mini
Apple's Mac mini is the oldest product sold, and it's in its fifth generation, but still, it feels as fresh as ever. The first Mac mini was released in 2005, and it had a PowerPC G4 CPU. Apple tried to get into the BYODKM(Bring Your Own Display, Keyboard, and Mouse) market with this computer, where Apple sold it without accessories. For example, the Mac Pro doesn't include a display but ships with the Magic Mouse 2 (with Numeric Keypad) and the Magic Keyboard( Is that a piece of good news or bad).
The second iteration was launched in 2006, with the same design but with Intel Core CPUs and Bluetooth and Wi-Fi connectivity a year later.
In June 2010, the third-generation Mac mini was released. It featured a slimmer unibody aluminum case as well as an HDMI port. This Mac was later updated with a Thunderbolt port and Intel Core i5 or i7 processors.
The fourth generation, which debuted in October 2018, is still in the market. It is the latest to be equipped with an Intel CPU. This model has a darker Space Gray finish and a regular SSD. The majority of data connectors have been replaced by USB-C. This Mac mini is made entirely from recycled aluminum.
Apple'sfifth-generation model was introduced in November 2020. It is based on the Apple Silicon Processor and features a silver finish that was used in earlier models. The A12Z-based Developer Transition Kit was used by developers to test the new M1 Apple Silicon Chip. It had 16GB of RAM and 512GB of SSD storage. There were also two USB-C ports.
The Twist in the Tale
Apple will soon launch an M1X-powered Mac mini later this year. Tim Cook and his team will improve the specifications of its Apple Silicon puck. However, the older model will be discontinued. Details of the new processor were revealed last weekend by Bloomberg's Mark Gurman.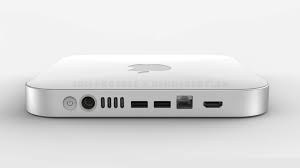 In the coming months, the group of computer nerds will be able to see the upgraded M1X-powered Mac Mini. This would be a nice echo of last year's M1 launch. Although the M1X chip system is the obvious choice, it's a surprising choice given the antipathy towards keeping the mini at the top of the specifications tree.

The second detail is the most intriguing. The M1 Mac mini is being discontinued, and the M1X Mac mini will replace it. It's only a 'Mac mini'. It would be easy to justify keeping two Mac mini options in your portfolio. This would also have kept the Mac Pro in line with the MacBook Pro.
Apple will continue with its M1-powered MacBook Pro laptops, which were launched last year, while it launches new MacBook Pro laptops, the 14-inch and 16-inch models with an upgraded M1X processor, a miniLED screen, and a new design. Together with the physical options, these two processor options will create a MacBook Pro that is both low-and high-end.
Mac mini rumors
A new Mac mini is believed to be on the way. Bloomberg reported in May that the next-generation Apple Silicon Chip would be featured on the Mac mini. It will have eight high-performance cores as well as two efficient cores. It will include 64 GB of RAM and additional Thunderbolt lanes for increased IO ports. This chip will also be included in the 16-inch MacBook Pro's upcoming refresh.
Jon Prosser claims that the M1X-powered Mac mini will introduce a new design to Apple's standalone Mac. This model will replace the Intel Mac mini with a higher-end space grey, while the M1 Mac mini will remain as the entry-level model.
Prosser claims that the 2021 Mac mini will have a new external chassis with a reflective surface similar to plexiglass on top of an aluminum enclosure.
Bloomberg's Mark Gurman, who published his Power On newsletter at the end of August, stated that a new Mac mini would launch within the next few months with a high-end M1X processor. He claims that the new model will feature a more modern design and have more ports than the existing model.
Winding-up
The Mac Mini has for long been the prodigal son among Macs thus, this new innovation might finally help the Mini's get the recognition they truly deserve.
And from an enthusiast's perspective whatever the new device is we are really excited about it. Hope so are you?


You might also like