It's rumor time!!!
Over the years the iPad has been the quintessential definition of Tablets. Its huge screen, great UI, and ample processing power have made it a go-to gadget for creative professionals all over the world.
So, what happened when Apple wants to expand its boundaries and create the largest Tablet to date?
Well, we will talk just about that in today's article.
Thus, without further ado... Let us begin
Apple plans to take on Amazon Echo Show 15 with new 15-inch iPad
Apple could soon launch a new iPad. This one could have a larger screen. Bloomberg's Mark Gurman hinted in his latest Power On newsletter that a 15-inch iPad could soon be released. This would allow it to compete with the Amazon Echo Show 15 or the Facebook Portal.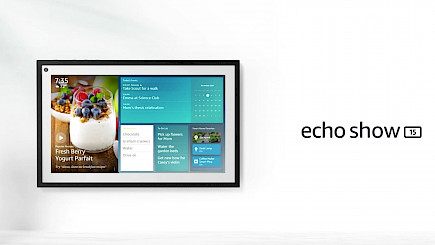 Gurman points out that the iPad will be a home device. This will allow users to control their smart devices and do basic tablet stuff. The device is expected to be thick enough to hold powerful speakers but not too bulky, as was the Echo Show 15.
The device will have a camera that can be used in landscape orientation for video calling and wall-mount support to allow users to hang it on the wall. Gurman believes that Apple's new 15-inch iPad will be a better choice than Amazon's and other rivals' due to its more flexible App Store, faster processors, and better camera performance.
To make the transition from iPadOS to a home device easy, it could come with a "Home Mode". It is also likely to double as an iPadOS laptop.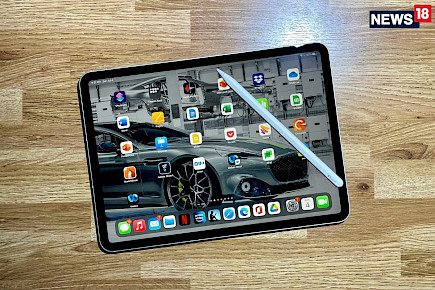 Apple may be working on an iPad that has a large screen. This could make this idea a reality. There might also be some downsides. If the rumored 15-inch iPad is made official, it will likely be very expensive. Apple will need to make Siri more efficient to be able to compete with Alexa and Google Assistant. We will see what Apple does next.
Apple is expected to launch a new iPad Pro by 2022. This could include a redesign, improved internals, wireless charging support, and 5G.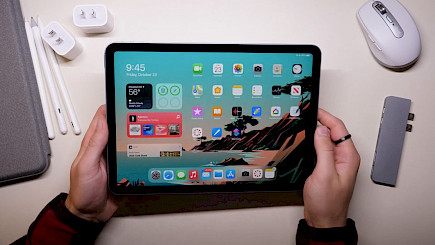 Gurman also suggests (via) that Apple might release an external display to go with its new Macs. This could be a low-cost option.
Amazon is the market leader in smart speakers and smart displays, followed by Google.
Sales of smart speakers and smart displays have seen a slight increase year-over-year. Strategy Analytics' latest report shows that device sales are being affected by a shortage of semiconductors. This shortage is affecting Chinese vendors more than other countries.
According to the latest study, smart speaker and smart display sales grew by 10% over the past year to 39.3 million units. It is still a record for a third quarter, but sales are flat compared to Q2 2021's 3 million. The spread of new COVID-19 variants is also affecting the market. This is also influencing sales of smart devices.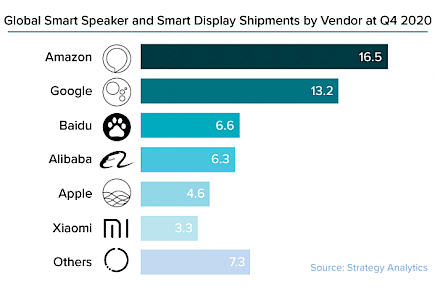 The sales of smart displays in Q3 jumped by nearly 19%, to 11.2 million units. Meanwhile, basic smart speaker sales increased approximately 7% during the same period. 18 of the 50 top-selling models in Q3 2021 included smart displays.
With 1.5 million units sold, Google's Nest Hub was the top-selling smart display in Q3 2021. It was followed by the second-generation Amazon Echo Show 5 and the Baidu Xiaodu Zaijia 1. c. With just over 5,000,000 units sold, Google's Nest Mini was the most popular device overall in Q3 2021. It was followed by Apple's HomePod Mini and then Amazon's fourth-generation Echo Dot.
The leaderboard in the global smart speaker and smart display markets for Q2 2021 remained the same, with Amazon at the top. Google, Baidu, and Alibaba are closely following Amazon, the e-commerce giant. As these companies continue to dominate entry-level ($50–$99) and ultralow ($49–$49) price ranges, the gap between the top 5 and the rest of the market continues to widen. Apple's surge was fueled by its HomePod Mini.
And Intelligent Home Director David Watkins stated that "our earlier forecasts indicated we expected the market would return to stronger growth rates in 2021 if supply constraints eased," but this is not happening. Every quarter, China alone accounts for between 30% and 40% of the global market.
Therefore, the challenges faced by Alibaba, Baidu, and Xiaomi will indicate how China manages its supply chain problems. These contract manufacturers, along with dozens of smart display and smart speaker brands, will be settling in for a long period of supply chain problems.
Jack Narcotta (Principal Industry Analyst, Smart Home) said, "While there was a return of form in the global smart speaker/smart display market in the first half of 2021 as vendors capitalized upon pent-up demand starting in 2020, the lingering, but not intensifying, problems of shipping and logistics, component shortages, and the Delta and Omicron versions of the COVID-19 virus in the second half of 2021 are all hanging heavy on this market." This market's growth won't return to pre-COVID levels before at least 2023.
Final words/ Our Views
Expanding the screen of an already huge iPad could bring up an array of challenges for Apple.
Firstly, a larger screen would drive up the cost of the device. Plus, the whole UI/ AI would have to be optimized to fit the screen.
Secondly, the added screen will attack the portability of the device to a great extent. Also, Apple would have to release a bigger and more powerful chip to power the device without adding any additional weight to the device.
But, despite these obstacles if, Apple manages to make their dream reality then they will once again be crowned as the titans of the Tablet industry.
You might also like