MovieBoxPro is a very popular video streaming platform for iOS and now it is also available on Desktop for macOS users. MovieBox works only for verified accounts and it's hard to get in but if you use this service all your data will be synchronized automatically with the desktop app. Download MovieBoxPro for Mac.
Download
Download MovieBoxPro for macOS
Changelog
Version 7.1
Fix the bug that can't select language when search by open subtitle.
Optimize the display and layout of the sidebar.
Optimized the operation of mouse dragging.
The mouse can be automatically hidden when playing a movie.
Movies and tv shows can be filtered by country and area.
Version 7.0
What is MovieBoxPro?
MovieBoxPro is packed with the same features that you can find in MovieBox iOS version. The pirated streaming platform offers access to more than 10.000 movies and TV shows mostly in 720p and 1080p, but there are also available 360 videos. Google Account is used to save users' fav and play history. Also, download videos directly to the device, and you can select subtitles to display in the movie.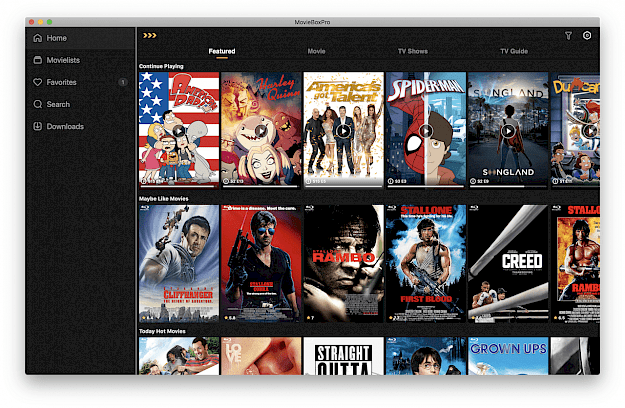 The desktop version of MovieBoxPro is also available for free, but with limited quality of videos 480p. If you like there is available a paid VIP membership that offers additionally higher streaming speeds, HD quality streams, no ads, and last but not least native TV versions of the app for Apple TV and Android TV.
What's more, the desktop version can also cast videos to nearby devices including AppleTV, download subtitles, manage favorites, and more. Everything is synchronized with the iOS version including watched videos, a list of favorites TV shows, etc. There is also an option to activate picture in picture mode on Mac.
What features offer MovieBoxPro?
Free to watch SD videos and with paid subscription also HD videos
Multi-language subtitle switching
Multi-audio switching
Daily database updates
Download files for offline viewing
CDN network for fast video streaming
H265 encoding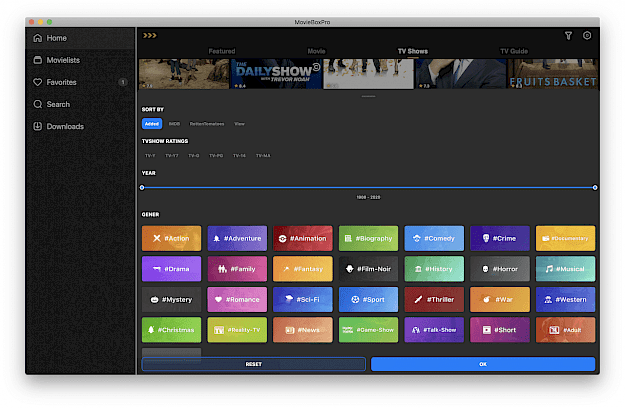 MovieBoxPro supports Apple TV 3rd generation (compatible with screen mirror function or AirPlay). To watch movies on those devices it's required to activate screen mirror function or AirPlay from the control center. The TV App for AppleTV and AndroidTV Box can be downloaded from the official website.
Apple TV is supported on 4 generations or 4K or newer, and only for VIP members.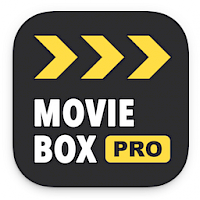 Best MovieBoxPro alternatives
1. Popcorn Time SE
Popcorn Time SE is a free alternative for MovieBoxPro designed to stream torrented movies and the latest episodes of popular TV series. The program is aggregating links to torrent files with video. Download PopcornTime SE for Windows, Linux, and Mac. Cast videos to devices like Chromecast and Apple TV.
In the main window, you have access to movies and TV-series bookmarks. There is displayed a list of all available items represented by nice-looking graphics. From this level, we can quickly see the film review on IMBD and add an item to a list of favorites. Videos are streamed from BitTorrent.
2. Leonflix
Leonflix is a free search tool for movies and TV shows that works on macOS and Windows. It scrapes video hosting websites and can find and return the videos hosted on those sites. Every time a video changes hands, from the host to the Putlocker-esque site that shows it, more ads are added. Leonflix supports also .torrent files.
By the time it gets to the viewer, the content has been "stepped on" so many times that it is nearly unwatchable. Leonflix's novelty is that it extracts only the desired content that these sites provide, giving it an "acetone wash" that filters out all the adware and pop-ups.
3. Stremio
Stremio is a free app to stream movies, TV shows, series, live television from your desktop. Discover, organize, and watch video from all kinds of sources on any device. There are also add-ons for Torrent streaming, YouTube, Netflix, and Twitch.tv support. Discover new films, TV shows, and channels.
Feature highlights from Stremio include an option to continue watching movies, series, or videos at a point where you left, get notified of new episodes, browse through the recommendations you will get based on your viewing habits. Stremio offers also an option to rent films.
4. Zona
Zona is a free platform to stream torrent movies, TV Shows, broadcast TV channels in real-time, play music from social network VK, listen to online radio streams, and even watch live sports events. Download torrents with Zona and watch them before the download is complete.
Zona can stream or download movies, switch audio languages, offers support for subtitles, and an option to send videos to DLNA supported devices. You can easily navigate through categories, search for serials, movies, music, games, etc. You can choose quality, size, audio, and subtitles.
5. DuckieTV
DuckieTV is a software that helps you to not miss the next episodes of favorite TV-Shows. Download new episodes with subtitles automaticity. DuckieTV gives you an integrated torrent search to help you get to the right download. Use popular torrent providers to search for new episodes.
DuckieTV can also download subtitles for episodes. From the settings, you can choose which subtitle languages you want to search for. DuckieTV is using the most popular torrent providers to search for new episodes. There is an option to make a copy of the series, episodes, and watched list.
6. TeaTV
TeaTV software allows you to stream and download movies and TV shows in 1080p HD quality for free. Tea TV offers the fastest, easiest way to find and discover movies, actors, and shows. Download the newest version of TeaTV for Windows, Mac, and Android devices.
TeaTV features the option to watch trailers, read reviews, and get shows season details, including the latest information on upcoming movie releases. You can use the software also to track the movies you own, the movies you wish you had, the movies you saw, and the movies you want to watch.
7. WebTorrent Desktop
WebTorrent Desktop is a video and audio player allowing you to stream torrented movies directly from BitTorrent and WebTorrent networks on to go. There is even a great feature to stream videos to AirPlay (Apple TV), Chromecast, and DLNA compatible devices.
WebTorrent Desktop is an app designed to instantly stream audio and video files. WebTorrent fetches file pieces from the network on-demand for instant playback. There is an option to associate the player with magnet links, torrent files, and create torrent files.
8. Powder Player
Powder Player is a free great application allowing you to stream torrented movies and play videos directly from the BitTorrent network. Stream movies from YouTube and open video format supported by VCL media player. Download Powder Player for Windows, Linux, and Mac.
Powder Player is a combination of a torrent download app and a video player. You can use also the app to download any torrent files as well. There is an option to control the download speed, check the history of viewed files, associate the player with magnet links, torrent files, and media files.
9. Soda Player
Soda Player software can stream torrent movies and play magnet links and .torrent files instantly. Soda Player offers an option to stream BitTorrent video files and watch movies on your Chromecast and Apple TV. Download and watch movies instantly. AceStream links are also supported.
Stream movies to Apple TVs, all Chromecast, and all devices compatible like Android TV, modern TVs, etc. The smart TV engine will pass-through the video and/or audio tracks without transcoding when the codec is supported by your device. There is also support for 1080p and up to 4K videos.
You might also like