Minotaur is a new jailbreak tweak that adds an option to access all your notifications from anywhere in iOS. View and interact with missed notifications on your iPhone directly from the notification bell icon displaed the Status Bar. Purchase the tweak for $1.99 from the Packix repository. iOS 13 is supported.
iOS Notification Center interface does a fair job of merging all missed notifications into one convenient place, but thanks to jailbreak you can install Minotaur tweak that adds an unobtrusive status bar icon that lets you know when you have new notifications. Tap on the bell icon to reveal an lightweight interface menu to easily view, open and dismiss any of system notifications.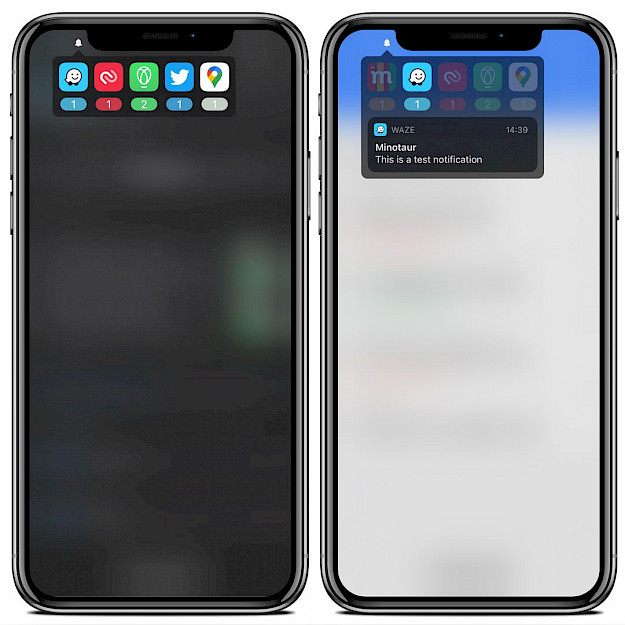 After installing the tweak, a dedicated preference pane is added to the Settings app where you can configure all options to your liking. Minotaur comes with a large number of customization options. The tweak doesn't replace the native Notification Center interface, but rather works as its own separate extension.
Minotaur works with both new and older devices in mind. This means that the tweak will look great on every iOS 13 device, be it old or new, an iPhone or an iPad. Minotaur tweak comes in dark and light mode. The style can be chosen manually, or Minotaur can adopt automatically to your system setting.
For those veteran jailbreakers, you might remember the tweak "Confero". You can think of Minotaur as a modern successor to Confero, developed for iOS 13. The latest version provides support for Grupi, and ofers even more features such as option to move icon position, option for haptic feedback on selections, option to remove notifications from LS/NC, and option to disable Minotaur when locked.
Add Repository to Cydia
You are just a few steps from installing the tweak from Cydia Sources. Add Minotaur Repository to your list of Cydia Repos.
Step 1. Open the Cydia app on your device.
Step 2. Tap Sources → Edit → Add the official Minotaur Repo.
Step 3. Switch to Search Tab and enter Minotaur.
Step 4. Tap the Install button.
Step 5. To configure the tweak navigate to Settings → Minotaur.
Tweak Settings
Select between an adaptive, dark, or light UI style
Select between swiping up or down on notifications to clear them
Select between red, adaptive, or ColorBadge-style badge coloring
Enable or disable ColorBanners coloring for individual notifications
Replace the Status Bar's Location Services indicator with the Minotaur icon
Hide banner notifications from popping up
Hide Minotaur when recording system screen
Send a test notification
You might also like