Every iPhone is a powerful device that can run even different systems in virtualization. Now thanks to the ported version of Mini vMac for iOS there is an option to emulate machines like Mac Plus, Mac II, and Mac 128K directly on iOS.
---
What is Mini vMac?
Mini vMac for iOS is a free Mac Plus, Mac II, and Mac 128K emulator that can run directly on your iPhone or iPad. It features a full simulated keyboard (including all Mac keys), supports full sound output, you can use an external keyboard if available, change the emulation speed, and easy import disk images with apps.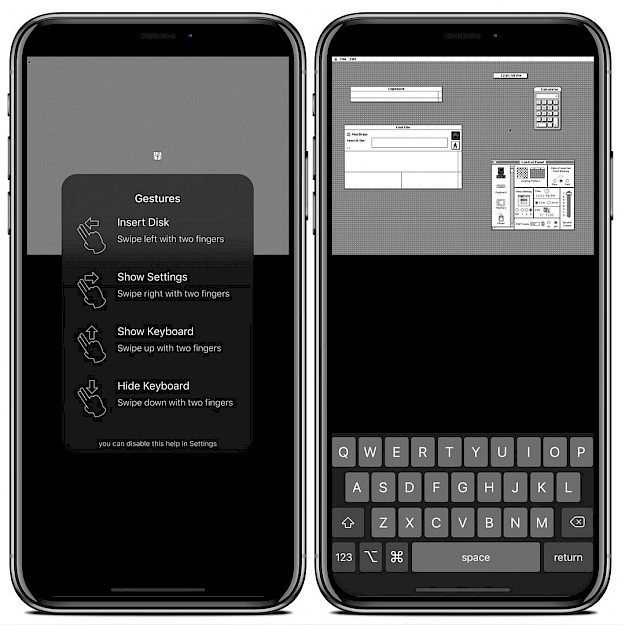 To use the emulator you need first to download a ROM image for Mac Plus, Mac II, or Mac 128K. Next, it's required to import Disk images with Mac software (with .dsk or .img extension) into the Mini vMac emulator. The application can be sideloaded with AltStore on your device and works on iOS 8 and above.
Mini vMac for iOS supports split-screen multitasking on iPad OS. To access all settings swipe right with two fingers to show the settings dialog. From here you can make the emulated machine faster than a Mac Plus, switch between touchscreen and trackpad mode, change the layout of the emulated keyboard.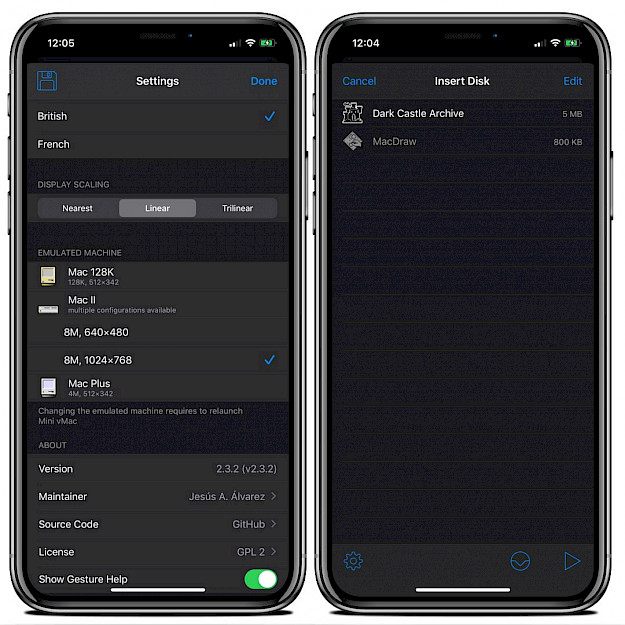 What's more, from the Settings page, you can also select the emulated machine. Mini vMac for iOS can run Mac Plus, Mac II (640x640 or 1024x768), and Mac 128K. If you decide to change the emulated Mac it's required to restart the application.
Mini vMac for iOS can import the ROM (vMac.ROM) and disk images from other apps (iCloud Storage, etc.), using AirDrop, iTunes File Sharing, or the iOS Files app. The emulated keyboard features all the keys on an Apple Extended keyboard.
Use the screen as a touchscreen, where tapping on the screen acts as a mouse click, or activate a trackpad. In this mode, dragging is done by tapping twice fast and holding it down, or by holding down one finger and dragging with the other.
Download Mini vMac for iOS
Download Mini vMac IPA for iOS
How to install Mini vMac IPA
Mini vMac for iOS IPA can be always installed on the iDevice using AltStore. Every 7 days after installing Mini vMac, you need to resign the app and send it to the AltServer (running on PC or Mac), which installs the resigned jailbreak tool back to your device using iTunes WiFi sync (works also using a USB cable).
Step 1. Download AltStore and install the app on your PC or Mac.
Step 2. Open Safari and download Mini vMac IPA (5 MB).
Step 3. Lunch AltStore and navigate to "My Apps" section.
Step 4. Tap on the + button available form the left-right corner.
Step 5. Select downloaded Mini vMac for iOS version 2.3.2 to install.
Step 6. AltStore will start installing Mini vMac emulator.
Step 7. Mini vMac app will be available from your home screen.
How to configure Mini vMac for iOS
Mini vMac for iOS requires a vMac.ROM, vMacII.ROM, or vMac128K.ROM to emulate the machines. Using ROM files is illegal but you can find all necessary files online.
Step 1. Download vMac.ROM or vMacII.ROM from GitHub.
Step 2. Import the ROM files to Mini vMac app.
Step 3. Tap on the Share button and "Open in Mini vMac".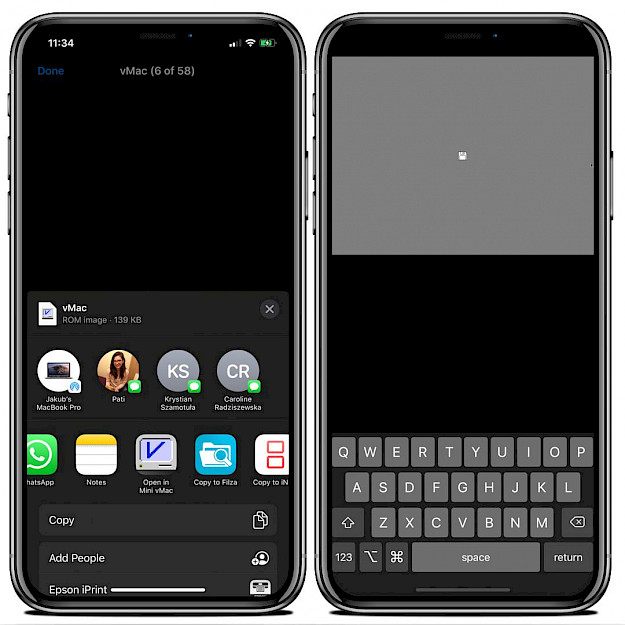 To run for example MacDraw, MacPaint, SinCity, DarkCaste, and any other software you need to download disk images (.dsk or .img) containing the apps.
Step 4. Download disk images containing Mac software.
Step 5. Import the DSK files into Mini vMac.
Step 6. Run the apps from the Insert Disk menu.
Changelog
Version 2.3.2
Can now be sideloaded with AltStore (download the IPA file)
Support split-screen multitasking on iPad OS
Added overlay showing gestures
Fixed handling of hardware mouse/trackpad when using trackpad mode
Minor adjustments to UI transitions
You might also like