Melior is a beautiful, highly customizable, iOS stock volume HUD replacement compatible with all devices running iOS 10 up to iOS 13.5. You can install it from Cydia repositories for free. The tweak provides one of the cleanest alternatives to iOS' default volume HUD. This is a must-have jailbreak tweaks .
Melior jailbreak iOS tweak refreshes the lock of iOS volume HUD created by Apple and adds some new useful features. You can control the volume level by pressing the hardware buttons or by swiping up or down on the interface. From the app setting, you can change the position and look of the HUD.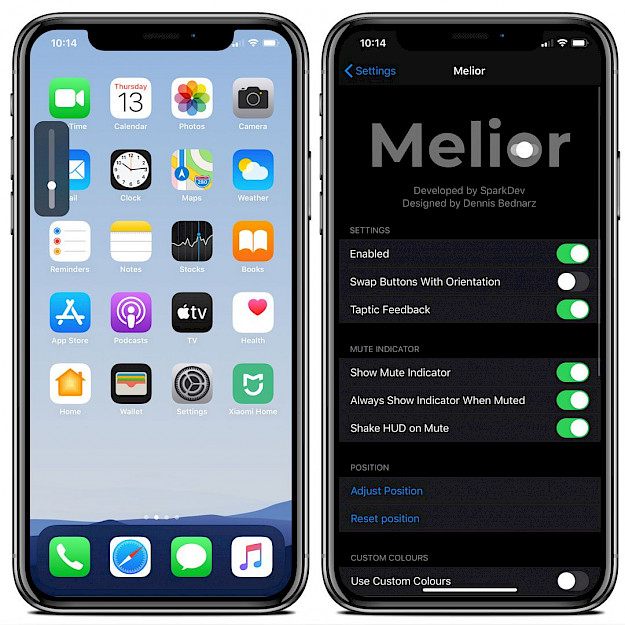 After installing the Melior tweak a new preference pane is added to the Settings app from where you can modify all settings to your liking. You can change almost anything. The alternative volume HUD is highly customizable.
Adjust widget position, change the background color, slider min track color, slider max track color, mute glyph color, swap buttons with orientation, hide mute indicator, shake HUD on mute, and more.
Add Melior Repo to Cydia
You are just a few steps from installing the tweak from Cydia Sources. To add Melior Repository to your list of Cydia Sources follow our step-by-step guide.
Step 1. Open the Cydia app on your device.
Step 2. Tap Sources → Edit → Add the official repo Melior Repo.
Step 3. Switch to Search Tab and enter Melior.
Step 4. Tap the Install button.
Step 5. The app can be configured from Settings → Melior.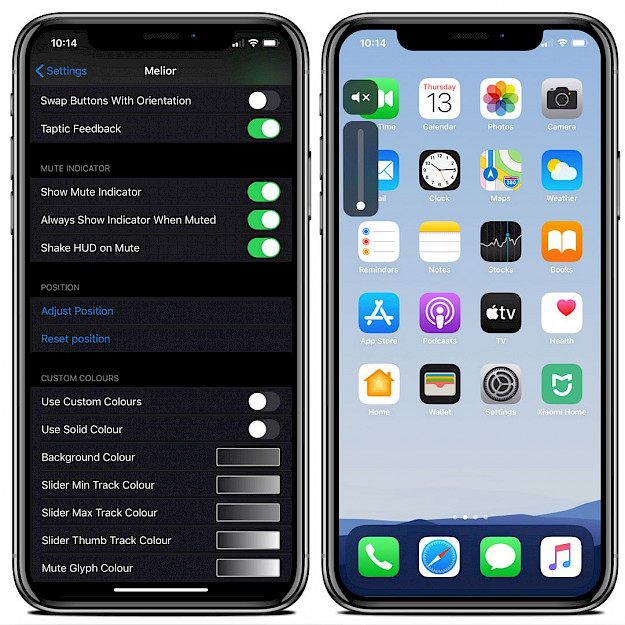 Tweak Settings
Toggle Melior on or off on demand
Swap buttons with orientation
Activate Taptic feedback
Show mute indicator
Always show indicator when muted
Adjust volume hud position
Reset position to default settings
Use custom colors
Use solid color
Change Background color
Change slider min, max, and thumb track color
Respring the device
Changelog
Version 2.0.0
Version 1.1.0-1
Fix preferences bundle on non A12 devices
Other bug fixes
You might also like