Giving presentation are a crucial role that every person has had to do at least once in their lifetime. Whether it be for school projects, college assignments, or sales seminars as a working professional.
A presentation provides an audio-visual insight on a topic which helps our brain to better understand a topic than looking at a blank piece of paper.
But, have you ever wondered how academic presentations differ from professional ones?
For starters, they are way more informative thus, there is little to no room for error. So, if you run into any technical glitches or miss something it's all on you.
But, is there any way around this dilemma?
Yes, there indeed is, and we call that a Multi-Presenter Slideshow.
In a multi-presenter slideshow, the authority of demonstration is divided among numerous people so multiple people can give their valuable insights on each different slide at one go.
In today's article, we will look at how you can give a multi-presenter slideshow with the help of Apple Keynote via your MacBook.
Why should you go for a Multi-Presenter slideshow?
Multi-Presenter slideshows offer a few unique perks that normal presentations may lack.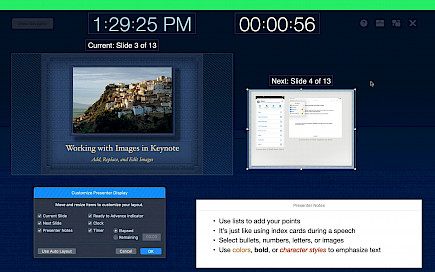 Firstly, giving the authority of demonstration to more than one person eliminates the risk of technical glitches running the presentation.
It may happen the servers are not working or the device is taking too long to respond to someone. In such a case the other presenter can come forward and complete the presentation on their behalf.
Secondly, professional presentations contain a lot of information that needs to be presented in a short duration. Thus, missing out on a few minutes but crucial information is common. Especially if you are a fresher.
In those cases, the additional presenters can anytime step forward and describe the points you have missed.
Thirdly, Multi-Presenter slideshows help to divide the burden of a presentation among numerous people so, each can describe the part they can confident about.
Studies have also shown that a change of speaker every few minutes retains the attention of the crowd better.
Starting a Multi-Presenter slideshow via Keynote
Users can give a Multi-Presenter slideshow in Keynote by following these simple steps:
Open the presentation you have to show via any stock or third-party app you fancy., Although we prefer you use the "Keynote" app for best results.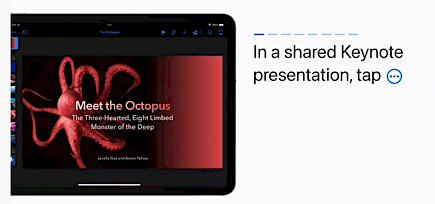 In the shared presentation look for the "more" button of the top right corner of the screen. The button resembles three encircled dots.
Tap on the more button.
A drop-down menu will appear.
Look for the Multi-Presenter slideshow option and click on it.
Make sure all other presenters too have toggled the Multi-Presenter slideshow option to connect with them.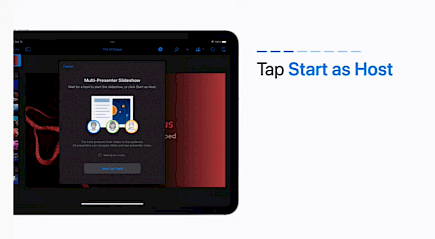 Now click on "Start as Host" and start presenting your presentation.
Switching presentation authority amidst a presentation
If you want to switch presenter in between a presentation then: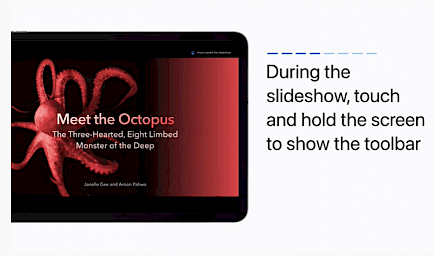 Touch and hold any part of the screen until a toolbar appears.
In the toolbar, you will find the "presenters list" button, click on it.
A list of all presenters will appear.
Now tap on the control slideshow button located beside the name of a presenter to give them the authority of demonstration.
Alternatively, any other can click on the "Control Slideshow" button to get control of the presentation.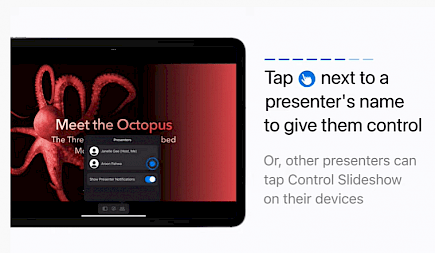 Tap on the screen to dismiss the presentation window and everyone will get the notification that the presenter has been changed.
To stop sharing control of presentation with another presenter
Click on any part of the screen to make the toolbar appear then go to the "Presenters list".
Locate the presenter you want to dismiss among the list of available presenters.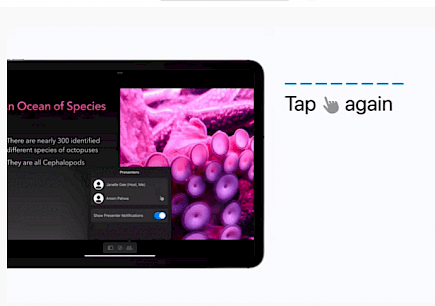 Tap the "in control button" located beside the name and restrict them from being a presenter.
Winding Up
And just like that, you can give a Multi-Presenter slideshow on the Keynote app via your MacBook.
Hope you liked the article. We will be back soon with other fun hacks and tutorials, until then. Stay Tuned, Good Day!
You might also like