Some Mac Studio owners have reported hearing a high-pitched "whining" sound emanating from the fan.
There are pages of complaints about the problem on the MacRumors forums, and it appears to be impacting a large number of people.
So, today we will dig deep into this matter and try to find out what is causing this technical problem and if there's a remedy available for it.
Let us begin…
The News:
A few Mac Studio owners have noticed that their Mac Studio models have been making a high-pitched "whining" sound that appears to originate directly from the fans. There are a number of threads in the MacRumors forums regarding the issue, and it appears to be an issue for a lot of users.
The majority of complaints come from Mac Studio owners who opted for the M1 Max Mac Studio rather than the Ultra version. This isn't a surprise since both models have different thermal settings.
Users who have problems have described the sound as a high-frequency sound that can be difficult to ignore and is in addition to the normal fan sound.
There's a range of complaints; however, each seems to be describing the same general sound. This is from MacRumors reader H43m: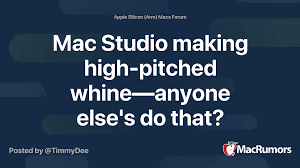 " I just opened the box of my Mac Studio with M1max (64GB RAM, 32-core GPU, and 1TB SSD). There is an irritating noise at 2120hz (I tested it with the sinus wave generator). I'm convinced that it is the result of the fan and not an actual whine from the coil, as it changes frequency when the fan speed is changed. This is certainly not acceptable for a product that has this kind of price. "
It appears that the M1 Max and M1 Ultra have different heatsinks, which is why one has issues while the other does not. It is worth noting that the M1 Ultra is equipped with an even larger copper heatsink, which stops the fan from turning on as often. Moreover, there is also an issue with that M1 Max setup that causes the whine.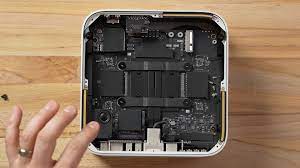 It is important to note that there are a few exceptions. Certain models seem to be suffering from this issue, and certain users have stated that they haven't heard an unusual sound that isn't the typical quiet fan sound. There are some complaints about the volume of noise from the fan with no whine, but some of those who are dissatisfied with their equipment appear to be hearing the high-pitched sound instead of the normal fan sound.
Buyers who are within their return period are eligible for exchange from Apple. However, some reports suggest that the replacement machines are experiencing the same problem. It's not clear whether this issue can be resolved through a software update or whether it's a hardware problem that Apple is addressing.
Winding-up
The internals of the Mac Studio has been cramped up to fit a smaller form factor, which according to most experts is causing these high-pitched sounds.
As of now, no remedy is available for this problem but, we will update you whenever something pops up.
Thank you for being with us. We will be back soon with more tips, hacks, and remedies. But, until then stay tuned and have a Good Day!
You might also like