There had been a lot of outstanding rumors about a new external display and a revamped version of iMacs since mid-2021.
Although, nobody thought this would be possible till 2023 or later. Due to Apple's history of calling and recalling products.
But, this time Apple has surprised a lot of its audience by launching the new Mac Studio and Studio display at the first-quarterly event of 2022.
So, in today's article, we are going to take a brief walk-through and find out more about Apple's costliest setup to date.
Let us begin…
Mac Studio and Studio display: Overview and Design
The Mac Studio appears more like an upgraded model that is a bigger version of the Mac mini. It's 7.7-inches across as well as 3.7-inches tall. Inside, it has an ingenious thermal design that lets the device run at the highest level of talk without any hassle.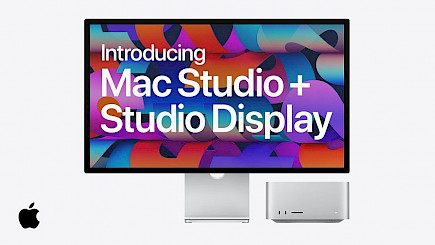 It has an exclusive system of dual-sided blowers with precisely placed airflow channels as well as over 4,000 perforations along the sides and bottom of the enclosure that guide air throughout the internal components and assist in cooling the chips with high performance. In addition, Apple noted that due to the power of Apple silicon technology, Mac Studio remains incredibly silent, even under the most intense loads.
The core of the company has integrated its M1 Ultra, the latest and most robust Apple silicon to date. In addition, it features a brand new UltraFusion technology that connects the two M1 Max chips to create the first system-on-chip (SoC) that is unmatched in terms of performance as well as capabilities comprising 114 billion transistors, the most ever on the personal computer chip.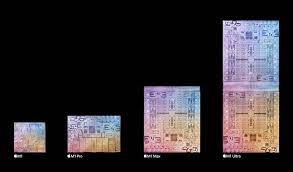 It's so powerful that users can actually get 18 streams of 8K ProRes 422 video. At the moment, there isn't a single system in the world capable of achieving this feat.
The SSD inside Mac Studio can deliver up to 7.4 GB/s of performance. Users are able to upgrade their capacity to 8 TB. Apple also provides Mac Studio with M1 Max. It can accommodate up to 68GB of unified memory. The M1 Ultra models can support up to 128GB of RAM.
Mac Studio Connectivity & Ports
In terms of connectivity, The Mac Studio comes with multiple ports: four Thunderbolt ports that connect devices and displays as well as the 10Gb Ethernet port, Two USB-A ports, an HDMI port, and a pro audio jack to connect audiophiles with high-impedance or amplified external speakers. The Mac Studio also comes with Wi-Fi 6 and Bluetooth 5.0 as well.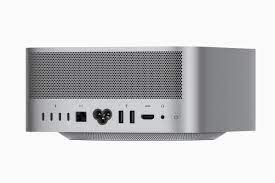 In a nice gesture, Apple has inserted two USB-C ports. It on M1 Max can support 10Gb/s USB 3 while on M1 Ultra supports 40GB/s Thunderbolt 4 on the front. There's also an SD card slot in the front that can quickly import video and photos.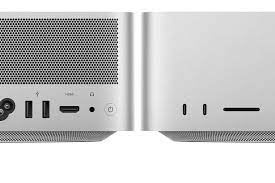 These ports on the front will allow users to dock portable storage devices or microSD with ease and then put them on the back to keep away from accidental removal of the display connection or physical harm.
However, Apple Studio Display features a stunning 27-inch 5K Retina screen that boasts more than 14.7 million pixels. In addition, it boasts a maximum luminosity of 600 nits, a P3 wide color, and supports over one billion colors.
Display Features & Specs
It also features True Tone technology that can automatically alter the display's color temperature as the surroundings change to provide a more natural experience. It also comes with an anti-reflective layer that can reduce reflection on the screen, especially when viewing material that is displayed on it.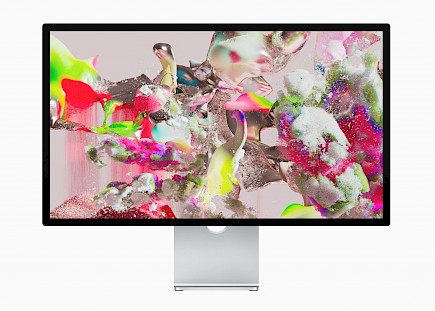 In addition, for areas with high-intensity light sources like the sun, Apple says that the Studio Display comes with a new nano-texture glass option. The Nano-texture glass, first featured in the Pro Display XDR, scatters light to reduce reflections while still delivering stunningly high-quality images.
It also has a slim bezel screen with an aluminum enclosure.
In addition, it comes with a built-in stand that allows users to tilt the screen by up to 30 degrees. To accommodate the requirements of various environments, Studio Display also offers the ability to adjust the tilt and height of the stand with a counterbalancing arm, which makes the display appear light when adjusted. A VESA mount adapter is also available and allows the portrait or landscape orientation to provide further flexibility.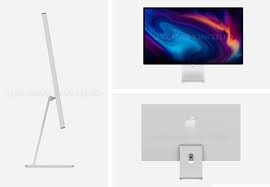 On the inside, Apple has used an A13 Bionic chip to ensure seamless operation of the camera and audio system. In addition, it comes with a 12-megapixel Ultra-Wide camera that includes Centre Stage, a feature that will automatically keep users centered in the frame even as they move about for more enjoyable video calls.
The Studio Display has three USB-C ports that provide speeds of up to 10 Gb/s for connecting high-speed peripherals, storage, and networking directly into the display.
Battery, Power, and Eco-Friendly Specs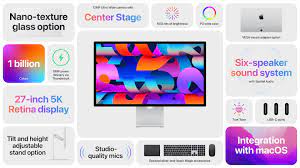 The Thunderbolt port can be utilized in conjunction with Studio Display and all attached peripherals connected to the Mac using a single cable. The cable can also deliver the power of 96W to the Mac notebook, which allows Studio Display to even fast-charge the 14,0-inch MacBook Pro. A MacBook Pro could be connected to up to three Studio Displays.
As with the other Apple devices, both the latest Mac Studio and Display are manufactured using an eco-friendly manufacturing process that is responsible for the sources of raw materials.
Furthermore, Mac Studio is said to consume less energy than its competitors in order to achieve its maximum performance. For example, during the period of one calendar year, Mac Studio will use more than 1,000 kilowatts of power compared to a top-of-the-line desktop PC.
Additionally, both Mac Studio and Studio Display utilize 100% recycled rare earth materials in their magnets, as well as recycled tin for the soldering process on the logic board that is used as its main component, and recycled aluminum and plastic in different components.
Both products conform to Apple's strict standards for energy efficiency and are free of harmful chemicals, and incorporate wood fiber as the material, which is sourced from recycled sources or sustainably managed forests.
Winding-up
The Mac Studio and Display, although really expensive is by far the most capable Desktop device you can find anywhere.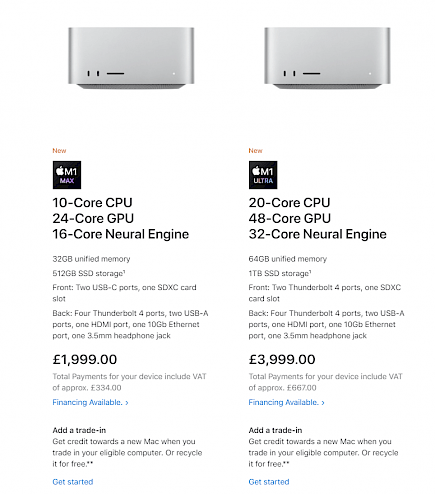 Powered by the brand new M1 Ultra it has the potential to become one of the best devices in the world.
So, if you are one of those few people who want and have the cash to afford this new setup, we advise you to visit Apple's official website and pre-book your order right now.
And as for the Mac Studio and its Display, it's great to see Apple moving in the right direction once again.

You might also like