We all know that taking notes is a great way to make sure that you don't forget anything important later on. Apple's Notes app is pretty great for taking notes here and there but it is not easily accessible and can be frankly annoying at times to use.
This is where the newly released, free jailbreak tweak known as Libellum comes into play which was developed by iOS developer LacertosusDeus. With this tweak, you don't face the above-mentioned problem anymore as it places a convenient note-taking widget on your iPhone's Lock Screen so that you can access it instantly and don't have to wait a while to start using it.
I am sure a lot of you have faced a scenario where you were trying to note down something before you end up forgetting it or are trying to jot down someone's number but have to deal with the Face ID and the Covid-19 mask incompatibility. If this is something you relate to, then Libellum is going to be pretty amazing for you.
Once you install Libellum, a widget will appear on the Lock Screen below the date and time. All you need to do is tap anywhere inside the widget in order to activate the keyboard so that you can immediately start typing without delaying even a little bit.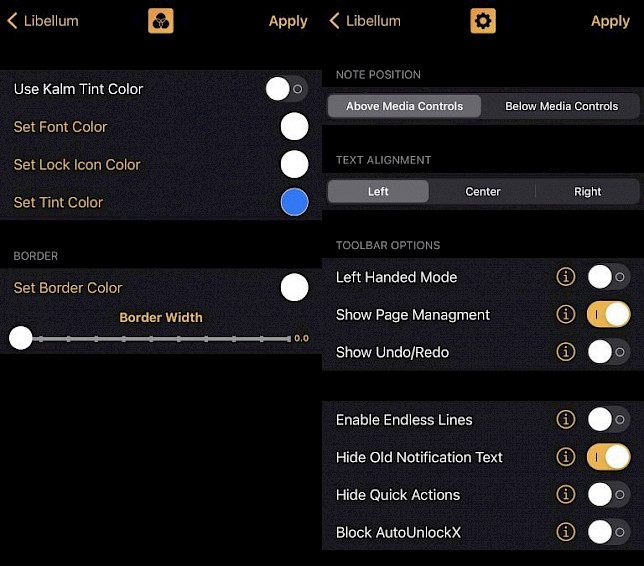 And the best thing about Libellum is that it is completely customizable. This tweak also adds a dedicated preference pane in the Settings app where you can configure the tweak as you want. A few of the options that you can find here are:
Select between a tiny, small, medium, or large note-taking widgets
Select between adaptive, light, dark or colorized mode
Modify the widget's corner radius using the slider
Colorize the interface as you want
Configure the general options
Authenticate for taking the notes
Enable the note backups
Allow the note visibility gestures to hide and display them
You also have an access to the Apply button available at the top right of the preference pane which you can tap to save all the changes that you have made. You will then get a prompt to confirm the choice before a respring is initiated on your device.
Libellus is a user-friendly jailbreak tweak that can be used to take down notes quickly. Sure, it is not the perfect way to take someone's number but it is better than fumbling with your Apple's Notes app and risk forgetting the number before you have noted it down. If you are interested in this jailbreak tweak, then you can download it for free from the Chariz repository using the favorite package manager. This tweak is currently supported on jailbroken iOS 13 and 14 devices.
So, would you be giving Libellum tweak a try or are you happy with Apple's native Notes app? Let us know your thoughts on this in the comments below!
You might also like