We all have come across or witnessed nosy bystanders who tend to peer at your messages from your shoulder when you are texting with a friend or a loved one. This is creepy but it is quite common as well.
Apple's iOS mobile operating system understands this and offers a useful feature in the Message app's notification settings from where you can hide the message contents from the Lock Screen notification banners whenever you need it. However, if you still don't find it private or secure enough, then this newly released jailbreak tweak named LeaveMeOff Pro by iOS developer PlatYkor is a great tweak to check out.
This tweak has a different approach to managing notification privacy. It doesn't just displays the word 'iMessage' under text sender's name in your iPhone's notification banner to hide the contents of the notification but also lets you completely hide the message content or allows you to change the behavior of your iPhone when you receive specific notifications.
You can use LeaveMeOff Pro with three different modes such as:
Stealth – This mode allows the user to enter a contact's name so that the iPhone's screen doesn't wake up when that person messages you. However, your iPhone will vibrate thrice to let you know that the person has messaged you.
Keep the Screen Off - Ensures that the iPhone's display doesn't wake up when you receive a notification.
Anonymous – When you enter a person's name, iPhone's display won't wake up when that specific person messages you and it will hide the person's name and the message contents from the missed notifications banner.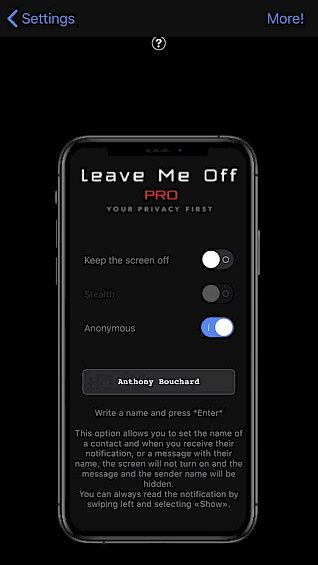 You can find the above-mentioned options in a dedicated preference pane in the Settings app after installing it and can be turned on or off by the end user.
In case you are wondering, these features are quite different from iOS' native notification-hiding feature. Moreover, the tweak's developer offers three distinct methods of ensuring that the onlookers don't peer at your notifications so you can easily choose the one that suits your needs.
Usually, keeping the screen of iPhone turned off is a good way to prevent from anyone looking at it. Plus, the Stealth mode is great to know whether someone has texted you or not without needing to take the iPhone out of your pocket. And most importantly, Anonymous option is great if you wish to avoid over-the-shoulder lookers from peeking at your notifications on the Lock Screen.
You can also view the message contents of the notifications from the Lock Screen by swiping the banner to display a View button. Those interested in LeaveMeOff Pro can get it for $0.90 from the Packix repository and it supports jailbroken iOS 13 and 14 devices.
Do you like what this tweak has to offer? Let us know in the comments below!
You might also like