kai tweak adds to the Locks screen information about battery level of any connected Bluetooth device, meaning you can check the battery of your iPhone, your watch, your AirPods, and your AirPods case. Supports iPhone, iPad, and iPod touch running iOS 12.0 - 13.7. Jailbreak required. Add Kai Repo to Cydia Sources.
What's important, kai works with many lock screen jailbreak tweaks including Kalm, Grupi, Axon, Quart, Complications, Watermelon, Veza, QuickLS, Jellyfish, and way more. After installing Kai, a dedicated preference pane in added to the Settings app where you can configure the tweak to your liking.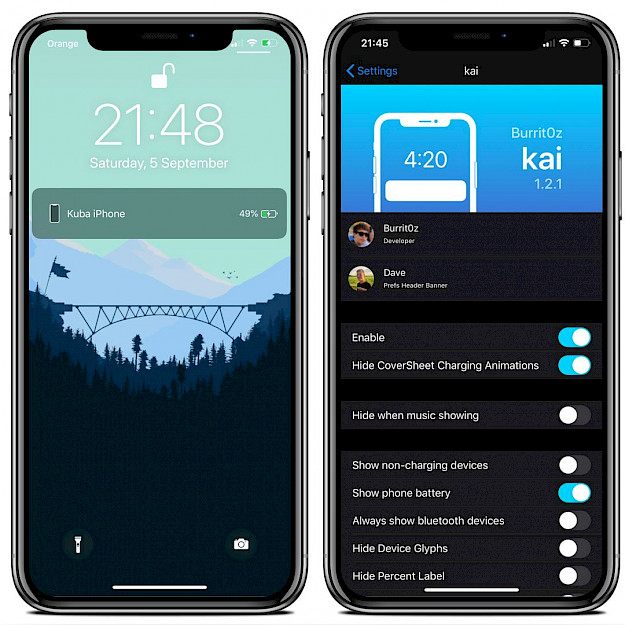 kai is packed with a lot of customization options, so you can fine-tune your settings to fit you and your setup. Displaying battery information in Vertical mode, to make fit in with your notifications, or in horizontal mode, an scrollable, and tiny mode that doesn't take up any more space on your lock screen.
Every time you will change the preferences its required to repring your device. Fortunately, the developer includes an apply button displayed when respring is required to save all settings. Purchase Kai tweak for $0.99 from the Chariz Repo.
Add Repository to Cydia
You are just a few steps from installing the tweak from Cydia Sources. Add Kai Repository to your list of Cydia Sources.
Step 1. Open the Cydia app on your device.
Step 2. Tap Sources → Edit → Add the official Kai Repo for Cydia.
Step 3. Switch to Search Tab and enter Kai.
Step 4. Tap the Install button.
Step 5. The tweak can be configured from Settings → Kai.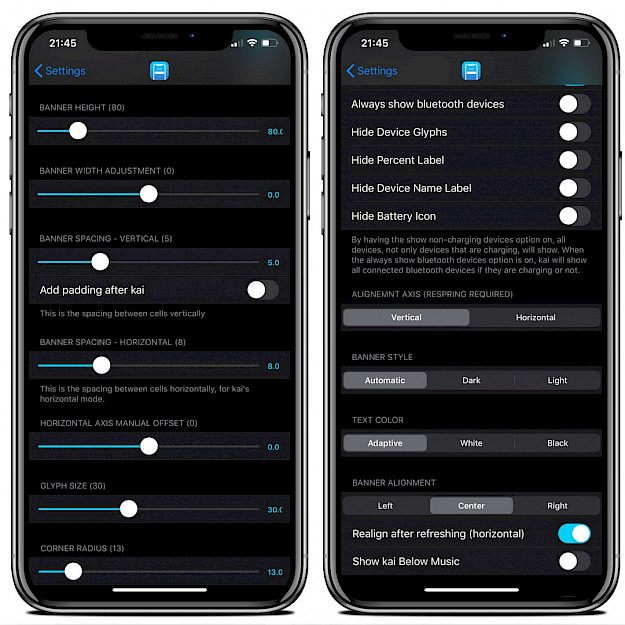 Tweak Settings
Toggle on or off kai tweak
Hide coversheet charging animations on the lock screen
Show all or just charging devices
Show Bluetooth devices always, and the phone just when charging
Hide device glyphs on cells
Hide percent label on cells
Hide the device name label on cells
Hide battery icon
Two-axis options, a vertical mode, or horizontal mode
Choose between adaptive, light, or dark mode
Choose between adaptive, white, or black text for labels
Choose to align kai to the left, right, or center for vertical mode
Show kai above or below music player
Adjust cell height
Adjust banner width
Adjust the spacing between cells vertically
Adjust the spacing between cells horizontally
Manual offset option for the x-axis
Adjust device glyph size
Adjust cell corner radius
Adjust cell background blur alpha
Reset all settings to default
You might also like