There have been a lot of modern jailbreak tools that have been released in the past 1 year. From checkra1n to side-loadable apps such as unc0ver and Odyssey play a major role and are quite popular among the customers. You can easily install these jailbreak apps with the help of Xcode or Altstore on a computer but many users would like a computer-free option to get these apps. This is where signing services come into play, a popular one being the Jailbreaks.app.
Although these signing services are extremely convenient, there is a small drawback to using them. These services are usually good for short-term use as the certificates get revoked for them quite frequently. As a result, you are unable to use the apps anymore until a new certificate is generated and made use of. So, the developer of the Jailbreaks.app, iCrazeiOS has recently released a new jailbreak tweak named JBStatusNotifier that helps you with the notification. This free jailbreak tweak will inform the users when the Jailbreak.app certificate is being signed or revoked so that they can take appropriate measures.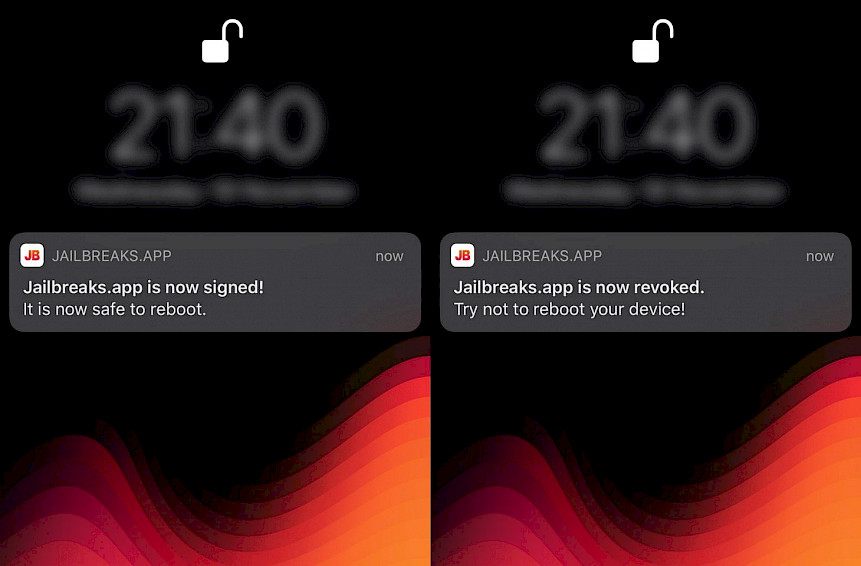 JBStatusNotifier will send alert notifications to the jailbreak users about the status of the Jailbreaks.app certificate with the help of push notifications. They are sent in the form of banner notifications and will either tell you that the Jailbreaks.app certificate is signed so you can reboot the device or it will give you a friendly reminder that the certificate has been revoked so it is not safe to reboot your device currently.
There aren't any configuration options available for this jailbreak tweak so it is quite easy and straightforward to use. However, since JBStatusNotifier checks the status of the Jailbreaks.app certificate several times in a day, it can affect the battery life of your device although it won't be huge.
An important thing to remember is that JBStatusNotifier will only send you an alert notification if there is a change in the status of the Jailbreaks.app certificate. Another thing to keep in mind is that if you tend to compete with the signing services, then you won't be able to use this tweak to check whether another signing service's certificate has been signed or revoked. This is definitely a bummer but not surprising since developers create tweaks to support their own apps and tweaks only.
If you would like to try out this tweak for your device, then you can get it free of cost from the Packix repository with the help of your favorite package manager. This tweak is nicely supported by iOS devices with iOS 11, 12, 13, and 14 OS.
Are you planning to take advantage of this newly released teak or are you going to continue with PC-based options such as Altstore to side-load the Jailbreak tools? Do let us know your thoughts in the comment section below!
You might also like