iTransmission App - download BitTorrent client for iOS
kuba - Wednesday, 2 October 2019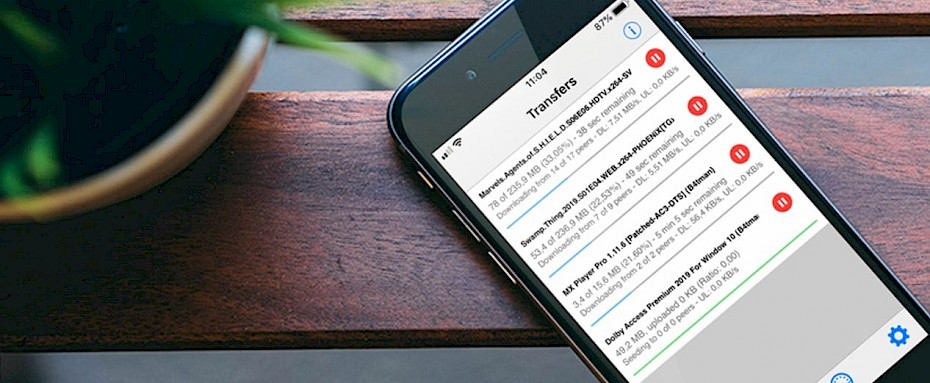 iTransmission app is the most popular Torrent client for iOS devices available for free. Download the application on your iPhone and iPad without Jailbreak, and install iTransmission without a computer, or sideload the IPA file using Impactor on Windows, Linux, and Mac.
---
What is iTransmission?
iTransmission is the most popular BitTorrent client for iPhone and iPad devices with support for iOS 13, iOS 12, iOS 11, and iOS 10. The software offers similar features to iTorrent app including options to view information about the torrent file including size, peers, download speed, available files, etc.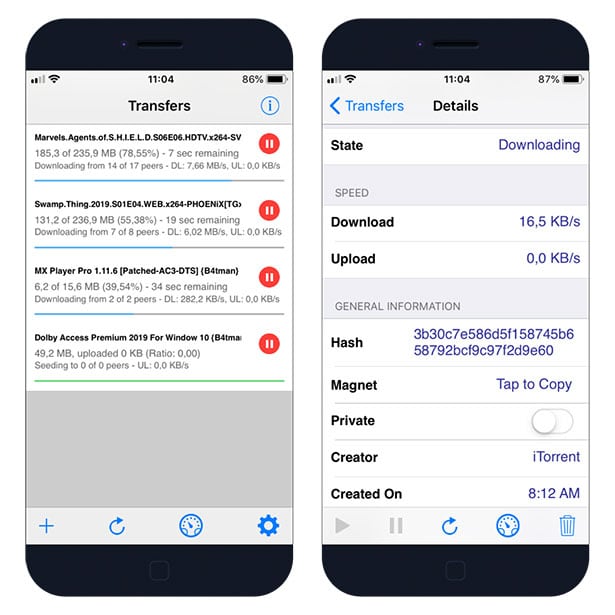 As you could expect the iOS Torrent app is packed with a lot of useful options. Add BitTorrent files to quote from URL or Magnet Link, set download speed limits, resume downloaded files, edit the list of trackers, review torrent content, set maximum connections, open links from Safari, and more.
Downloaded files are stored in /var/mobile/Containers/ Data/Application/iTransmission/.
Moreover, from iTransmission preferences, you can enable cellular network and background downloading, select port, enable download and upload limits, or even activate the Web Interface. In Global Bandwidth, there is also an option to choose max connections per Torrent.
Remember that too many connections will make your device unstable. The BitTorrent client is also compatible with the newest version of iOS 13.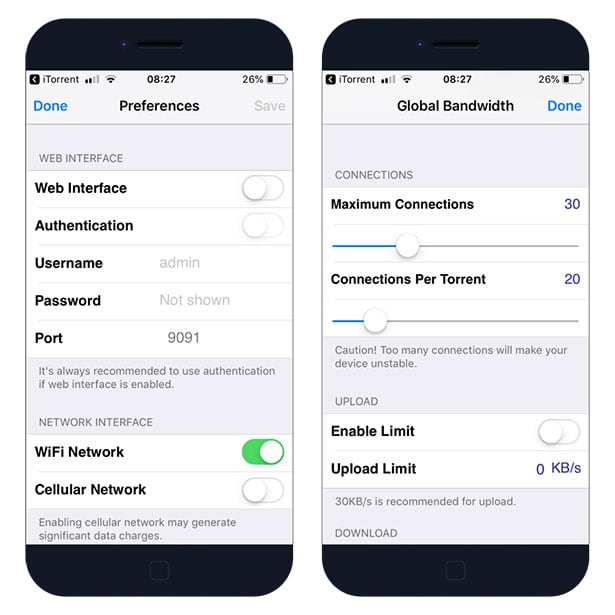 Because Torrent files can contain movies, TV-Shows, and cracked apps you can't find a BitTorrent client in official AppStore. No worries, if you need to download iTransmission there are few methods to install the app on your iPhone or iPod. We provide full instructions below.
How to install iTransmission iOS
iTransmission App can be installed on iOS 12 and iOS 13 device like iPhone without the need of Jailbreak or Apple ID. You don't need a PC or Mac to install the app on iPhone.
Download iTransmission App without a computer. No jailbreak required!
When you get iTorrent App without PC it can happen that the app will stop working. The reason for this is that Apple will revoke the installed certificate. To make iTransmission work again you will need to remove the app and reinstall it using the same steps from below.
Step 1. Click Install iTransmission App from your browser. (mirror 2, mirror 3, iOSNinja)
Step 2. Tap Install on message prompt "ignition.fun would like to install iTransmission App".
Step 3. iTransmission App Icon will appear on your Home Screen.
Step 4. Navigate to Settings → General → Device Management.
Step 5. Find the newly installed Enterprise App Certificate.
Step 6. Click on the certificate name.
Step 7. Trust apps from the developer to run on your iPhone.
Step 8. Allow access to your data and tap Trust.
Step 9. Run iTransmission iOS App from home screen.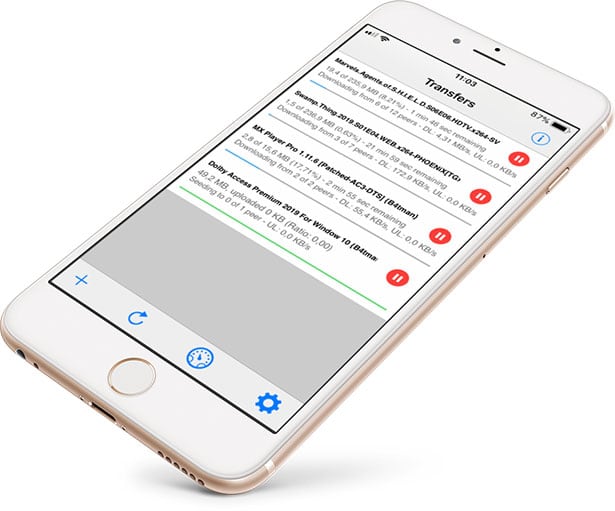 When you completed all step your iTransmission iOS App should be installed correctly on your iPhone. After iTransmission App will be downloaded you can't run the app. An Untrusted Developers Message will appear and it's required to complete all tasks from Step 4 in our guide above.
If you have a problem installing iTransmission iOS App from our link you can also try alternative options and find the app via popular Cracked App Stores. Free iTorrent App is available via TweakBox App, Panda Helper, or AppValley. Usually when the download will not start simply try again later.
---
iTransmission Repo for Cydia
You are just a few steps from installing the app from Cydia Sources. To add iTransmission Repository to your list of Cydia Sources follow our step-by-step guide.
Step 1. Open the Cydia app on your device.
Step 2. Tap Sources → Edit → Add the official BigBoss repo.
Step 3. Switch to Search Tab and enter iTransmission.
Step 4. Tap the Install button.
Now you can run the app like any other installed on your iPhone. If the application will not work, it can be related to certificate revoked by Apple. Basically, it means that you need to reinstall the app to make it work again. Go through all steps from the beginning or use an alternative method.
---
Sideload iTransmission IPA with Impactor
Download iTransmission IPA file and sign it using Impactor and sideload the app. Impactor can install max 3 apps on your iPhone. Every 7 days after signing, you will have to connect your iPhone to your PC and repeat the install process, however, you do not have to delete the apps.
Step 1. Download Cydia Impactor (broken), and unzip the file.
---
Alternatively, sign the IPA using AltDeploy on Mac or AltServerPatcher, 3uTools on Windows.
---
Step 2. Download iTransmission.IPA (26 MB).
Step 3. Open Cydia Impactor and navigate to Device → Install Package.
Step 4. Select the iTransmission.ipa version 5.40 file to install.

Step 6. Enter your AppleID and app-specific password to sign apps not provided by Apple.
Step 7. Add the certificate on iPhone to trusted from Settings → General → Device Management.
If you have any problems with sideloading the IPA file on your iPhone go to our article on How to use Cydia Impactor where we explain in detail every step including how to generate app-specific password for your app. This method doesn't require a jailbreak to work, but if you are running a jailbroken device try free ReProvision app to sign IPA files directly on iOS.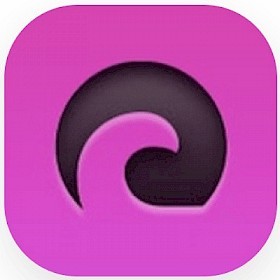 Frequently Asked Questions
What is iTransmission used for?
iTransmission is a mobile BitTorrent client allowing you to download .torrent files directly on your mobile device. The app supports all iOS devices running iOS 10 and newer.
Is iTransmission safe?
Using iTransmission on iOS is absolutely safe when you download it from trusted sources. There is no need to jailbreak your iPhone or use a computer to use the application.
Why iTransmission is not working?
The torrent client is probably not working because of the certificates revokes. When the iTransmission icon is gray try to install it again later or sign the IPA file manually.
Where are stored downloaded files?
iTransmission saves all downloaded files to var/mobile/ Containers/Data/Application/ iTransmission(bundle)/Documents/ Downloads/. You can find them in this location.
iTransmission without jailbreak?
There is no need to jailbreak your device if you like to install iTransmission app. Sideload the IPA file or use direct web links to install the torrent client on iPhone without jailbreak.