iTransmission - download the app on iOS without Jailbreak
kuba - Saturday, 29 June 2019
iTransmission app is the most popular Torrent client for iOS devices available for free. Download the application on your iPhone and iPad without Jailbreak, and install iTransmission without a computer, or sideload the IPA file using Impactor on Windows, Linux, and Mac.
What is iTransmission?
iTransmission is the most popular BitTorrent client for iPhone and iPad devices with support for iOS 12, iOS 11, and iOS 10. The software offers similar features to iTorrent app including options to view information about the torrent file including size, peers, download speed, available files, etc.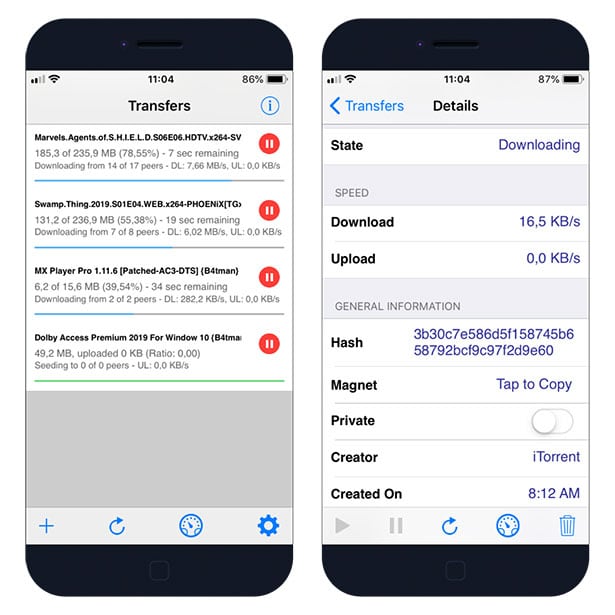 As you could expect the iOS Torrent app is packed with a lot of useful options. Add BitTorrent files to quote from URL or Magnet Link, set download speed limits, resume downloaded files, edit the list of trackers, review torrent content, set maximum connections, open links from Safari, and more.
Downloaded files are stored in /var/mobile/Containers/Data/Application/iTransmission/.
Moreover, from iTransmission preferences, you can enable cellular network and background downloading, select port, enable download and upload limits, or even activate the Web Interface. In Global Bandwidth, there is also an option to choose max connections per Torrent.
Remember that too many connections will make your device unstable.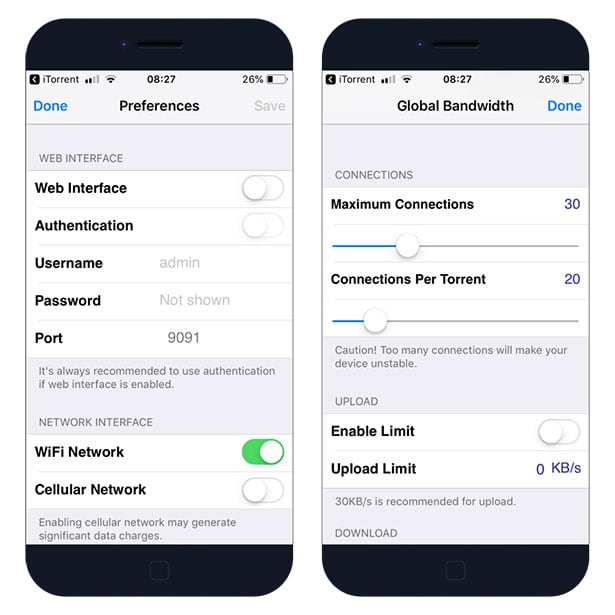 Because Torrent files can contain movies, TV-Shows, and cracked apps you can't find a BitTorrent client in official AppStore. No worries, if you need to download iTransmission there are few methods to install the app on your iPhone or iPod. We provide full instructions below.
How to install iTransmission
iTransmission app supports all iPhone devices running iOS 10 and above. Download torrents on your device without Jailbreak or sideload the IPA file using Cydia Impactor or ReProvision (jailbroken iOS).
Download iTransmission without a computer
Step 1. Install Ignition App Store.
Step 2. Navigate to Utilities category.
Step 3. Install iTransmission app on your iPhone device.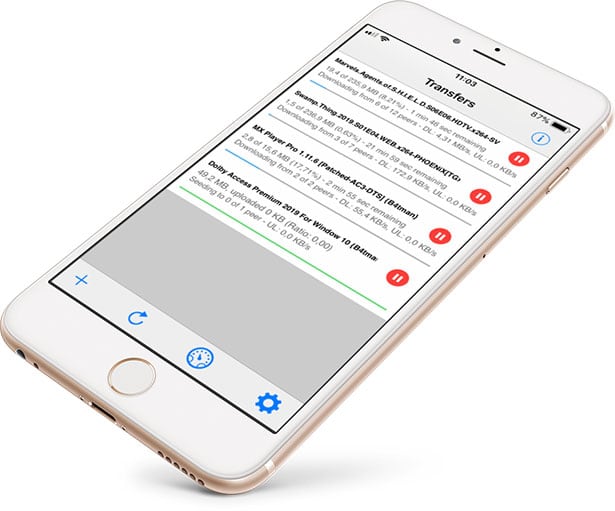 ---
Install iTransmission from Cydia Repo
You are just a few steps from installing the app from Cydia Sources. To add iTransmission Repository to your list of Cydia Sources follow our step-by-step guide.
Step 1. Open the Cydia app on your device.
Step 2. Tap Sources → Edit → Add the official BigBoss repo.
Step 3. Switch to Search Tab and enter iTransmission.
Step 4. Tap the Install button.
---
Sideload iTransmission IPA with Impactor
Download iTransmission IPA file and sign it using Cydia Impactor (Windows, Linux, Mac) and sideload the app. We provide a full step-by-step guide on How to use Cydia Impactor to install IPA files on iOS.
Step 1. Download Cydia Impactor, and unzip the file.
Step 2. Download iTransmission.IPA (26 MB).
Step 3. Open Cydia Impactor and navigate to Device → Install Package.
Step 4. Select the iTransmission.ipa version 5.40 file to install.

Step 6. Enter your AppleID and app-specific password to sign apps not provided by Apple.
Step 7. Add the certificate on iPhone to trusted from Settings → General → Device Management.