Every Pokemon Go player is interested to download the iSpoofer for POGO for iOS that brings a set of new features to the game. Use a free pokemon go teleport to spoof your location. iSpoofer Pokemon Go hack works only with iOS devices.
iSpoofer can be installed using direct web links that allow you to sideload the app without a computer. Because the links are usually revoked we definitely recommend using the AltStore app as the official way to install iSpoofer iOS for POGO - Simulate Anywhere in The World. Works on the official Pokemon Go app.
Install iSpoofer without a computer
iSpoofer works on all non-Jailbreak devices running iOS 13. Same as all other free 3rd party apps, also iSpoofer iOS is signed using an enterprise certificate, that can easily get revoked. Using a proxy can help you to run this app anyway.
Step 1. Open the System app on your device.
Step 2. Select your Wifi Network.
Step 3. Tap on the ⓘ → Configure Proxy → Automatic.
Step 4. Type in the URL field "http://ffapple.com" and "Save".
Step 5. Disconnect Wifi and reconnect to your Wifi Network.
Step 6. Clear Safari history cache.
Step 1. Tap Download iSpoofer from Safari.
Download iSpoofer via the official link
Download iSpoofer via PandaHelper
Download iSpoofer via AppValley
Download iSpoofer via TopStore
Step 2. iSpoofer app Icon will appear on your Home Screen.
Step 3. Navigate to Settings → General → Device Management.
Step 4. Find the newly installed Enterprise App Certificate and trust it.
Step 5. Run iSpoofer app.
What is iSpoofer iOS?
iSpoofer iOS for Pokemon Go is the must-have mod for POGO players. It allows you to use new features including a joystick for walking around the map, create own patrol routes, auto-generate GPX routes, real-time scan on availability of Gym Slot, free Teleport, 100 IV Pokemon coordinates feed. Works also on iOS 13.5.
The spoofing app for POGO offers also an option to simulate walking, cycling, or driving movement without the need to leave your home. Other features include the real-time nearby Pokémon/Gym/Stop radar, in-game IV Checker, enhanced throw, and Fast Catch Trick. Always use the latest version of the app.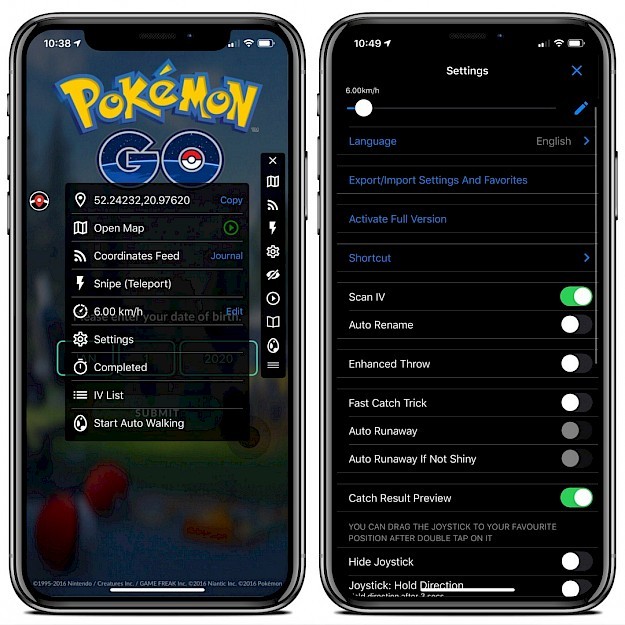 The most important thing when you teleport is respecting timers, depending on how far you want to teleport and interact with the game. After each teleport, you need to calculate the amount of time to use an in-game action depending on travel distance in the game. You will need to wait Cooldown time to use your next in-game action or you can be baned. A secure time between teleports is 2 hours.
iOS version offers more features then we can find in the iSpoofer for PC (Windows and Mac). The advantage of the PC edition is that it can change the location on your iPhone and it works with different AR games like POGO, Ingress, and Wizards Unite. iSpoofer PC is safe to use but be aware that you need also to respect the Cooldown time. The PC version uses a different technology and therefore it will be not revoked. If you prefer the iOS app install iSpoofer for POGO instead.
Download IPA
How to install iSpoofer for Pokemon Go using AltStore
AltStore can install almost any IPA on your iPhone using the free certificate. Every 7 days after installing iSpoofer iOS, you need to resign the app and send it to the AltServer (running on PC or Mac), which installs the resigned app back to your device using iTunes WiFi sync (works also using a USB cable).
Step 1. Download AltStore and install the app on your PC or Mac.
---
Or use any other Cydia Impactor alternative for Windows or macOS.
---
Step 2. Open Safari and download iSpoofer IPA (114 MB).
Step 3. Select the downloaded iSpoofer IPA file version 3.9.1 (0.185.1) to install.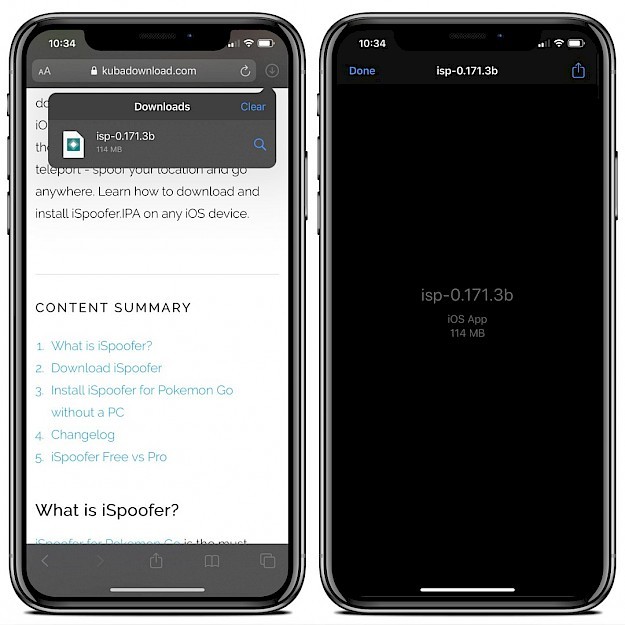 Step 4. Tap on the share button available in the right corner.
Step 5. Select "Copy to AltStore" from available options.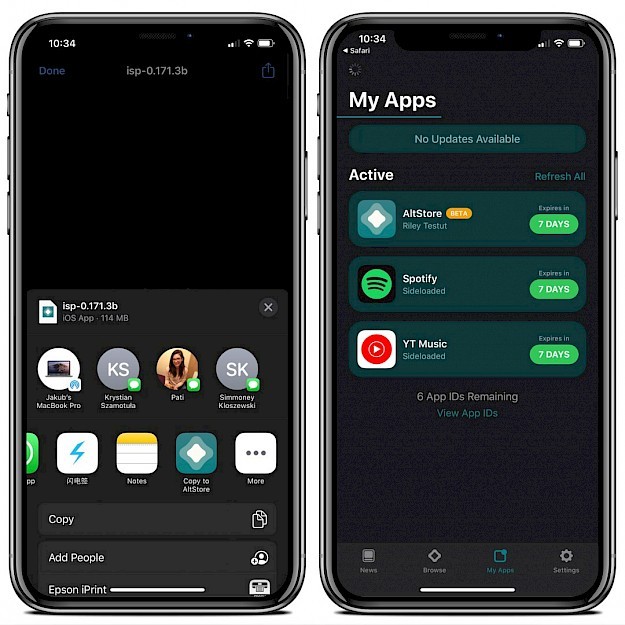 Step 6. AltStore will start installing iSpoofer for Pokemon Go.
Step 7. The iSpoofer iOS app will be available from your home screen.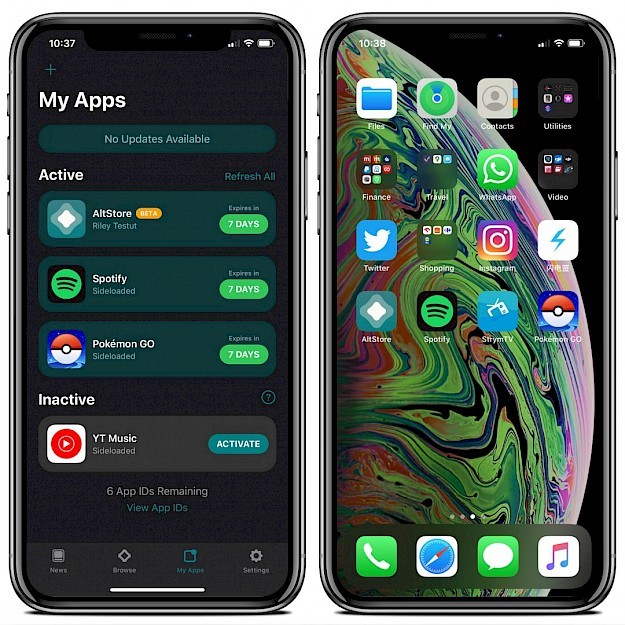 To prevent apps from expiring, AltStore can refresh apps in the background when using the same WiFi network. The installed application will be not revoked in the least expected moment thanks to manual installation using your free Apple certificate. Remember that your computer must be on to sing IPAs.
iSpoofer Free vs Pro
iSpoofer enables you to spoof and simulate your GPS coordinates on your iOS. The Pro Plan starts for $4.95 per month and offers everything that is available in the Free version plus additional features.
iSpoofer Free
Joystick
Teleport
IV list
Encounter IV Checker (10 Times Free Trial)
Enhanced throw
Auto-Generate GPX
iSpoofer Pro
Auto-Walking
Nearby radar
Nearby Gym Slots Scanner
Coordinates Feed
Feed Radar
Fast Catch Trick
Encounter IV Checker
Frequently Asked Questions
Can iSpoofer iOS get you banned?
When you teleport to a different location and take there immediately an action like catch a pokemon it will get you banned. Use the application more wisely and move as you would do in real life. Be patient whit using the teleport feature.
Why iSpoofer for POGO is not working?
If you installed the app from the IPA file and it is not working (iSpoofer opens then closes) it's probably related to the new release of the official Pokemon Go app in the AppStore. Wait till iSpoofer will be updated and reinstall the tweak.
When will iSpoofer iOS be fixed?
Usually, it takes up to 24h to fix the crashing app by the developer. Wait for the latest release of the hack that supports the official Pokemon Go application.
What iSpoofer iOS unable to verify app means?
iSpoofer iOS can be installed using a public certificate. Before you can run the app you must trust the certificate to make it work on your device. If you already did that and the app still doesn't work it's related to a broken certificate.
Where can you find iSpoofer for POGO link?
We provide official and unofficial links allowing users to install iSpoofer for POGO on any supported devices. Install the hack from an IPA file or use direct web links to download the app on your iPhone without a computer.
How to fix iSpoofer untrusted enterprise developer?
If you installed to Pokemon GO via web links and Untrusted Enterprise Developer error is displayed on your iPhone. You need to add the certificate to trusted from Settings → General → Profiles or Profiles and Device Management.
Is iSpoofer available for Android?
iSpoofer is not available for Android devices. If you see a website providing the AppStore for Android it's fake. iSpoofer was developed only for iOS and it works only this platform on supported devices. Android devices are not supported.
Why iSpoofer iOS is crashing?
iSpoofer iOS as all other unofficial apps is using a developer certificate. Those certificates are monitored by Apple and they get often revoked. It means that you can't install apps until the developer provides a new certificate.
How to fix iSpoofer for Pokemon Go?
If iSpoofer for Pokemon Go is not installing or if it crashes when you try to open the app it's probably related to the certificate that was revoked by Apple. Reinstall the app or try to add a proxy that will allow you to run revoked apps on iOS.
You might also like