As per census reports of 2021, ads consist of 80% of the revenue of some companies like Google, Facebook, YouTube, etc. But, with the new iOS 15, Apple might give a final blow to the advertisement industry.
Have You heard the recent news?
Apple will launch several privacy-centric features with iOS 15 and the Cupertino-based tech company will probably add more major upgrades in years to come.
One major addition to this OS is Personalized Ads. On iOS 15, Apple will seek permission to display personalized ads.
Apple previously collected this information without asking users. Apple required third-party developers to obtain user approval to launch App Tracking Transparency. This feature is now standard in iOS 15. The permission-seeking banner appears when a user opens or enters the Apple App Store if they are part of the Apple iOS 15 beta testing program.
Personalized ads in native apps such as the App Store or Apple news assist you in finding apps, goods, and services that are most relevant to you. Apple will use device-generated identifiers to secure your privacy.
A prompt states that personalized ads can increase the relevancy of ads displayed. It uses data such as account information, content, and app purchases, and the types of stories read on Apple News. Apple states that it doesn't track users or share user information with third parties. as you can find in Apple's Advertising Policy.
What are personalized ads?
Personalized advertising is a new type of advertising that provides personalized experiences for customers. It creates a better customer experience (CX), higher return on investments (ROI), greater reach and engagement, as well as improved conversions.
Personalized advertising makes it more engaging and allows you to make lasting impressions with one-on-one marketing.
How are personalized ads beneficial?
Personalized ads are beneficial as they create ads based on your interests and sites that you visit. Let me illustrate it with an example. Let's say you have visited Myntra and searched for some shirts there, so this is your interest. If you have enabled personalized ads, then you will get some related ads from the site you visited.
You can see it as useful for yourself because when you enable the option, you will probably see ads according to your interests and the sites you visited; by chance, you liked the product through ad your time is saved, and within a click, you can order it. But is it helpful for advertisers? Yes, it is beneficial for advertisers as well, as personalized ads help advertisers to target their audience according to their interests.
How to turn on or turn off personalized ads on your iPhone?
Apple-delivered advertising allows users to discover apps, products, or services while protecting their privacy. Apple uses your information to deliver personalized ads.
You can turn off personalized ads on your iPhone, iPad, iPod touch, or Mac if you don't wish to receive them. While this will not reduce the number of ads you receive, it may make the ads less relevant to your needs. On your iPhone, iPad, iPod touch, and Mac, you can also turn off location-based advertisements.
To turn on personalized ads on your device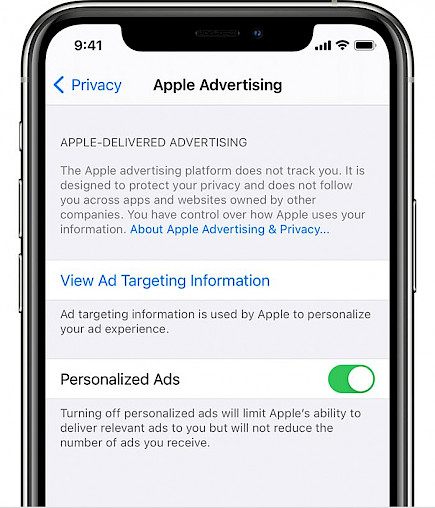 Click Security & Privacy in System Preferences.
Select the Privacy tab.
In the sidebar, select Apple Advertising.
You can select personalized ads.
If you allow the App Store or Apple News to access your location, Apple's advertising network may use your device's current location to provide you geographically targeted adverts on the App Store and Apple News.
Ads that are targeted at specific areas can be turned off.
Navigate to Settings > Privacy > Location Services.
Tap to disable Location Services, or choose App Store or News from this list to set Allow Location Access to Never.
To turn off location-based ads on your device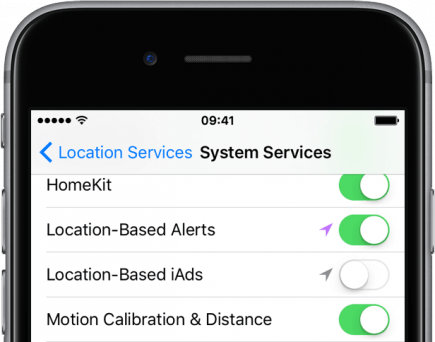 Click Security & Privacy in System Preferences.
Choose the Privacy tab.
Choose Location Services in the Sidebar
Deselect "Enable Location Services" and "News" to deactivate them.
Final Words
With the new Personalized Ads feature now you can directly control what you want to see. So, no more useless ads and notifications on the lock screen.
Now, you have the authority over what you can be shown. And according to us, that's the best feature iOS 15 can give to its users.

You might also like