Let's face it, regardless of your personal feelings for App Switcher, it is one of the most frequently used features when you are interacting with your iPhone. It not only offers you a quick way to return to the recently used apps but is also used in force-closing the apps that you currently don't need to use. The only drawback of App Switcher is that it doesn't provide a consistent user experience between all the platforms.
If you own an iPad too, then you already know what I am talking about. iPad's App Switcher offers a superior user experience to that of the iPhone. Well, thankfully, there is a newly released jailbreaker tweak named iPadSwitcher that has been developed by iOS developer dpkg_. With this tweak, you can have the same user experience on your jailbroken phones as well.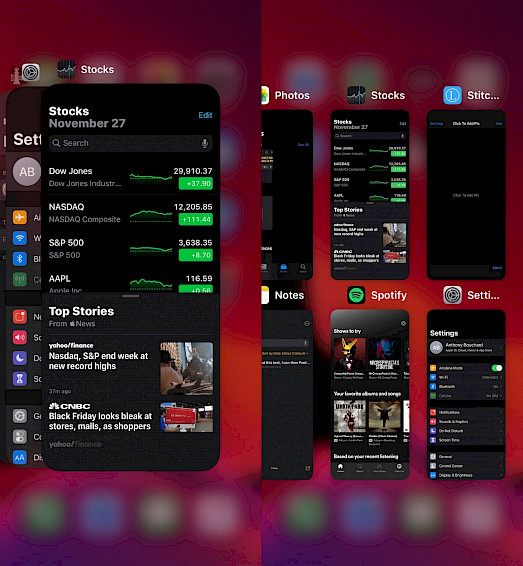 If you check out the above picture, you will see that there is a huge difference between the stock App Switcher UI on an iPhone and an iPad App Switcher UI on an iPhone with the help of iPadSwitcher tweak. The iPad-style App Switcher offers you access to a lot of app cards and looks and feels more productive as well. This app also offers you a lot of options to configure and you can find these options in a dedicated preference pane that is available in the Settings app after installation.
In this Settings app, you can find the following options:
Switch on and off iPadSwitcher.
You have the option of choosing between different application sizes such as extra small, small, medium, and large.
Adjust the portrait mode vertical spacing manually.
Manually change the portrait mode horizontal spacing.
Modify the landscape mode vertical spacing manually.
Adjust the landscape mode horizontal spacing manually.
Once you have made the desired configurations, you can click on the blue Apply Changes button that is placed at the bottom of the preference pane to save your changes. If you also enjoy the user interface of the iPad's App Switcher more than the UI of the iPhone's App Switcher, then you are definitely going to love the iPadSwitcher tweak on your jailbroken phone. It will make you feel more productive and is actually what you expect out of an App Switcher on devices with large displays.

If you are interested in checking out iPadSwitcher, then you can easily download this tweak free of cost from the Packix repository using the favorite package manager. This jailbreak tweak is currently supported on all devices of iOS 12, 13, and 14.
Which App Switcher style do you prefer? And which one do you like on your iPhone? Do let us know in the comments what you think!
You might also like