Apple keeps working on expanding its possibilities with the iPad as well, with the most recent iPadOS 15 updates. For example, the Notes app is now equipped with a brand-new Quick Note feature. In addition, the iPad has become a multi-tasking device over the last few years, with the capability of a PC while maintaining its sleek lines and light appearance.

With iPadOS 15, the iPad has new capabilities while remaining in sync with the Mac and the iPhone.
The most recent iPad mini is akin to the design similar to the iPad Air, featuring the same flat corners you find on the majority of Apple's latest and most popular models. iPadOS 15 works with any iPad model launched in 2014 and later. Such as models like the iPad Air 2, iPad mini 4, and the first-generation iPad Pro.
Here is more about Quick notes:
Apple iPadOS Quick Note app New Features
First thing first, it's new to iPadOS 15. The Quick Note feature is always accessible and straightforward to use. Similar to the majority of iPad functions, this one is concealed but requires the use of a gesture to open. When you swipe diagonally upwards from the right-bottom corner, a tiny Quick Note window will open and remain at the bottom of the screen, taking up approximately one-sixth of the screen.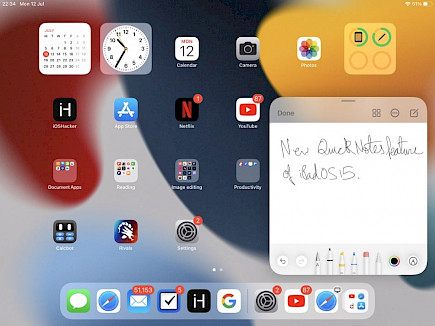 If you're using the Apple Pencil and writing in this area will be converted into text. Apple's Scribble controls permit editing using the Pencil also. When you're done utilizing the stylus, a finger tap will bring you back to its default view. This is the default view.
Links and controls for Quick Notes
The majority of iPad models which run the most recent version of iPadOS can create a Quick Note. At the top of the screen, you can choose to include a link in notes to everything that's currently displayed, such as a video from the Photos app, a story from the News app, or a web page within Safari. If you select text on a website, it will be added as an excerpt, which makes this an ideal method of taking notes on websites with speed and ease. By sliding side to side, scrolling through, or launching the full Notes app, you may view any Quick Note. If you sync notes with iCloud, notes taken using Quick Note will also be displayed on both an iPhone as well as a Mac computer.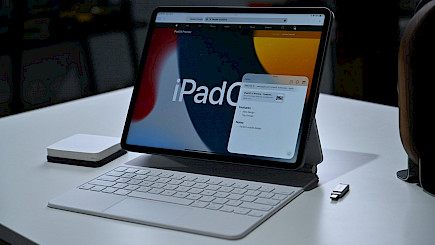 Its Quick Note window can float over any other application, such as a video or even a split-screen view. Dragging to the edge will cover the note and leave a tiny tab near the edges of your screen that will reveal the note again. Notes can be shared via an ellipsis ("...") menu in the top right. This lets you share a note via AirDrop, via AirDrop or social media, or printed. By tapping the Markup control that resembles an outline of a marker on the bottom of a note, launch the pen tools. They display an icon for a keyboard that offers more options, like the ability to add tables or formatting text, adding an image, and even taking photos using the cameras on either the rear or front.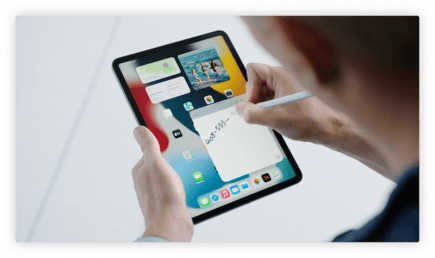 The Quick Note needs iPadOS 15 as well as an A9 processor or better and excludes the 2014 and 2015 iPad Air 2 as well as iPad Mini models. For the majority of iPads with newer processors and some older models, Quick Note makes it quick and simple to gather data that is linked to an online site or another source to make it easy to access later and also adds excess value to the Apple iPad.
How to use Quick Notes to save links and images on Safari?
One of the most exciting aspects concerning Quick Note is that it utilizes intelligence to recognize when you're using it in Safari. This lets you swiftly save URLs within your Quick Note, and you can also highlight text and images within Safari and save these to the note.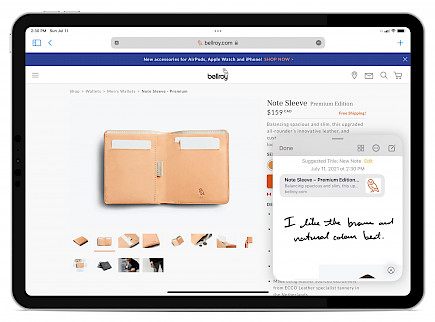 Create a Quick Note using the method previously described.
Start Safari on your device.
While browsing a web page in the Quick Notes, click to add a link to save the URL of the page you are currently on to your note.
If you'd like to add images or text to your note, use your finger or stylus to highlight what you would like on the page.
The contextual menu that appears Tap "Add to Notes" option. By doing this, you can add the link in a matter of seconds.
Click Done on the Quick note to save it.
How to view the saved Quick Notes?
Quick Notes are saved in their folder in the Notes application. Here's how to access them.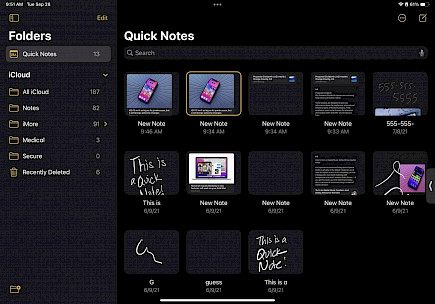 Start Notes app on your iPad.
Press Quick Notes within the folder list.
When you're inside the Quick Note box, you can click on the Quick Notes button to immediately access all your already saved Quick Notes. You can also swipe right and left to switch between the Quick Notes in the Quick Note box.
Winding-up
One of the features that are now included in the iPadOS 15 is the Quick Note. It lets you use a notepad to write notes anytime on your top iPad and quickly write down any small details that are important, as well as save links. And even include images and text using Safari.
And that's all for today. Hope you liked the article. We will be back tomorrow with more great content. Until then, Stay Tuned, Good Day!
You might also like