Apple's iOS 15 introduces a new enhancement to the camera, and it's called "Live Text'.
This new feature allows iOS to recognize any text that appears in a screenshot, photo, or camera preview due to optical character recognition (OCR), which allows Apple to read the text from any photo.
Users are now able to copy and paste, lookup, or translate the text of photos and screenshots. Live Text is available in pictures, screenshots, Quick Look, and Safari, and also in live previews that are made with the camera. Live Text is a system-wide application and will show up in all other applications when you copy-paste text.
Here's a detailed overview of Live Text.
What exactly is Live Text?
This is similar to the way Google Lens works, where you can point your camera at an image, a book, or a business card. Live Text can detect important information contained in photographs or images on the internet, whether it's a telephone number or email address.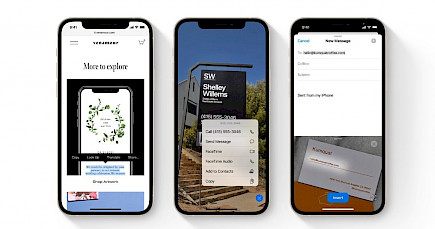 You can as well utilize this Live Text feature in iPhone's Camera app by simply pointing the camera at an image or a photograph that has text. And then pressing on the indicator icon. Users will have the option to either copy or paste the text, look it up, or translate it. You can even call it, in the case of an actual phone number. Apple's system is intelligent enough to recognize the message it's extracting.
Devices that are compatible with Live Text
However, Apple hasn't yet released Live Text for all iPhones with iOS 15. Users must have an iPhone Xs, iPhone XR, or later running iOS 15 to run this. All iPhones that have an A12 Bionic chipset or higher can accommodate this. Live Text currently supports a variety of languages. Live Text is presently supported by English, Chinese, French, Italian, German, Portuguese, and Spanish languages.
How to activate Live Text?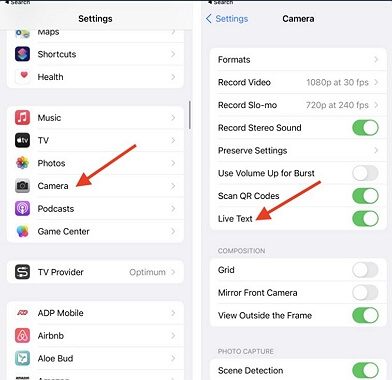 To enable Live Text in the Camera app, click Settings and scroll until you reach Camera.
You'll see the option 'Live Text.' But you will need to make sure that the toggle option is enabled already.
To turn on Live Text for all supported languages, you must go to Settings > General > Language and Region and then enable Live Text.
How to copy the text inside a photo using Live Text?
Open the Photos application and choose the picture with text. A screenshot with text is ideal for this.
Press and hold one word, then play with the grab points to change the size of the word. Apple will recognize that there's some text in the photo and will allow users to paste, copy, etc. To highlight the entire text in the image, press the indicator icon located in the lower right corner of the image. It's similar to the size of a small notepad.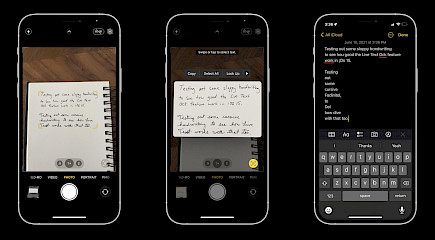 A menu will appear with options for copy-paste, select all, look, and others. If you'd like to duplicate the text, you can simply select all the text within the image and copy it. It is then possible to paste it into a different app and forward it to other people.
This also works for Safari when you open an image with text. Again, make sure the text is easily visible.
Live Text in Safari and other browsers
As in photos, you can also touch and hold images in Safari to highlight the text. It's not surprising due to Apple's demand for all web browsers to utilize WebKit for iOS and iPadOS. Additionally, it is available within the Brave browser along with Mozilla Firefox and possibly other browsers as well.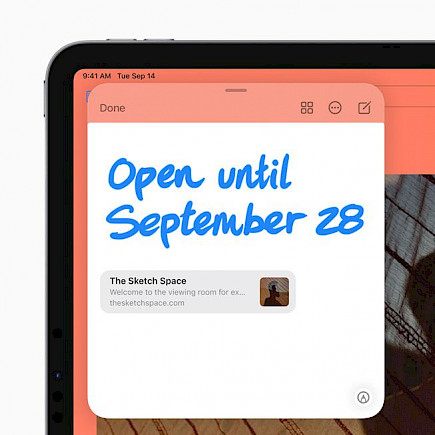 n addition, as with photos, if you have to hold and touch the image to trigger an event (like getting a glimpse of the page that the image is linked to), then hold and touch it far away from the text.
Load Live Text directly into any app.
It might take some time before we are accustomed to this technology. However, you can utilize Live Text with the device's camera to load real-world texts directly into any application that supports text input. Tap in a text to open the popover, then click the Scan Text icon.
A viewfinder is visible on the bottom of the screen. It's got a yellow outline surrounding the text. The text that is detected floods the text field but only as a preview. If it's the type you're looking for, then tap the "insert" button. Text input via Live Text works rather well, but it does take some getting used to.
VoiceOver in Live Text
Also, Live Text can be a fantastic option for accessibility since it allows VoiceOver to read the text of images. Visit Settings > Accessibility > VoiceOver Recognition and toggle on Text Recognition to turn it on.
If you are viewing a picture with text and VoiceOver is turned on, simply touch the text on the image to have VoiceOver read it out to you.
Translate Live text
​The Translate app has become an integrated system service, which means it can be used to translate whatever text you want, which includes text that appears in photographs or captured by the camera. This is one option available in the popover when you click on the text you want to translate.
Winding-up
And that's all about the Live Feature of iPadOS 15.
Hope you liked the article. We post similarly great stuff every day. So, don't forget to come back for more. Good Day!

You might also like