Apple will make it easier for users to stay focused by introducing the brand-new Focus mode that is available in iPadOS 15.

The feature allows you to configure notifications, call, and message filters. It also allows you to auto-reply to people when you are busy, and it has a variety of customization and automation options.

The brand new iPhone Focus feature is an enhancement of Apple's Do Not Disturb and offers greater flexibility, control, and automation, and hopefully brings focus and concentration to your daily life.

Suppose you're at home or at work, exercising, reading, creative time, sleep, or anything else. In that case, you can design an individual set of filters to control the way that notifications, calls, messages, and auto-replies are handled on your iPhone.
How to Access Focus feature on your device?
The first step is to install iOS 15 on your iPhone, iPadOS 15 on your iPad, WatchOS 8 on your Apple Watch, or macOS Monterey on your Mac.

You are able to create up to 10 Focus profiles. They're all accessible via the Control Center. The Control Center is accessible on the latest iPhones and iPads by swiping down in the upper right-hand corner. For earlier versions (that is, any device that doesn't have Face ID), swipe from the bottom of your screen. On Macs, the Control Center is in the menu bar (the toggle icon), while on the Apple Watch, just swipe up from the bottom. It's the half-moon symbol.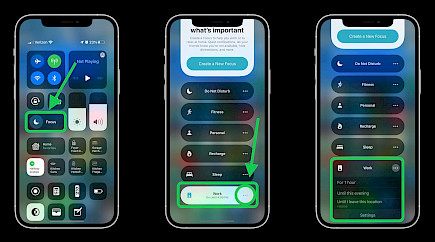 You can also access the Settings menu and select Focus on both iPhones and iPads, or System Preferences > Notifications. Then you can choose to focus on the case of Macs. You can use Focus for Macs, or Apple Watches is a little less streamlined than the options you can find with iOS and iPadOS since it doesn't alter the design of your watch or desktop display by any means.
A key point to remember: when you switch on Focus, your Focus status will be visible to all your contacts. It's similar to the status notifications on messaging apps. Suppose the app allows it, and you've given it permission. In that case, your contacts will be aware that you've turned off notifications, but they won't be able to see the name of the Focus. You can disable the sharing feature in the settings menu of any Focus by selecting Focus Status and turning the switch.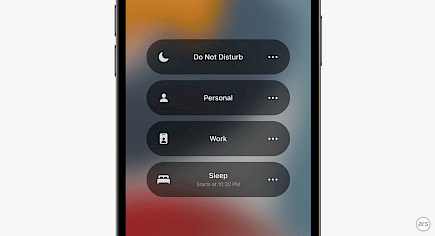 If you have more than one Apple device, your Focus will be synced across all of them, so you don't have to create new ones for each gadget. For example, if you enable Focus on your iPhone, it will be activated in all of them. Focus on your iPhone will be turned on on all other devices, but you can switch off the feature by going to Settings > Focus > and toggling off Share Across Devices.
How to create a Focus
Open the Control Center and select Focus to be presented with Do Not Disturb Work, Sleep, and Personal. These are all settings you can customize. However, you can erase the last three if you would like to build profiles from the ground up. Press the triple-dot on top of each one as well as settings to set them up, and click the "+" icon at the bottom of the screen to create a new Focus.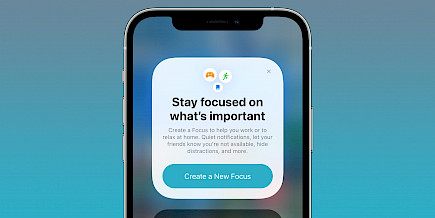 Focus is comprised of three major elements that include notifications, the home screen, and a screen for lock screen customization and scheduling. With each Focus, you are able to permit messages and calls from a select group of contacts. You can also select the apps you wish to receive notifications from.

You can then alter the whole home screen into a custom page that includes specific widgets and apps to match the Focus and disable or dim notifications from the lock screen. Additionally, you can set the Focus to automatically turn on or set it to activate when you reach an exact location or launch an application.

Here's how you can create one: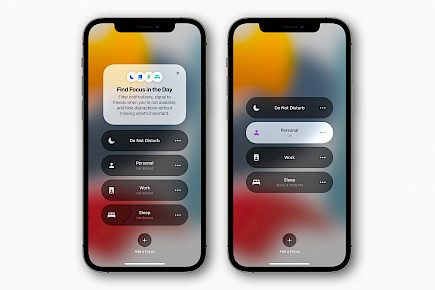 Tap the + icon at the lower right on the Focus page within the Control Center. You can also navigate to the Settings tab, then Focus, then tap on the Focus icon on the top right. For Macs, go into Settings > System Preferences > Notifications, then Focus, and then tap the + icon on the left-hand side.
.There's a list of Focus profiles that you can choose from. Choose one or click to create a custom one. Certain presets come with special benefits. For instance, Gaming Focus can automatically activate when you connect a wireless controller to your device, and Fitness Focus can be triggered when you begin an exercise session with an Apple Watch. For this guide, we're going to stick to Custom. Give your focus an initial name, and then choose a color and an icon. Then tap next.
.Select the contacts that can reach you via the Focus. Tap the + icon beneath the category of Allowed Persons and tap the contact's name to add them. There, you are able to decide how your calls behave. You can permit calls from all people, or only your preferred ones? You can also turn on notifications to anyone who contacts you two times in three minutes. Press 'Allow' after you're done. If you don't want anyone else to disrupt you in any way, then tap the 'Allow None' option.
Then repeat the procedure, except for notifications. Tap the + icon beneath allowed apps and select the application you would like to be notified of. Click Allow' at the end or click 'Allow None' to stop receiving notifications.
It's done! You'll be directed to the settings page of your new Focus, and you will be able to disable the Focus Status or modify the home screen and then schedule or automate it.
Winding-up
And that was all about the new Focus feature of iPadOS 15.

Hope you liked the article. We post similarly great stuff every day. So, don't forget to come back for more. Good Day!
You might also like