True Tone is a display technology that was first introduced at the end of 2016 with the 9.7-inch iPad Pro and has since been integrated into Apple's new 2017 iPad Pros, alongside the iPhone 8, iPhone 8 Plus, and iPhone X. As of now, True Tone has taken the next step towards the Mac setup, with the 2018 MacBook Pro. The component aims to align the color temperature and intensity of the display with that of the lighting in your surroundings.
This allows the content that you see on your screen to pop more frequently, and additionally, as Apple hopes to lessen the strain on your eyes. We will look at how to adjust the True Tone on the iPhone, iPad as well as Mac.
What is True Tone?
A True Tone display employs several sensors to change the temperature of the display in response to the illumination of the sources. It first came out on the 9.7-inch iPad Pro and is available on select modern tablets, iPhones, and Macs.
Apple devices that have True Tone displays are less reflective and offer a wider spectrum of colors. These features are in conjunction with True Tone technology, which alters the colors that you see on your screen based on the lighting conditions, resulting in an accurate, true-to-life image.
How does it work?
Devices that use True Tone technology feature sensors that monitor the lighting color and brightness. The device uses the information to make adjustments to its display, which means it can adjust white points and light levels based on ambient lighting to show the appropriate shades of whites in any situation.
It is important to keep in mind that our optical system constantly compares close-to-white and perfectly white and that the difference between a "better" white can affect our perception of contrast in whatever we're watching so that a white point adjusted to a certain level will be more comfortable for our eyes. Also, devices equipped with True Tone should be more easily visible under direct light, increasing their usability.
Another important aspect in this regard for creatives is to ensure that the colors shown remain constant and precise. In terms of MacBooks equipped with True Tone, the technology creates a natural-looking visual experience that's not affected by light sources.
Toggling on/off True Tone
True Tone is enabled by default, but it can also be turned off.
On the iPhone and iPad,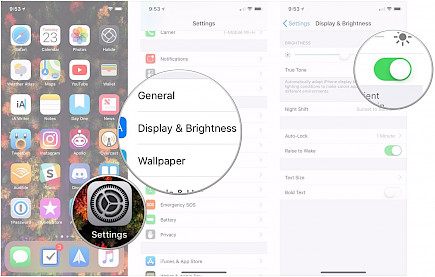 you can toggle True Tone on or off in Settings > Display & Brightness.
On a Mac,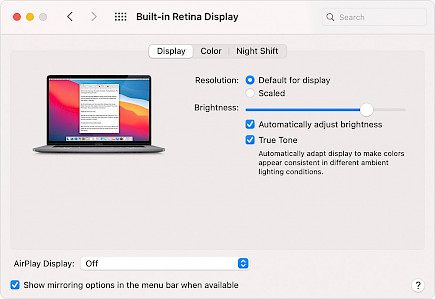 Go to the Apple menu in the upper left corner,
Select System Preferences, and then Display Tab.
Click it to turn it off and if you want it enabled, leave it without clicking.
Is True Tone somehow related to Night Shift?
The Night Shift was a new feature introduced by Apple with iOS 9.3. It uses the clock on an iPad or iPhone, as well as geolocation, to automatically change the colors on the display to the warmer portion of the spectrum in the evening. The idea is to minimize exposure to blue light, which stimulates the brain.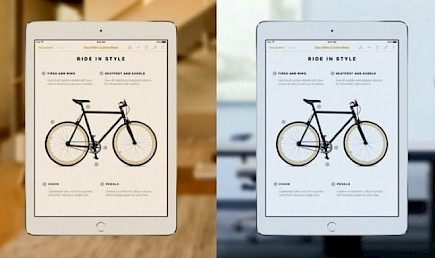 Night Shift functions similarly to True Tone, however for a different cause. It provides a warmer screen closer to sleep to decrease the quantity of blue light emitted by the screen.
In the end, the display is more orange. A display that is warmer will be more comfortable to use to read late at night as the ambient light is expected to be less. Night Shift can lower the negative impact that your phone can have during the night.
To toggle Night Shift,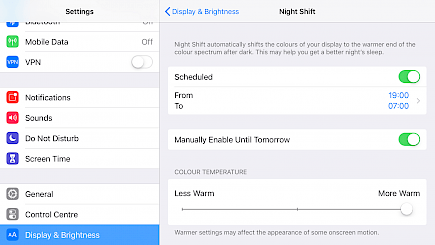 On the iPhone Go to Settings.
Display and Brightness
Toggle "Night Shift".
Winding-up
Thanks to True Tone now every display can show more vivid colors without affecting the eyes of the user. As of now, the True Tone feature is only limited to a few devices but, it is rumored to trickle down in every other Apple product in the future.
So, if you love to watch videos or play games on your iPhone, iPad, or Macbook. Don't worry about screen flares. Apple has got everything under control!

You might also like