Video conferencing is an integral part of our daily lives. We are conditioned to expect applications to produce results on their own. And Apple made it happen by the introduction of Center Stage in the M1 Chip-powered iPad Pro that was launched earlier in May 2021. It allows users to video chat via FaceTime and other apps with ease!
Through Center Stage, you can easily move around the room while enjoying a FaceTime session with anyone within the angle of 122 degrees of the camera's lens, and it will help you stay focused in the frame.
Isn't it cool? For a long time, a feature on our video call sessions was something we yearned for. Finally, you can now conduct cooking instructions, attend meetings, or do anything else while video calling without having to worry about losing your focus in the picture! But How? Well, we will discuss it.
What is the Center Stage feature?
Through center stage technology, Apple intends to raise the standard of video calling further. Given the current circumstances, the need for this technology is essential.
With this feature, the camera on the iPad Pro will be focused on your face and not make any disturbance even if you move (i.e. moving from one place to another with a small distance) or other random activities that are happening behind.

The iPad Pro's Center Stage technology works with the aid of two attributes that are its TrueDepth camera system as well as the M1 processor. The TrueDepth technology allows the brand-new 12MP ultra-wide front camera to capture a wider image regardless of how you move, while the machine-learning capabilities of M1 assist the camera in recognizing your face, even when it moves.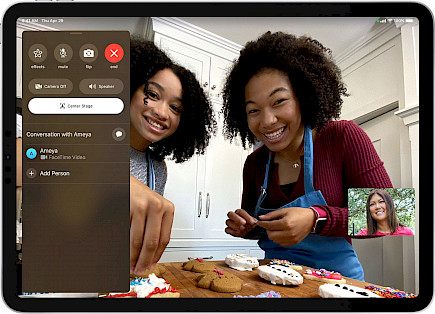 It creates a more enjoyable experience. Additionally, when more users are in the frame, it adapts and zooms out to the frame to ensure that everyone is placed the right way and gets equal focus.
Which models support Centre Stage?
Center Stage is only available on the iPad models released in 2021, except the iPad Air. As a result, you may see this feature in the following:
iPad (9th generation)
iPad mini 6
iPad Pro 12.9-inch (5th generation)
iPad Pro 11-inch (3rd generation)
Center Stage is compatible with these models thanks to the best combination of the most recent iPadOS, the most powerful bionic chips, and a 12MP Ultra-wide, depth camera allowing person-centeredness to be achieved.
Which apps support Centre Stage on iPad pro?
Center Stage, unlike many other premium features, isn't only limited to FaceTime. Instead, Apple lets third-party applications make use of Center Stage. This feature allows third-party apps to use Center Stage to change the ways you talk over video with your loved ones or join meetings. Here are a few iPad applications that work with Center Stage, including your most popular meeting apps.
FaceTime
Zoom
WebEx
Google Meet
Filmic Pro
How to enable Centre Stage on your iPad?
There are two methods to enable Center Stage on iPad. One option is to turn it on in the video chat apps that are supported by enabling it directly. Another option is to activate the feature in the FaceTime call. Let's take a look at both.
How to turn on Centre Stage on any video calling Apps?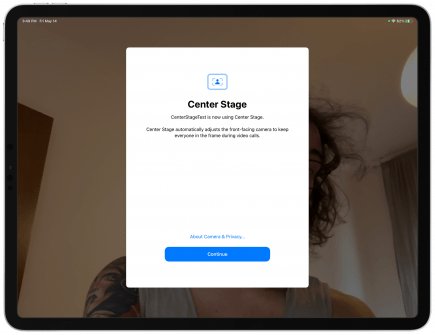 Go to Settings.
On the left-hand sidebar, scroll down to select FaceTime (or any other video chat application such as Zoom as well as Google Meet).
Switch on the Center Stage to turn it on.
How to turn on Centre Stage during a Facetime call?
For iPadOS 14:

Make a FaceTime call.
Next, swipe left from the bottom of the screen to open the Control Center.
Select Center Stage to turn it on.
For iPadOS 15: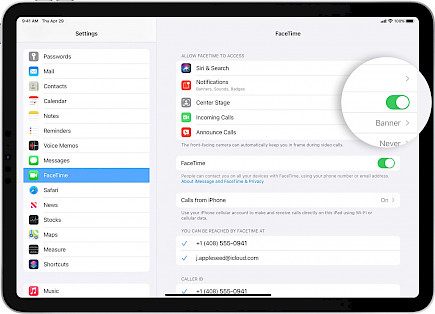 Make a FaceTime call.
Then, swipe downwards from the screen's upper right corner to access the Control Center.
Select Video Effects.
Then next, press Center Stage to activate it.
Winding-up
Apple's new Center Stage feature for iPad Pro is a game-changer. Your video calls will be more exciting and entertaining by using this feature. Of course, you can move around however you want, but the iPad will ensure you remain with content in the middle of the frame.
That's all for today. We will come back the next day with more exciting topics. Until then, stay tuned.
You might also like