Apple's latest sound experience has taken the world by storm. The ability to listen to sounds that make you feel like you're in the middle of a 3D environment is something that was only a dream just a few years ago.
It's not the first time anyone has utilized Dolby Atmos or 3D audio. Video games have been used for a long time and it's amazing. However, Apple took things to the next step by tracking the movements of your head.
However, not all devices or applications can utilize Spatial Audio, but once you figure out how to make use of it, you'll hear sounds in a completely new way.
Apple's Spatial Audio was introduced with iOS 14 in September 2020. It's Apple's answer to Dolby Atmos for Headphones and Sony's 360 Reality Audio, providing a virtual 3-D surround sound effect in the form of a stereo pair of headphones. It creates a virtual sound mix that surrounds the listener, creating the illusion that you're at the center of the action.
It is unique. It utilizes the tracking technology that is found in Apple devices, like AirPods, AirPods Pro, and AirPods Max headphones, to keep track of your head in real-time and the position of your iPad and iPhone. This allows it to adjust the sound effect in a realistic way based on the direction you gaze or rotate.
How does it work?
Apple has introduced spatial audio for the first time with iOS 14. Spatial audio makes use of a combination with 5.1 as well as 7.1 surround sound. This is often utilized in home theaters that use Dolby Atmos. It creates a broader area of 3D sound that makes it's like being right in the middle.
For example, if you're watching a film and something occurs on the right side of your screen you'll be able to hear the sound from the right side. For video games, this can help players to better comprehend the source of a threat from or the position of another player.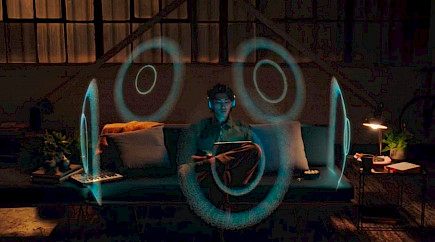 What makes Apple's audio with spatial features distinctive is its head-tracking system. Apple utilizes AirPods Pro and AirPods Pro and AirPods Max's accelerometers, gyroscopes, and technology to track your head's movements in real-time.
What is the significance of this? It adds an additional layer of immersion as the sound can change according to the location of your head.
The AirPods Pro and AirPods Max monitor where your head is as well as your iPhone or iPad, and adjust the sound instantly, which means if you change the position of your head or your iPhone or iPad, the volume will change in a flash. It's pretty cool, isn't it?
Compactible devices
iPhone 7 and iPhone 7 Plus.
iPhone 8 and iPhone 8 Plus.
iPhone X.
iPhone XR.
iPhone XS and iPhone XS Max.
iPhone 11, iPhone 11 Pro, and iPhone 11 Pro Max.
iPhone 12, iPhone 12 mini, iPhone 12 Pro, and iPhone 12 Pro Max.
iPhone 13, iPhone 13 mini, iPhone 13 Pro, and iPhone 13 Pro Max
iPad Pro (3rd generation or newer).
iPad Air (3rd generation or newer).
iPad 6th generation or newer).
iPad mini (5th generation or newer).
The 2018 MacBook Pro or newer.
M1 MacBook Air.
M1 13-inch MacBook Pro.
M1 Mac mini.
M1 iMac.
Apple TV 4K.
What are the apps that support spatial audio?
With iOS 15, Apple added spatial audio to each app on the iPhone. Now, you can control the audio for every app via the Control Center.
This means that, in theory, any app can utilize spatial audio. In other words, it's possible that you could utilize stereo audio with Spotify. However, it won't be as clear as it sounds when you use Apple Music. Some users have said that spatial audio is a bit gimmicky and that they've got some point.
Apple's Spatial audio within iOS 15 is attempting to replicate real spatial audio, instead of the app actually allowing it.
In that regard, there are a few applications that are popular and provide spatial audio.
Apple TV.
Netflix.
Disney+.
HBO Max.
Paramount+.
Discovery+.
Vudu.
It's important to note that, regardless of whether a streaming service has this feature, the shows and films also have to be compatible with Dolby Atmos in order to utilize spatial audio. If you're using Netflix to view a 15-year-old film, the chances are that spatial audio isn't working. You'll have to search for films and shows that can support Dolby Atmos, such as Bird Box or 13 Reasons Why.
How to activate spatial audio on the iPhone, iPad Mini, or iPad Pro?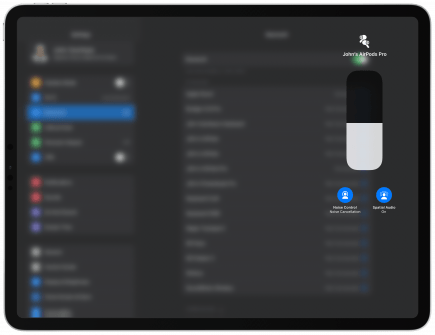 Check that you have connected to your AirPods Pro or AirPods Max and make sure they're connected with the device you're using, such as your iPhone, or iPad.
Navigate to Bluetooth within the Settings menu, and then locate the connected Apple headphones.
Click on the "more info" button following your AirPods and then choose Spatial Audio.
Switch Stereo Audio to spatial audio to experience a demonstration of the difference between them.

You might also like