As we all know, Apple doesn't settle on one thing; it keeps on renovating its products with its software.
As this is prominent, apply has now released iOS 15.4.
And here's everything it has to offer…
A very interesting feature is "Unlock Your iPhone Even While Wearing a Mask."
The much-anticipated update includes several improvements that many iPhone users were eager to try out when the firm long began beta assessing them in January. One of the most significant is the ability to unlock your iPhone even while wearing a mask; isn't that a miracle? In addition, this feature eliminates the requirement to carry an Apple Watch.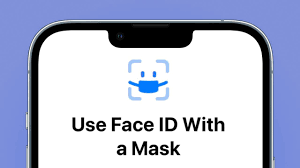 From the time COVID-19 entered our life, we have become used to wearing masks, but our mobile phone devices resisted this change. As a result, our devices are denied to recognize or face when our mask is on, isn't that injustice? I think it is, it is very frustrating when we need to unlock our phone in a hurry, but our phone is denied access because we have put on the mask.
But now iPhone users got relief from it, do you know how? Don't worry, I'll tell you. With the new software update in iPhone, iOS 15.4, iPhone can now unlock your mash even when you are wearing the mask. So after you've installed iOS 15.4, go to the Face ID and Passcode part of the Settings menu and manually enable it.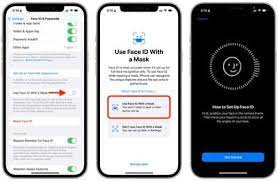 The iPhone 12 and subsequent smartphones, like iPhone 12 mini, iPhone 12 Pro, Pro Max, and the current iPhone 13 series, have this functionality. However, users of Apple's iPhone XS series, iPhone 11 series, and iPhone X will be unable to utilize the function. Unfortunately, users of these will have to take off their masks to unlock their phones.
New updates for Vaccination Cards, FaceTime, and Siri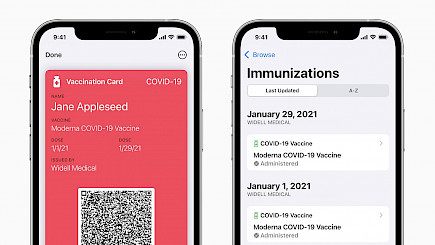 SharePlay sessions may now be started straight from compatible applications with the latest version. Furthermore, Siri may now deliver date and time information on iPhone XS, iPhone XR, iPhone 11, or newer iPhone XS, Siri may now deliver date and newer information even when it's offline.
Furthermore, Siri may now deliver date and time information on iPhone XS, iPhone XR, iPhone 11, or newer iPhone XS, Siri may now deliver date and newer information even when it's offline. Additionally, the Immunization Cards feature allows individuals to access and keep verified versions of their Covid-19 vaccination, medical tests, and health records for EU residents.
Magnifier App
You have to arrange the side button on my iPhone to activate the Magnifier app since it can assist me in zooming in on hard-to-read text and fine type on labels. You will be able to pick between the several cameras on my iPhone, for which you are grateful for the new camera modes in iOS 15.4.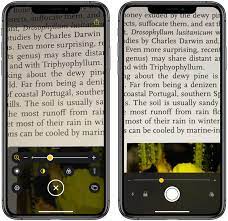 You'll have to rummage through the Magnifier app's options to swap lenses, and you can add a Camera control to the app. Whichever cameras are supported varies depending on the phone. For example, I can now select between Auto, Telephoto, Macro, and Selfie modes on iPhone 11 Pro Max. For the dual iPhone 13, only wide and selfie settings are available.
This feature was included in early versions of the iOS 15.4 beta. Still, somehow it appears to have gone in the latest version, which has been tested on a variety of devices. Apple adjusted the Magnifier app's camera switching detection throughout the testing process, so we'll see if this functionality makes the final cut.
What's More?
Apple's iOS 15.4 update also adds new emojis to your keyboard, including faces, hand motions, and everyday items. For example, users may now select different skin tones for every hand when using the handshake emoji.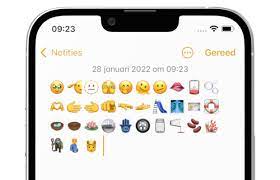 Assistance for Chinese and Italian on Safari web page translation is also included in this new update for users to yield the benefits. In addition, seasons, unplayed, saved, and downloaded episodes filters are now available on the Podcasts app.
Apple iCloud's primary email domains are now handled in Settings. The News app's Today feed and Audio tab will include improved audio content discovery. Users will also be able to add text to Notes and Reminders using the camera on the keyboard. With Reminders, Shortcuts now enables adding, deleting, and querying tags.
You're probably aware of the Live Text feature in iOS 15, which allows you to capture text using your phone's camera and paste it into other apps. Previously, you could utilize Live Text with Notations and Reminders, but iOS 15.4 enhances the text-scanning feature's integration.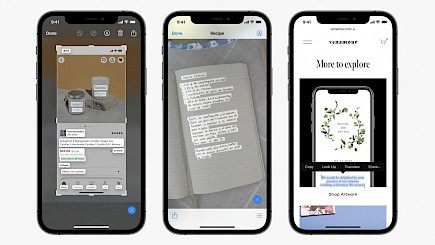 .
In particular, a Scan Text function has been introduced to the pop-up menu in both apps. When you click that, a camera window allows you to record the text from a note, photo, or book. That content shows in your Note or Reminder right away, and you can press Insert once you've recorded all the information you need.
Wrapping Up
And that's everything you need to know about the brand new iOS 15.4
We advise all iPhone users among our readers to please update their device to iOS 15.4 and enjoy a seamless iPhone experience.
Good Day!
You might also like