Widgets work best when they're straightforward. You just want to peek at it, learn what you need to know, and move on, like a clock on the wall. They display real-time data from your favorite apps, such as today's news, calendar events, battery levels, weather, and more.
In Today View, you may see widgets. You may also use widgets to keep this information at your fingertips by adding them to your Home Screen. They are super-convenient, glanceable quick-launchers for apps on your iPhone, and now, with the release of iPadOS 15, your iPad as well.
But, not all apps are suited to widgets, as we've seen over the last year. They can sometimes cause more confusion than benefits. But when they're right, you will love them and podcast applications can be considered among them.
What's New?
iOS 15 has arrived, bringing a slew of new features to the Apple Podcasts app. Apple has enhanced the capabilities inside its Listen Now tab in particular to provide you with personalized, targeted suggestions as well as to display any material shared with you by your friends—all in one location. Although the Shared with You feature is new to the Apple Podcast app, it is available in other Apple applications such as Apple Music and Apple News. This area contains all of the stuff that your friends or contacts have shared with you in the app.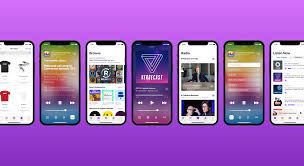 The podcast app widget's beauty is that the app's purpose perfectly matches the widget's capabilities. Typically, you'd like to listen to the most current episode of your favorite podcasts, and that's precisely what the app's easily checkable widget displays. In fact, unless you subscribe to a large number of podcasts or are continually adding new ones to your list, you may never need to use the app.
All episodes, programs, and channels delivered to you over iMessage will appear in a new, dedicated area on the Listen-Now button in Apple Podcasts. To use the Shared with You feature on Apple Podcasts, follow the instructions below.
1.25x playback speed
A 1.25x playback speed option is now available in Apple Podcasts. Previously, only 0.5x, 1x, 1.5x, and 2x playback speeds were available. Users who wish to explore their audio files quicker yet find them 1.5 times faster would love 1.25x. To utilize the new 1.25x playback speed, just click the purple 1x speed button to the left of Stream File to choose between playback speed choices.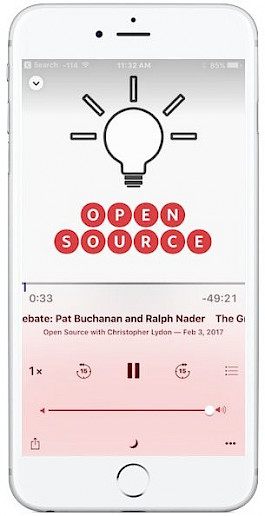 Listen Now offers personalized recommendations
Listeners may now use tailored suggestions to find new podcasts. Listen Now now has "You May Like It" and "If You Like It..." sections that recommend new shows based on listeners of shows you're now listening to, shows in the same genre, and shows from the same channel. There are also new sections that provide tailored suggestions depending on what people are listening to. Listeners who love broadcasts in a specific category, for example, will see new sections with recommendations for shows in comparable areas.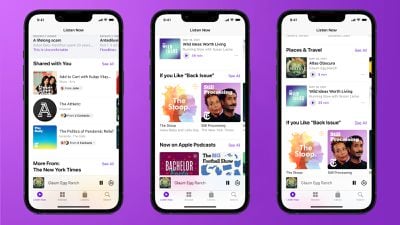 The Apple Podcasts App for iPad now includes a slew of new keyboard shortcuts. Previously, the only keyboard shortcut in the program was Command + R to update fonts, but there are now 17 in total.
What's the Big News?
Apple Podcasts is introducing subscriptions within the Apple Podcasts app, which will be a game-changer for the firm. People will be able to subscribe to material through the app for extra advantages including ad-free and bonus content, as well as early access, the firm said today during its spring event. Next month, it will be available in 170 regions and countries.
Pushkin Industries, QCODE, and NPR are among the first partners. Content providers will reportedly have to pay Apple $19.99 per year to sell subscriptions, with Apple taking 30% of income for the first year of a subscriber's lifetime and 15% for subsequent years. This implies that even if a listener only pays for a year, the podcaster has paid Apple 30% of the money. Podcasters are rewarded for keeping subscribers for a longer period of time.
Podcasters will have to upload their subscription material to Apple's backend rather than via RSS or their hosting provider. Their normal feed, on the other hand, may still be accessed through RSS. Podcasters will not receive particular data about their paying listeners, such as their email, names, or contact information, because the subscription material is sent through Apple. The connection is effectively owned by Apple.
The app will also be redesigned with channels to assist users in discovering new content selected by their favorite producers. These channels will have Apple Podcasts-specific artwork, titles, and descriptions, and some will push free material while others will charge. An initial channel partner is Luminary, a subscription-based podcast app that launched in 2019. People will be able to listen to Luminary broadcasts through Apple Podcasts as well as the Luminary app, the firm said today. A similar solution looks to be available at The Athletic as well.
Wrapping Up
New paid podcast subscriptions were added to Apple's Podcasts app in recent upgrades. Apple has also changed the phrase "subscribe" to "follow" for podcasts that don't require a subscription to listen to, which may be confusing to frequent listeners at first.

You might also like