Instagram is one of the most popular and most used social media channels all over the world right now. And since Facebook has owned this platform, we have seen a lot of changes in the design and the working of the platform. However, there hasn't been any major design change on the home page of Instagram for a long while.
So, it was quite a surprise when Instagram introduced the Reels and Shops tab on the home page and redesigned the Instagram home page. Reels is basically a way for the creators to share short, fun videos with their users and the Shop tab has been included to give users quick access to the shops and products.
According to the Head of Instagram, Adam Mosseri, these changes have been made keeping in mind the young generation that is turning out to be the trendsetters in this ever-evolving world. With the pandemic this year, a lot of people have taken to social media to share short, entertaining videos that have gone viral several times in the past few months. Moreover, now people have shifted their shopping tendency to mostly online and are asking for recommendations from their favorite influencers on what and where to buy.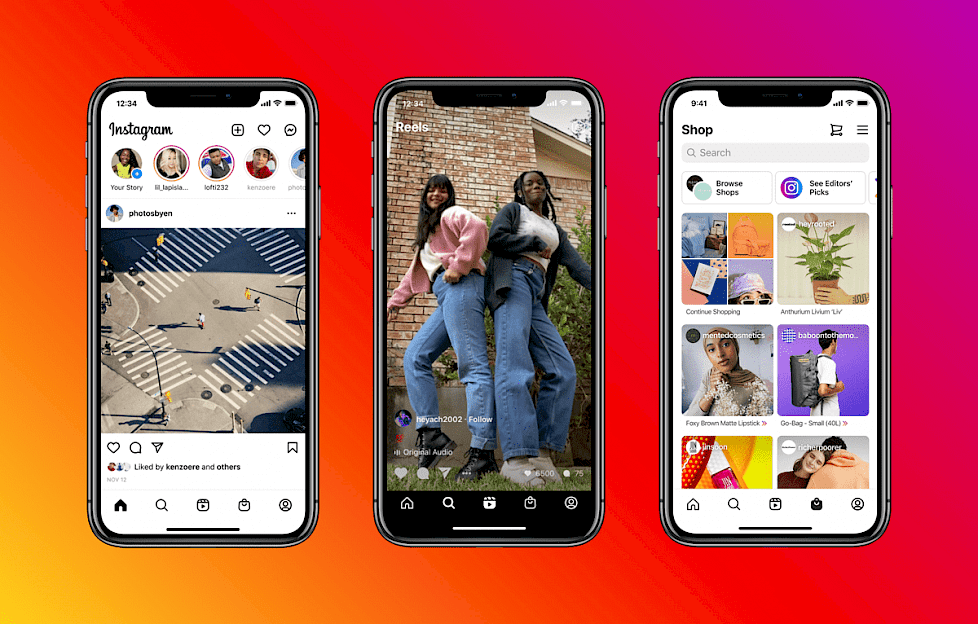 Reels was launched just a few months ago after Instagram saw the explosive growth of Tiktok. So, to take advantage of the situation, Instagram quickly added Reels to their platform as well. But now, they are going a step forward to make it more easily accessible for the users. This feature launch is similar to how Instagram took the stories to feature from Snapchat and incorporated it into the platform. Now, Instagram stories have become tremendously popular and have definitely left behind Snapchat far far away.
Instagram is hoping for a similar reaction with the Reels feature as well which is why they are working hard to push it to the users.
How to Add Reels on your Instagram
Here is how you can add Reels to your Instagram account:
Open your Instagram Stories camera and then choose the Reels option from the bottom.
You can then add music from the Instagram music library for your video or add original audio by recording it with your reel.
Further, you can select the part of the song that you wish to play with the reel.
Next, set the timer and countdown for your reel, and then start recording your reel.
Choose your desired effect to add and then select the speed of the video.
Once you are done recording the video, you can add effects, GIFs, etc. to your reel video.
Once you are ready, click on the Next button to share your Instagram reel with a caption, video thumbnail, tags, etc.
You can now share the reel and add it to your feed and the explore page.
It is quite easy to upload a reel and make use of it. And with the Explore page for Reels available on the Home, it will become easier to find entertaining videos to check out on Instagram.
There is also the Shop tab that gives users direct access to the shops and brands. This was a reluctant move on Instagram's side as it was easier to show advertised content than a dedicated space for browsing through products. But now that has changed and Instagram is pushing products on the app to the users to make it easier for them to shop online.
These changes will be rolled out slowly to the users so not everyone will see the updates instantly. Also, since it is still in the testing phase, different users will see different changes on their home page. If you can't see both Reels and Shop tab on your home yet, don't worry. Wait for a few weeks and keep updating your Instagram app, you will see the changes soon enough.
You might also like