Over the years Apple has focussed a lot on privacy and safety. If you ever visit their official website, you will be amazed to see how they are planning to protect their user's data with every upcoming software upgrade. But, does this mean Apple is not prone to malicious attacks?
Well, no they are! Over the years the iOS, macOS, and iPad OS have suffered waves of malware attacks. The Pegasus Spyware being the most recent among them. "Pegasus"- no, not the mythical winged horse. Rather it's a type of spyware that can directly harm the parent Operating System of any mobile device it's gotten into. Like any other spyware, Pegasus is discrete and works with extreme stealth. Your iPhone could come in contact with Pegasus from:
Emails from unknown sources
Messages from unknown sources
Web Downloads.
Transferred Files, etc.
How does a typical Pegasus spyware attack happen?
Let us take the help of an example, Shall we?
Consider you are a person, say ABC. Who is scrolling his social media timeline to pass his time, when you are startled by a Message or notification from an unknown source(App). Out of curiosity, you click on it. The message displays a hyperlink that will guide you to a website where you can buy groceries or electronic goods at an unbelievably discounted price.
You(being ABC) get excited and click on the link to visit the website. Eventually, the link guides you to a website but there's nothing here. Out of disdain you quit the browser and continue scrolling your social media timeline. Meanwhile, as soon as you visit the website a Pegasus spyware has crept into your device. Being a spyware, it multiplies itself. Within an hour or two, your mobile is flooded with hundreds and thousands of spyware and slowly they start taking control over your device. At first, you notice your camera or iMessage app is not responsive then, it spreads on and on until it has totally taken over your iOS and now has every access to your public/ private data.
Over the period of a few months, the Pegasus spyware has taken over more than 10,000 iPhone worldwide( the number is more than double for Android smartphones). So, is there any remedy to it?
Well, from Apple's side they are still working on it. Newer and newer malware/ viruses/ spyware pop up every now and then, so it's hard for Apple to protect privacy against every type of cyber threat out there. But with the new iOS 15 and later versions, we can expect an updated security module that will be built to especially prevent Pegasus and similar spyware from entering an iPhone.

But for now, if you want a secure File Transfer tool, then look no more than iMazing.
iMazing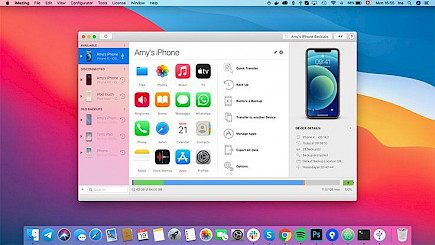 iMazing is a well-known file organizing, safeguarding, and transfer tool that can be used to transfer files from your device to any laptop or smartphone, wirelessly. Some relevant features of iMazing include;
Pegasus spyware detection(while transferring files)
Secured App-Lock feature.
Message and Call Log backup and restoration.
Auto backup of every sent/ received file, etc.
To download iMazing;
Open your browser and go to the official webpage of iMazing.
Select "Download" and mention the variant of the iPhone you are using and the iOS version. The integrated AI will provide you necessary download links.
Click on any given "download here.." link.
Wait until the installation is completed.

DigiDNA, the studio that developed iMazing also provides other useful jailbreak Apps for iOS, macOS, and iPadOS. Be sure to visit their official website to know more. Good Day!
You might also like