I am sure a lot of jailbreakers would agree with me on this that AltStore and AltServer makes it quite easy to side-load jailbreak apps such as unc0ver, Odyssey, etc. on your iPhones and iPads. But it can be a little cumbersome to keep a track of how long these jailbreak apps will work before these apps need to be signed again.
With the AltStore app, you get a compact native-style widget on iOS and iPadOS devices that help you keep a track of the signing apps. However, if you are looking for something a little more conspicuous, then you should check out this newly released and free jailbreak tweak known as IconCert 14 by iOS developer Hao Nguyen.
As the name of the tweak suggests, IconCert 14 adds a small badge to the side-loaded app icons that will display how long that app is signed for. You can take a look at the below screenshot to understand what we are actually talking about.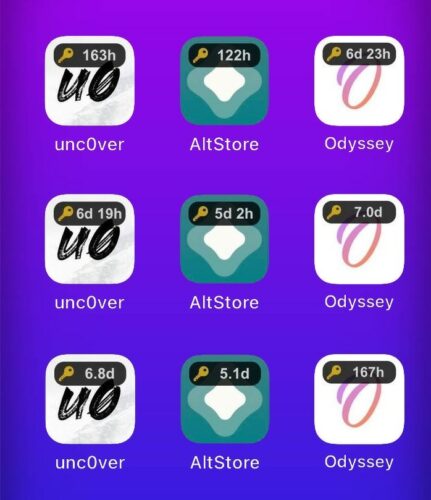 The concept used behind IconCert 14 is not a new one and the original tweak released by iOS developer faz was known as IconCert. This happened around three years ago when the iOS 10 Yalu jailbreak was ubiquitous. iOS developer Nguyen realized the functionality of IconCert is still useful in the jailbreak community and so, after making a few small tweaks, he re-released this jailbreak tweak for the modern jailbreaks for iOS and iPadOS devices.
Once you install IconCert 14, it will add a dedicated preference pane in the Settings app where the users can easily configure the tweak. Here, you will find the following options:
Turn IconCert 14 on or off
Enable or disable the animations
Select the time format for the badge from the following options – DD HH, DD, HH, SS
Configure the opacity level of the IconCert 14 badge using the slider
Input the app identifier keywords that will be applied to the badge
Reset to the default settings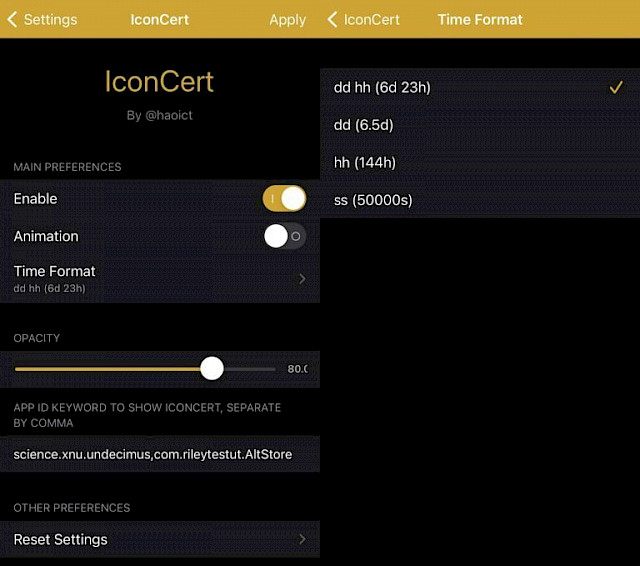 To save the changes that you have made for the jailbreak tweak, you can use the Apply button that is available at the top-right corner of the preference pane.
If you use a side-loadable jailbreak tool along with AltStore to sign it, then you should get the new IconCert 14 tweak as well on your pwned device, especially if you don't like the AltStore widget. This tweak supports both iOS and iPadOS 13 and 14 devices.
You can get IconCert 14 jailbreak tweak for free from the Nguyen's personal repository using your favorite package manager. This tweak is going to be made open source soon and will be made available on the developer's Github page. If you haven't used Nguyen's repository yet, then you can easily add it to your favorite package manager by using this URL:
https://haoict.github.io/cydia
Will you be installing IconCert 14 on your jailbroken device to keep a track of the signed app? Do let us know your thoughts in the comment section below.
You might also like