Safari is hands down one of the most well-known internet browsers in the world. Native to the iOS and macOS, this highly efficient browser was released in 2003 by Apple Inc. for their computer Apple 2.
Built using open-source software like Webkit, it made its first appearance as an integral part of Mac OS X Panther. Later, Safari modifications were made in this browser and a mobile version of it was also released in the first iOS( iPhone OS 1). Since then Safari has been the king of browsers.
As time has passed many other browsers like Opera, Brave, Mozilla Firefox, Netscape Navigator, Chrome, etc have been developed by various companies but Safari still holds the number one spot in terms of browsing speed and overall user security.
So, what makes Safari an ideal browser for all Apple users?
It comes as an inbuilt app in iOS and macOS.
It is extremely safe thanks to the impressively designed languages in which it was primitively written.
It is the fastest internet browser in the world.
It has a very well-organized and interactive UI.
Its "Nitro Engine" feature helps the browser to process web-based applications faster than any other browser.
Unlike Chrome or other open-source browsers, it is less prone to virus and trojan attacks.
It comes with one of the best internet firewalls.
It has more than 100 application extensions available.
And these are some of the many reasons why Safari should be the first choice browser for Apple users.
What is Safari Tab-Groups?
Tab-Groups is an inbuilt feature in the Safari browser which lets you explore all the opened tabs on the browser at once. It is very similar to the background app button one has in an iPhone.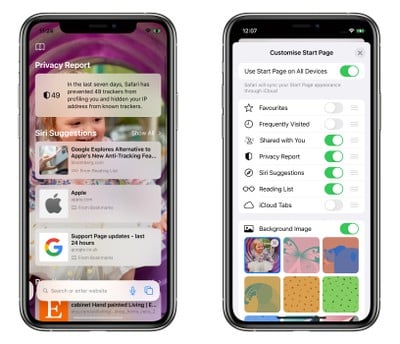 What are Tab-Groups used for?
The Safari Tab-Groups open up a bunch of ongoing tasks(webpages) that are open in the browser. Now the user has the monopoly to choose and switch tabs without wasting time and clicking on their trackpad countless times.
What's new about Tab-Groups?
As per the official website of Apple, with the latest update of Safari on iPhones and Macs, one can customize and create personalized tab-groups. These tab-groups will be saved permanently on the device and can be altered by the user accordingly.
Additional features include:
System requirements for Safari Tab-Group
To use the brand new Safari Tab-Group feature one will need:
An Apple device running iOS or macOS.
Up to 500 Gigs of RAM.
iOS 15 or later.
iPadOS 15 or later.
macOS Monterey or later.
How to use Safari Tab-Groups on iPhones
To use the tab-group first you have to create a tab group.
Open the Safari browser on your iPhone.
Click on the multiple tab icon (two-square icon) and open another tab.
Now you will see two options popping up (1) New Empty Tab Group, (2) New Tab Group from Tab 1.
Click on the second option and give the tab group a name.
By the same method create numerous Tab-Groups on your iPhone.
You can move tabs from one group to another by:
Open a tab-group on the Safari browser.
Locate the tab you want to move and long-press on its thumbnail.
A drop-down menu will appear, from there select "Move to Tab Group".
To arrange the tab-groups
Tap on the multiple tab icon (two-square icon) on the Safari browser.
Long-press on the thumbnail of any tab until a drop-down menu appears.
Select - "Arrange", and now you can arrange the tabs group by name, numbers, or websites.
To close a tab-group
Open that tab-group of the Safari browser.
Long-press the multiple tab icon (two-square icon) and choose "Close All Tabs".

Hope we could help you understand your iPhone a little better. Happy browsing everyone!
You might also like