Instagram is a social networking site that allows users to share their photos, videos, and GIFs. The app was launched in 2010, and it has been a momentum in social media and social media platforms.
The app is currently owned by Facebook, and it is featured as very popular among the youth and influencers.
Instagram stories are also very popular for they are a fun way to share your experience of photos or videos among your followers. These stories are temporary, and they last for only 24 hours. They provide a good user experience, and their features are trendy.
One such feature is a photo booth for Instagram. Photo booths make story sharing fun and more interesting. You can quickly learn to use the photo booth for your Instagram stories using these steps.
Step 1: The first thing you need for using a photo booth is an Instagram account. Creating an Instagram account is very simple. Sign in using your existing Google or Facebook account or create a new id.
Step 2: Go to your profile click on the plus icon in the upper right corner to create your story. The slide will pop up and select the story option from it, or you can go to your home screen and slide to the left and start creating your story.
Step 3: On the left side, there will be few options like add text, layout, or a boomerang. Click on the arrow pointing downwards and select the photo booth option.
Step 4: Choose the effect and filter and start clicking your pictures. You can also enable the grid by clicking on the circle above the photo booth option.
Step 5: The photo booth allows you to click four pictures back to back, and you will be given 3 seconds for each shot.
Step 6: You can also enable the flashlight while clicking the pictures by clicking on the flash icon.
Step 7: Once you have clicked all your pictures, click on the plus icon above, and you will have different options to present your pictures.
Flash
Light leak
Photostrip
Filmstrip
Vintage
VHS
Step 8: You can add GIFs or songs of your choice. You can also tag people or add any location or emoji in your photo booth story.
Step 9: Your story is ready to share. Share it on your profile or with your friends, or you can also add it to your highlights.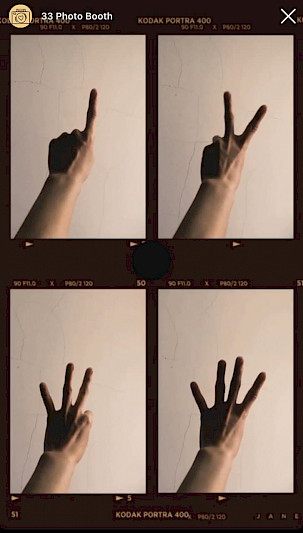 Conclusion
Instagram stories are a fun way of sharing your experience, and they are also very relatable. You can use a photo booth for your stories and create more impactful and interesting stories.
You might also like