Nowadays, the most valuable thing for each individual on this earth is the "Data". But do you know your data is not free? You are directly not paying anything but trust me, indirectly, you are. Everything costs something, if you think you're getting something for free, think again; they may be trading your data. This data can be used to influence your decision-making power.
Most of the decisions that you make nowadays are controlled by the big corporate giants. Very few people know about it. You would say "What's the problem? I am getting a product for free". But if you're getting something for free, then you are most probably compromising your data.
Think about a situation-: You went to a random website, and you searched for some products. When you go to social media platforms like Facebook, you would see that you are being bombarded by ads of the same product that you just searched for a while ago. Sounds familiar, isn't it? Do you think this is just a mere coincidence? No, platforms like Facebook are selling your data to earn profit. So Facebook isn't free as you thought it is.
To know how social media apps secretly consume your data. Click "here"...
But, what if we tell you apple has a special feature that's tailor-made for its users who want to protect their precious data. Excited? Well, let us talk about App Tracking Transparency.
How can app tracking transparency help you?
Apple has taken a huge stance to fight this data breach and introduced a new feature with updated privacy measures from iOS version 14.5 onwards. The feature is known as App tracking transparency. Apple has advised all of the developers and existing apps to give a permissions list to Apple before submitting their apps to the iOS store, and also if they collect user's data.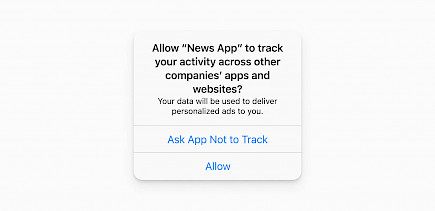 With app tracking transparency, it's in the hands of the users to either allow the app to collect data or not. This is a big deal and a very good security measure that Apple has introduced. This shows Apple respects user's privacy. This feature will help users take unbiased decisions to the extent that was not possible before. With the app tracking transparency, Apple can save you from major data scandals and data thefts.
How to toggle app tracking transparency on iPhone?
By default, the feature should be turned on every Apple device using iOS 14.5 or later. But to really make sure that it is turned on, following these steps-:
Launch Settings on your iPhone.
Scroll down until you find Privacy and select it.
Go to the tracking page. Make sure the "Allow Apps to Request to Track" toggle is turned on and green. You can also turn it off when you desire.
Once you have followed these steps, apps that collect your data will bring up a prompt asking you whether you allow them to collect your data.
How to turn on app tracking if you accidentally didn't allow it in the first place?
Launch Settings. And go to Privacy.
Go to the Tracking section again, where you will find apps for which you have allowed or disallowed tracking. You can toggle it on or off as per your liking.
As humans, the right to privacy is everyone's birthright and with app tracking transparency you can ensure no one can trespass over your data. So, update your OS today and take the first step towards a secure future. Good Day!
You might also like