Living a healthy and active life is something which everyone is striving for nowadays. Ages ago someone said - Health is wealth. The healthier you are, the better you will be at your job.
Over the years Apple has built up a system that can support you in your health drive. Right now you can find workout-tracking software, podcasts, etc available in a single Apple device. With these inbuilt apps you can:
Track your workouts
Set up special workout routines.
Keep count of calorie intake, etc.
Today in this article we will broadly speak about Apple Watch's workout tracking feature and how you can use it. So, let us begin.
How to start a workout
Open the workout app in your App Watch.
You will be greeted with a blackish screen with green accents
Scroll the Digital Crown to toggle between workouts.
You can now set your workout according to the modes given in the UI.
If you find a workout routine of your choice then select it. If not, then tap on the "Add Workout" button located at the bottom of the screen and set up a personalized workout routine.
Besides every workout mode, you will find three horizontal dots (...) that are the "Goal" option.
Tap on the Goal option and set your workout goals according to your choice. You can choose from options like - Time limit, Calorie burnout, Distance covered, etc.
You can turn the Digital crown up or down to adjust the intensity of your workout.
When everything is set according to your choice click on "Start" and begin your workout.
To start a workout without any Goals
Open the workout app on your Apple Watch.
Select your preferred method of workout from a list of given workouts.
Do not specify any goals by click on the (...) option and tap "Start"
To know more. Click "here"...
How to set a target for outdoor workouts
Whenever you are going for a workout outdoors you have to keep a few things in mind.
Unlike indoors the weather outside can not be controlled thus, you have to set your workout schedule according to the weather outside.
The environment outside offers more resistance and limiting factors for workouts thus, one has to pre-plan their workouts before starting.
To help its users from suffering any problems related to outdoor workouts Apple has expertly designed its workout app so that it can notify you about your target while you workout outdoors.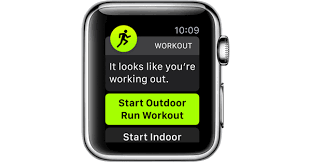 To set a target for outdoor workouts:
Open the workout app on your Apple Watch.
Now turn your Digital Crown down and you will find the "Outdoor" mode.
Toggle the outdoor mode.
You will be greeted with a black screen with green accents and borders. Similar UI to that of workout modes.
Locate the "Set Alert" options and click on tt.
Now you will have to adjust the workout according to your needs. You can define - the distance you want to cover, time limits, calorie burnout rate, etc.
After you have finished customizing your personal workout, tap the "Start" button.
To set up multiple workouts into a single regime
Open the workout app on your Apple Watch.
First, you have to begin with one workout (follow the steps given above to set a workout)
When you are ready for the next round lookout for the (+) button located in the lower part of the screen, click it.
Now you can do a new workout to your whole schedule.
Once you are finished setting up a new workout click on "Done".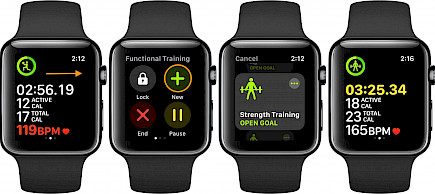 Hope you like this article, we will be back soon with compelling content. Till then, Stay Tuned. Happy workout everyone!
You might also like