Are you a developer?
Don't know how to register as an Apple developer?
Don't you worry, we've got your back. We are going to share information on how to register for an Apple developer account.
In this article, we will explain how to register as an Apple developer as an individual and as an organization.
Keep reading till the end to know it all.
How to enroll in the Apple developer program as an individual?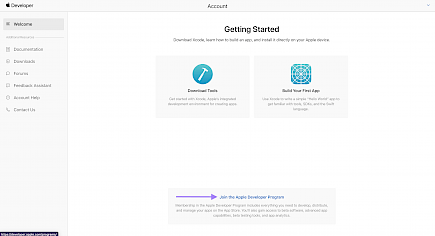 Follow these instructions to join the Apple Developer Program on your iPhone or iPad if you are an individual or sole proprietor/single-person business.
The device must be an iPhone or iPad equipped with Touch ID, Face ID, or a passcode feature. It is necessary to make use of the same device for the entire process of enrolling.
The Apple ID with two-factor authentication enabled. It is essential that your Apple ID information be current and accurate, which includes but is not limited to your name, primary name (given name) as well as your last name (family name), address, phone number, and trusted devices.
The most recent version of the Apple Developer app should be installed on your device.
iCloud should be signed in on your device.
Enrollment process
Start the Apple Developer application on the device you wish to enroll with
Click on the tab "Account."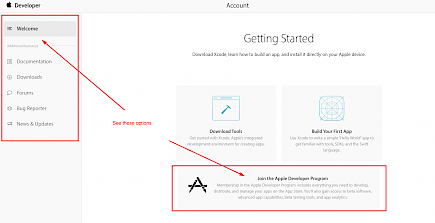 Log in using your Apple ID. This could differ from the Apple ID signed in to your device, but it must have two-factor authentication enabled.
If asked, go through your Apple Developer Agreement and then tap "Agree."
Tap to enroll now.
Examine the program's benefits and conditions, and then tap "Continue."
Fill in your personal details.
Enter your first and last name and telephone number. Your legal name will show up as the owner of the App Store. Don't enter an alias, nickname, or company name as your name, whether it is your initials or last name, in case making the wrong choice of legal name can delay the process of completing an enrollment audit.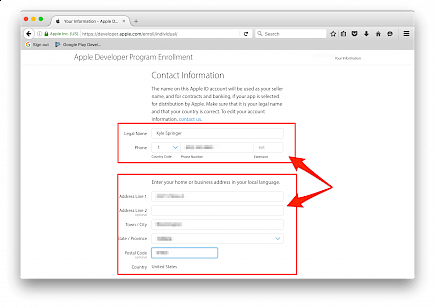 You'll be asked for proof of your identity by using your driver's license or a government-issued photo ID.
Snap a picture of the back of your ID and then tap Confirm.
Snap a photo of the reverse of your picture ID, then tap Confirm.
Follow the instructions on the following screens: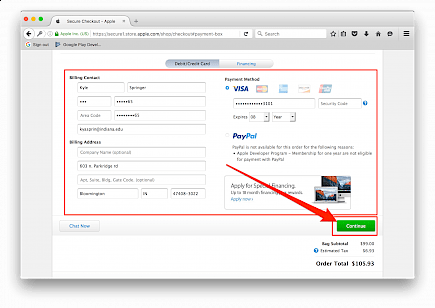 Review the information you have submitted and click Continue.
Select "individual" as the entity type.
Check out the conditions in the Apple Developer Program License Agreement and tap "Agree."
Complete purchase
Examine your annual membership information and then click on the button for a subscription. Membership is available on an annual basis. It is an auto-renewable membership that is renewed until canceled. The purchase will be made using the payment options that are associated with the App Store (iOS 14) or iTunes and the App Store (iOS 13.7 or earlier) account.
A receipt will be sent to you via email, and you can send it back to yourself by email at any point from the Purchase History within Settings. You can also cancel your subscription through Settings for up to one day prior to your expiration date. Membership payments paid for the year you cancel are nonrefundable.
How to enroll in the Apple Developer program as an organization?
It is similar to the enrollment in the Apple developer program as an individual but after entering your personal information, you should enter the organization's information. Waivers of Membership Fees in the Apple Developer Program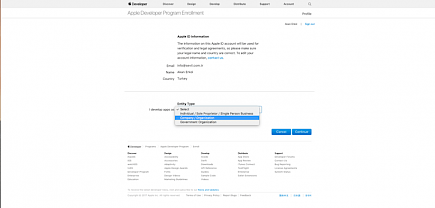 Apple Developer Program membership is free for organizations that are eligible. Find out if your company is eligible and how to apply for the waiver.
Eligibility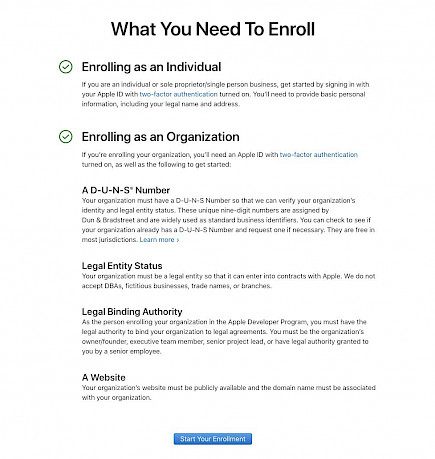 You can ask to have your annually charged Apple Developer Program membership fee waived for a non-profit organization or an accredited educational institution, or a government agency that plans to provide only free applications through the App Store and is located in an area that is eligible. Apple will look into your request and get in touch with the applicant to let them know whether your request has been approved.
Eligible regions: Australia, China mainland, Brazil, Canada, France, South Korea, Germany, Israel, United Kingdom, Italy, Japan, Mexico, United States.
New members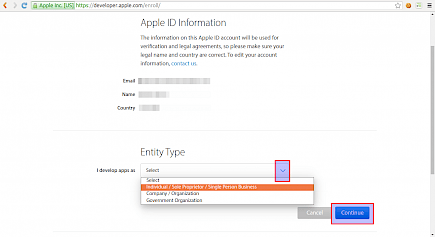 To become a member of the Apple Developer Program at no cost, if you are an eligible business, you must select the option to apply for a fee waiver while you are completing your enrollment. If the waiver is approved, your business is not required to be able to cover the cost of membership after you complete your enrollment.
For existing members of the Apple developers program
Account-holders of organizations that are eligible are able to make the fee waiver at any time prior to their expiration date. The waiver is based on an ID number for tax purposes, also known as a national ID, which is a number issued by the local authorities that identify the business's location within the market.
Some examples include the VAT Number within Europe, as well as the Siret Number in France, the Company Number in Australia, and the State Registry Number in Brazil. In the event that the fee waiver request is granted, the business is no longer required to pay an annual fee at renewal. Refunds in full or part for existing memberships are not offered.
Winding-up
Follow these simple steps to sign up/ register for an Apple Developer Account and share your great works with millions of smartphone users/ enthusiasts.
Register today and be a part of something big.

You might also like