How to jailbreak iPhone on iOS 12.4
kuba - Friday, 23 August 2019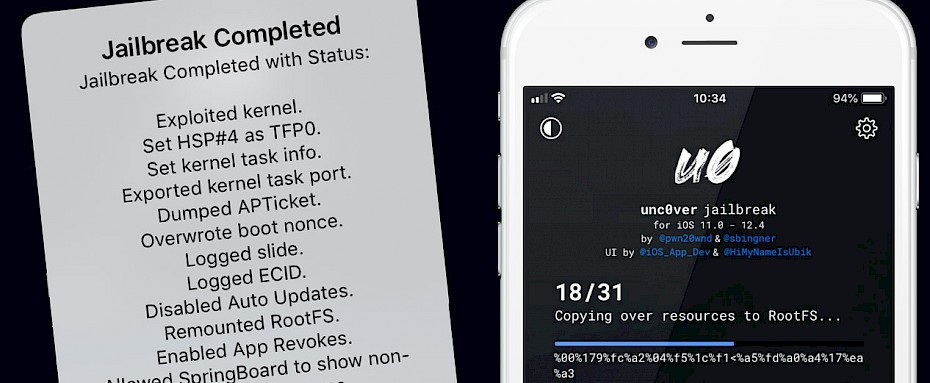 The jailbreak community is really excited about the news that the newest version of iOS 12.4 can be jailbroken. unc0ver jailbreak tool works only with A8X – A11 powered iOS devices like the iPhone 7, iPhone 8 and iPhone X. Partial support for A12-A12X devices. Learn how to jailbreak iPhone on iOS 12.4.
Jailbreaking iPhone is a complex process of executing kernel exploits allowing you access the root system and install Cydia to download apps and tweaks. unc0ver is a semi jailbreak tool that is safe to use and when you decide to jailbreak an iPhone, iPad, or iPod Touch you will not lose the guaranty.
Discover how to jailbreak the iPhone.
What features offer jailbreak?
Access file system
Download Cydia tweaks and enhancements
Disable system updates
Install Cydia Package Manager
Disable app revokes
Install OpenSSH
Max memory limit
Install not signed IPA files
unc0ver jailbreak is one of the most popular tools to jailbreak iOS 11 and iOS 12.4 developed by hacker hid by name pwn20wnd. The app works now really stable and offers a lot of useful features including the option to install Cydia, disable app revokes and turn off auto-updates.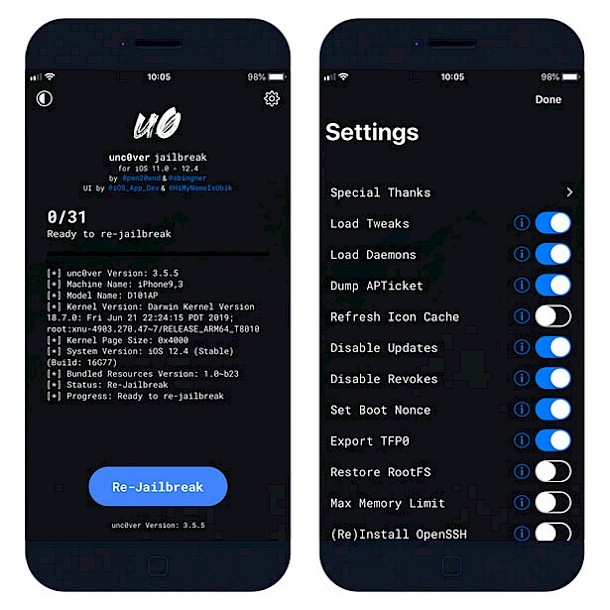 This update was verified to work on iOS 11.1.1, 11.1.2, 11.2.1, 11.2.5, 11.3.1, 11.4, 11.4.1, 12.0, 12.1.1, 12.1.2, 12.1.3, 12.1.4, 12.2, and 12.4. The newest update significantly improves the stability and the performance of the entire system, stable and performant and adds support for switching from other iOS 12 jailbreaks.
I'm using unc0ver to jailbreak my iPhone 7 running actually on iOS 12.4 and I can confirm that the jailbreak is 100% secure to use and works stable. It doesn't drain your device's battery so it's great.
Jailbreak iPhone
Before we start you need to check if your iOS device is supported by the free jailbreak program.
Compatible iOS devices running iOS 12 -12.4 with A8X–A11 include iPhone 5S, iPhone SE, iPhone 6, iPhone 6 Plus, iPhone 6s, iPhone 6s Plus, iPhone SE, iPhone 7, iPhone 7 Plus, iPhone 8, iPhone 8 Plus, iPhone X, iPad Air 2, iPad Pro(9.7"), iPad Pro(10.5"), iPad Pro 1 and 2(12.9″), iPad (2017), and iPad (2018).
New devices using A12 chip (iPhone XS, XS Max, or XR, nor the 2019 iPad Mini or iPad Air) can be jailbroken but without an option to install Cydia and this means also that no tweaks are supported. If you are using the newest version of the Apple system you can still downgrade iOS for jailbreak.
No worries, the jailbreak tool will detect if your device is supported and don't need to know what processor uses your iPhone. If it's not you will have no option to start the jailbreaking process.
How to jailbreak an iPhone without a computer
Using unc0ver to jailbreak your iOS device is absolutely safe. After you exploit the device you can remove the jailbreak by simply restarting your iPhone. The process is really simple and easy to follow.
Step 1. Backup your iPhone with your favorite tool, just in case.
Step 2. Click Install unc0ver link from a web browser.
Step 3. The app icon will appear on the home screen.
Step 4. Navigate to Settings → General → Device Management.
Step 5. Find the newly installed Enterprise App Certificate.
Step 6. Click on the certificate name.
Step 7. Trust apps from the developer to run on your iPhone.
Step 8. Allow access to your data and tap Trust.
Step 9. Run unc0ver app from your home screen.
Step 10. Tap on "Jailbreak" button to start.
Step 11. Once done, the device will respring and you'll find Cydia on the home screen.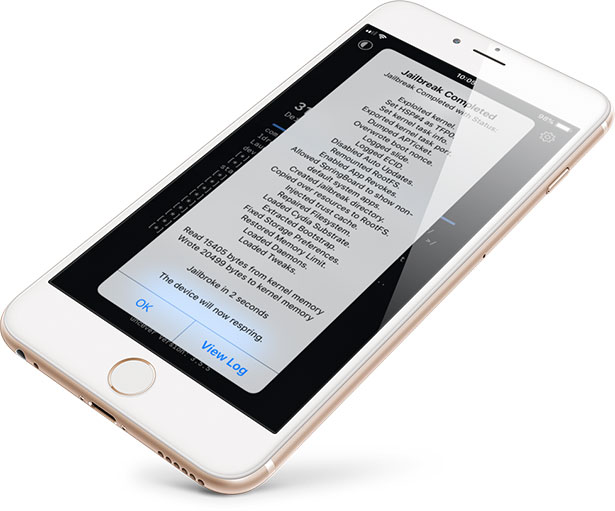 Open the Cydia app and install the desired tweaks and jailbreak packages. After jailbreak, install ReProvision app, an alternative to the computer version of Cydia Impactor, which allows you to sideload the newest updates of unc0ver IPA without PC.
Sideload unc0ver to jailbreak iOS 12
If you can't install the jailbreak tool without a computer you can still download unc0ver IPA file and sign it using Cydia Impactor and sideload the app to iOS. We provide a full step-by-step guide on How to use Cydia Impactor to install IPA files on iOS.
Step 1. Download Cydia Impactor, and unzip the file.
Step 2. Download unc0ver .IPA (40 MB).
Step 3. Open Cydia Impactor and navigate to Device → Install Package.
Step 4. Select the Undecimus-.ipa file to install.

Step 6. Enter your AppleID and app-specific password to sign apps not provided by Apple.
Step 7. Add the certificate to trusted from Settings → General → Device Management.
How to remove Jailbreak
If you are not happy with the jailbreak of your device you can uninstall unc0ver from iOS 12 in easy steps. Remove iOS jailbreak by manually deleting all tweaks installed on your Apple device.
Step 1. Open Cydia from home screen.
Step 2. Navigate to the Installed tab and delete all tweaks installed on your iPhone.
Step 3. Open the unc0ver jailbreak app and go to Settings.
Step 4. Toggle the Restore RootFS (rec0ver) and Refresh Icon Cache options.
Step 5. Press Jailbreak or Re-jailbreak on the main screen.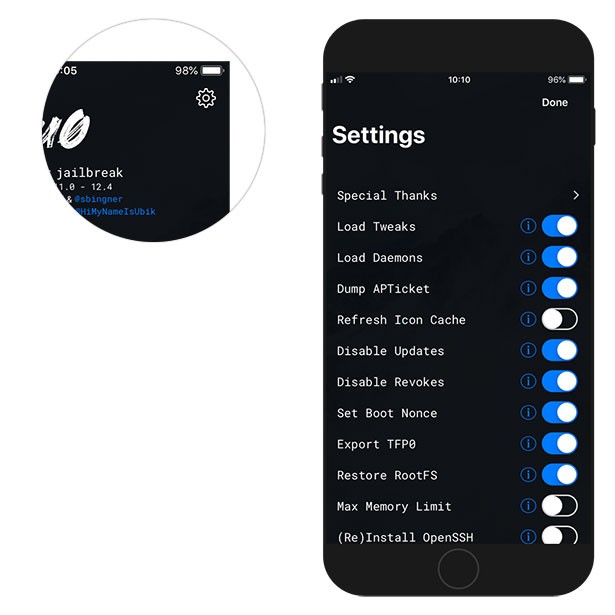 It should take no more than 10-12 minutes to restore the root filesystem on your device. If the process will take longer please wait and let unc0ver do the work and don't hard reset or reboot your iPhone. Tap OK, when the app displays the "RootFS has been successfully restored" message.
Succession app is a different solution for jailbroken devices to restore your iOS device back to stock. Succession (unlike iTunes) does this without updating the device so that after the restore, you are still able to jailbreak your device. Moreover, Succession does not require SHSH blobs.
Fix unc0ver boot loop
If you are installing various tweaks it can happen that your device will restart and you will be forced to re-jailbreak your iPhone using unc0ver app. Sometimes the jailbreak process will be stuck on boot loop because of an issue related to one of the installed iOS tweaks.
The iPhone 7 infinite boot loop can be fixed.
Navigate to unc0ver → Settings and disable the Reload System Daemons option before re-jailbreak.