iOS 14 is the fourteenth and the latest major release of the iOS mobile operating system developed by Apple for their iPhone and iPod Touch lines. Today checkra1n jailbreak 0.11.0 was released with support for iOS 14 on A9(X) devices and lower.
Since iOS 14.0, Apple added a new mitigation to SEPOS on A10 and above. When the device is booted from DFU mode and the Secure Enclave receives a request to decrypt user data, it will panic the device. checkm8 exploit does not give the control over the Secure Enclave, but recently published blackbird vulnerability, we are able to get control of the Secure Enclave on A10 and A10X and disable this mitigation. Support for A10 and A10X devices will be ready in the coming weeks.
iOS 14 jailbreak compatible devices:
iPhone 6s, 6s Plus, and SE
iPad 5th generation
iPad Air 2
iPad mini 4
iPad Pro 1st generation
Apple TV 4 and 4K
iBridge T2
Support for devices in the coming weeks:
iPhone 7 and 7 Plus
iPad 6th and 7th generation
iPod touch 7
iPad Pro 2nd generation
Jailbreak iOS 14 using checkra1n
checkra1n is a semi-tethered jailbreak tool that requires a computer to start the jailbreak. If you own a supported iDevice and you can connect it to a PC or Mac you are ready to jailbreak iOS 14. This is how to jailbreak iOS 14 with checkra1n tool.
1. Download checkra1n for macOS or Linux.
2. Open the downlaoded package.
3. Move the app to the Application folder.
4. Run the checkra1n app for iOS 14.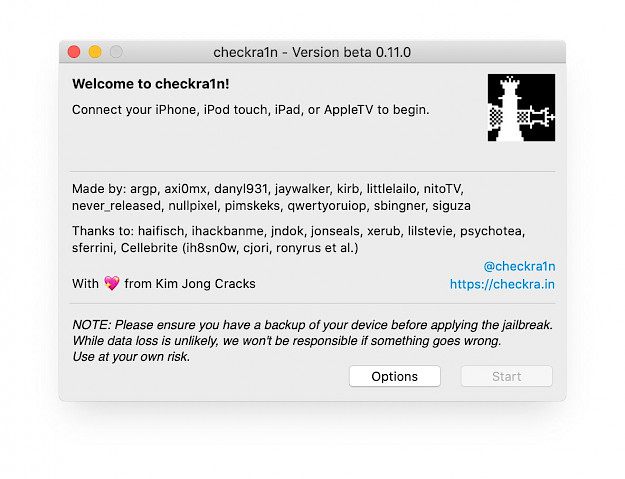 5. Connect your iPhone to PC or Mac using USB cable.
6. Click start to jailbreak your device.
7. checkra1n will activate Recovery Mode.
8. Enter DFU mode (screen must stay black) on your iDevice.
9. Wait till the device will boot into jailbreak mode.
10. Lunch checkra1n loader from iOS 14 home screen.
11. Install Cydia to access tweaks.
You might also like