With the capacity of more than 1.5 billion users active, WhatsApp has become the world's most-loved social IM application of all time. You will likely be using it on an iOS as well as an Android device to connect with your contacts. But, what happens when you have to reinstall the app?
If you reinstall an app then their existing data is completely wiped out from the memory. Thus, If you aren't willing to lose important conversations and WhatsApp media, it's always the best option to create a WhatsApp backup onto iCloud.
It's a feature native of WhatsApp that allows us to ensure the security of our app's data. Moreover, if you also already have an iCloud WhatsApp backup, it is possible to switch phones while keeping your chats. In this comprehensive guide, we'll teach you how to transfer your WhatsApp backups to iCloud in every method.
How to back up What's app chat to iCloud?
In general, there are two options to backup WhatsApp backups to iCloud. You can only take the backup of your application's data or even the whole device.
Backup only WhatsApp Data on your iCloud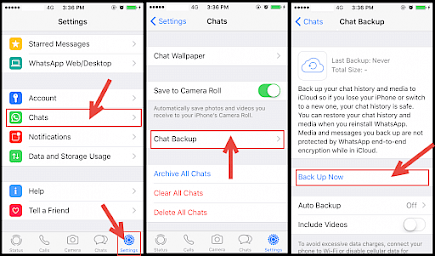 WhatsApp can be linked to your iCloud account to store your backups of the application. In this method, you can access the settings of your WhatsApp settings and make a backup of your chats, attachments, messages, and more to the iCloud account. It is important to note that you'll need enough space in the iCloud account to hold WhatsApp backups. If you'd like to activate the backup feature that automatically runs WhatsApp on your cloud drive too.
Start WhatsApp onto your iPhone and then go to settings > chats and backups.
If you want to take a quick backup, simply tap the "Back up Now" button. If WhatsApp is not connected to your iCloud, the prompt will pop up asking you to sign in to iCloud. You may also choose whether or not to include videos in the backup.
For automated backups, click on "Auto Backup" and select the "Auto Backup" feature and select the frequency as either weekly, daily or monthly.
Add WhatsApp to iPhone Backup
In addition to the features mentioned above, it is also possible to store all of the backups on your device to iCloud. However, because Apple offers only 5GB of space for free to its customers, you may need to purchase more storage space for this option.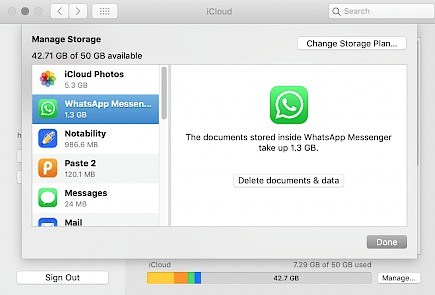 Not only your WhatsApp data, but you can also save photos, documents, videos, photos, notes, etc.
Unlock your iPhone and open settings > iCloud. Then, in the latest iOS versions, tap your Apple ID > iCloud.
After opening the iCloud settings, navigate to the Backup section and then turn on this iCloud backup feature.
In addition, you can return and look at the apps you have part of the iCloud backup. Scroll down, and then activate Backup for WhatsApp.
How to find your Whatsapp backup from iCloud?
Once you've figured out how to upload your WhatsApp backups to iCloud, let's look at some specifics. If you've tried the second method, you'll be able to make a full backup of your phone, including WhatsApp data. However, many times, people wish to access WhatsApp backups on iCloud or extract data from it. Because there is no native solution, it is necessary to use an external iCloud backup extractor, such as dr—Fone Recover (iOS).
It is also able to remove an earlier taken iCloud/iTunes backup and show you its contents using its user interface. This is how you can locate WhatsApp backups on iCloud with the dr. Fone Retrieve (iOS).
Begin by launching the dr. phone -- Recover (iOS) Interface. Then, link the iPhone to the device. From its homepage, select the option to retrieve your iOS device.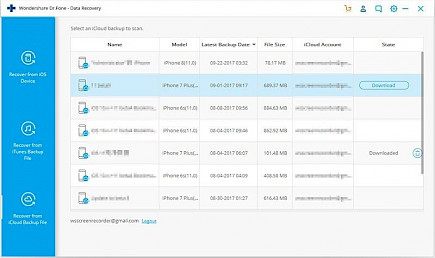 Then, from the sidebar, click the option Recovery from iCloud backup. Then, sign in to your iCloud account from where the backup from earlier is kept. (If the 2-factor authentication option is activated, you will need to input the generated code to confirm your identity.)
Once you are logged in to the account successfully, you can then view the details of backup files. Select the correct iCloud backup that contains your WhatsApp data is saved.
The application will ask what you would like to transfer from the backup. To cut down on time, choose the WhatsApp feature - which includes WhatsApp chat, attachments as well as messages.
This is it! You can now view the WhatsApp Chats as well as exchanged files and then save the files on your PC by pressing the "Recover" button.
How to restore WhatsApp data from iCloud?
If you believe that the WhatsApp backup is already saved on iCloud, the backup can retrieve it. To accomplish this, you must erase WhatsApp off your phone and then reinstall it.
In the process of setting up WhatsApp, you will be presented with an option for restoring an old backup where the option will appear itself. In addition, if you'd like to restore the entire device, you should consider an uninitialized reset instead.
Install WhatsApp onto your iPhone and complete its initial setup by entering the phone number that was associated with it. Next, make sure your device is connected with the same iCloud account that was previously linked to it.
When you sign in to the application, WhatsApp will automatically detect the existence of a backup. To restore it, simply tap the "Restore Chat History" button and keep a steady internet connection, and the backup will be restored.
If you wish to restore your entire device. To accomplish this, you must reset your phone's factory settings and then perform the initial setup. Next, select to restore it from an iCloud backup, and then log into your account to choose the relevant backup file.
Winding-up
And those were the steps you need to follow for safeguarding your personal data from various social media apps to iCloud.
That's all for today, If you liked the article don't forget to share your love by liking and sharing our content. Good Day!

You might also like