The Apple Card is a high utility transaction tool that Apple provides to all of its users who use Apple Pay.
Not different from normal Credit Cards. The Apple Card interface can be used from any Apple device.
You like something, you buy it with the Apple Card and pay the amount later to Apple via Apple Pay or any other cashless method you fancy.
As of now, the Apple Card changes 10.99% to 29.99% interest on any and all purchases. Plus, like any other Credit Card out there, The Apple Card provides exclusive deals and discounts when you buy something from their approved retailers.
But, enough with the praises.
The Apple Card might be a great financial tool for you or your colleagues but, despite everything, it too has numerous limitations.
So, in today's article, we will talk about the pros and cons of the Apple Card and try to understand that is it logical to possess an Apple Card over a standard credit card or not.
So, put on your learning caps and hop on the journey.
Let us Begin…
Apple Card and its positives
The Apple Card enjoys some certain pros that make it a good choice for certain users. Some of them are:
1. Lenient Credit Scores
Under normal circumstances, banks require a CIBIL score of 700 or higher to issue a credit card to an individual. But, the Apple Card will only require a CIBIL score of 549-650.
So, even if you have a good to moderate credit score you will be able to enlist and acquire an Apple Card.
2. Independent of Annual Income
Standard Credit Cards often have a certain annual earning limit associated with them. This annual limit ensures that the user earns a handsome some so they can pay back their credit card bills.
Most banks in the US will accept an annual sum of 60k or higher as their income limit but not Apple Card.
Apple Card does not require and specific annual income. You earn as much or little as you want and pay them back within the given time. That's all they care about.
3. Build for Apple users
The Apple Card is built for Apple users.
As all of you may know that banks offer certain offers for using credit cards that they issue. The same applied to the Apple Card.
Users can get heavy discounts on the purchase of Apple devices and services when they pay using an Apple Card.
4. Fast, Reliable, and useful
Like any other credit card, the Apple Card is fast, dependable, and easy to use.
Negatives of the Apple Card
The Apple Card enjoys some certain cons. Some of them are:
1. Lack of security
Any standard Credit Card will come with numerous insurance coverages that protect the user and the bank concurrently in case of theft and larceny.
But, the same cannot be said about an Apple Card. Yes, it does provide some intermediate security features but it's nothing compared to bank credit cards.
2. Limited offers
As mentioned earlier, banks offer certain offers for using credit cards that they issue. These rewards can be anything between shopping discounts, travel assistance, or gift cards.
The Apple Card on the other hand will only give you discounts on some selected products and services. Most of which are related to the company.
3. Higher rates of interest
The Apple Card can levy interest of anything between 10.99 to 29.99% interest on purchases depending upon the model and commodity you purchased. Which is not higher than a credit card. But, there are major chances that you will have to pay higher interest on anything you don't buy from Apple.
Who is the Apple Card for?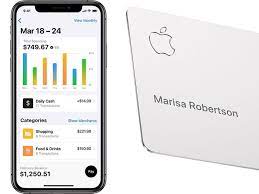 Now it all boils down to this.
The Apple Card is a great financial tool that can benefit people in different ways but, it's not meant for everyone.
If we had to say, we would conclude by mentioning - The Apple Card is best suited for students and enthusiasts.
If you are a businessman or in finances then an Apple Card might not be the right decision for you.

You might also like