If you have ever bought or used a notched iPhone such as the latest iPhone 12 Pro, the reliable iPhone X, or any of the handsets that were released between these two models, then you know that iPhone wastes a lot of space in the Tab Bar area of the iPhone display.
Thankfully, for jailbreak users, this is not a disaster because there is a way to reclaim that wasted space and it can be done with the help of a newly released jailbreak tweak known as Home Slice. Made by iOS developer biD3V, this jailbreak tweak will reduce the width of the Tab bar. While the change might not seem substantial at first, you have to remember that an iPhone's display is seven inches in measurement. So, even a change of a quarter to an inch can bring a lot of difference in the display of the iPhone.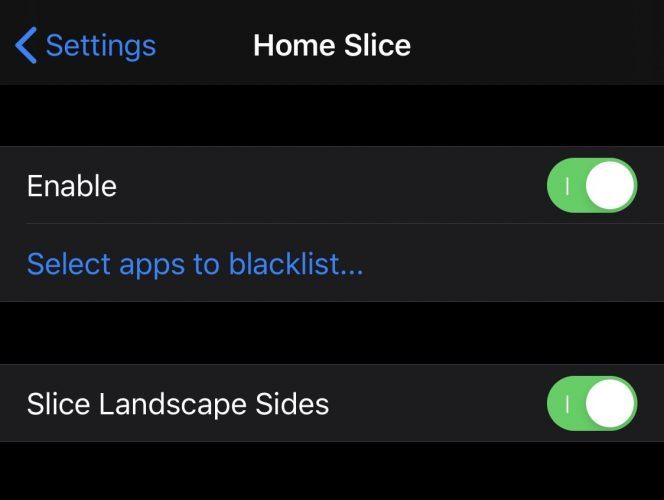 One thing that you need to remember is that the Home Slice tweak will affect all the apps on your iPhone that have a Tab Bar integrated with them. So, the change won't be limited to just the App Store. In a rare occurrence, it might happen that the tweak doesn't play well with one of your installed apps but there is nothing to worry about. The developer has designed this tweak in such a way that you can simply disable the tweak for the apps which don't do well with this tweak.
Once you install Home Slice on your device, you get access to a dedicated preference pane on the Settings app of your iPhone where you can configure the settings according to your liking. In the Settings option, you can perform the following functions:
Enable or disable the Home Slice tweak on your device.
Select a few apps to blacklist them so that the tweak is disabled for those particular apps.
Select whether the Home Slice tweak works in landscape orientation on your handset or just in the portrait orientation.
Although we agree that Home Slice is not a revolutionary tweak that you absolutely need to check out. But if you use a notched iPhone and want an improved user interface, then you should download this tweak on your handset. While getting a few more pixels is not a big deal, it could be a huge difference for someone who tends to read a lot of content on their iPhone. This tweak will save you the trouble of scrolling too much as you will be able to view more content in a single glance.
If you would like to give Home Slice a chance, then you can download this tweak free of cost from biD3V's repository using your favorite package manager. This tweak is currently supported on jailbroken devices with iOS 11, 12, and 13 and has notched phones. If you are currently not using biD3V's repository, then you can add it to your package manager with the help of the URL – https://biD3V.github.io/repo
Are you planning to use this tweak to reduce the pixels of your iPhone's Tab Bar? Do let us know in the comments!
You might also like