iPhone's status bar displays a lot of useful information like time, battery power, signal strength, carrier text, etc. On jailbroken devices, you can have full control over what is displayed on the status bar. Download HideStatusBarItemsPro tweak from official Cydia Repo for $1.00.
What is HideStatusBarItemsPro?
HideStatusBarItemsPro tweak is a minimalistic tool to manage all icons displayed on the status bar menu. Just as the name implies, HideStatusBarItemsPro lets you hide virtually anything that normally resides in the iOS status bar interface. The tweak is compatible with iOS 11 and iOS 12.
This tweak allows you to hide specific components in the status bar like the battery text, battery icon, carrier text, wifi icon and many more. It lets you hide elements based on whether you are on the lockscreen or the springbord. HideStatusBarItemsPro installs its own preference pane in Settings app.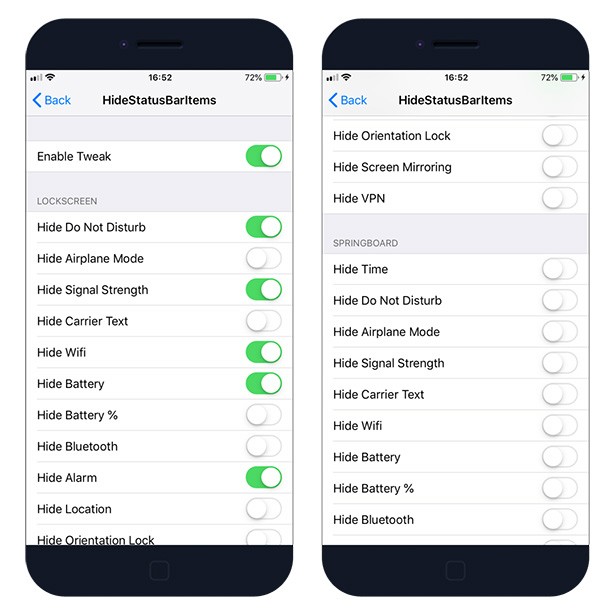 In the Settings pane, you can toggle the tweak on or off and choose what appears in the status bar and what doesn't. There are two sections available offering access to elements displayed on the lockscreen and springboard. Select items to hide and click the blue Apply Changes button.
Items hidden from the springboard section won't appear on the home screen, but can still be visible on the Lock screen. There are a lot of options to hide items from the status bar.
How to install HideStatusBarItemsPro?
You are just a few steps from installing the tweak from Cydia Sources. To add HideStatusBarItemsPro Repository to your list of Cydia Sources follow our step-by-step guide.
Step 1. Open the Cydia app on your device.
Step 2. Tap Sources → Edit → Add the official HideStatusBarItemsPro Repo.
Step 3. Switch to Search Tab and enter HideStatusBarItemsPro.
Step 4. Tap the Install button.
Step 5. Go to Settings → HideStatusBarItemsPro to configure the tweak.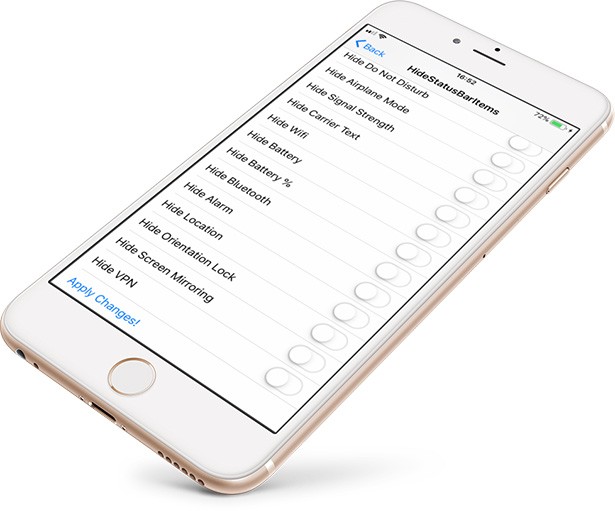 The tweak is by default disabled. To activate HideStatusBarItemsPro navigate to Settings app and find the right preference pane. Toggle the Enable button to turn the tweak on and Apply Changes. Below you can find the list of all elements that can be hidden from the status bar using this tweak.
Hide iOS status bar items
Hide do not disturb
Hide time
Hide airplane mode
Hide strength signal
Hide carrier text
Hide Wi-Fi
Hide battery
Hide battery %
Hide Bluetooth
Hide alarm
Hide location
Hide orientation lock
Hide screen mirroring
Hide VPN
You might also like