We all know that we have lots of such photos in our Photo Library that we wish to keep hidden, especially when we are giving our phone to a stranger or a friend who might accidentally scroll through the Photo Library.
Thankfully, the Photos app on iPhone has the feature of adding your media to a Hidden album that won't show these media to anyone who is casually scrolling through your phone's Photo Library. However, the Photos app isn't protected in any way which is a huge bummer. Well, if you are looking for a safe and secure way to keep your media hidden in Photo Library, then you should check out this newly released and free jailbreak tweak by iOS developer yan.
HiddenLock14 is a new jailbreak tweak that ensures the safety of your private media by asking the user to authenticate themselves before they can access the Hidden album in the Photos Library app. As you can see from the screenshot below, the user is being asked to authenticate themselves using the Face ID before they can open the Hidden album in Photos Library app. It is quite surprising that Apple hasn't added something like this as a part of the stock installation of iPadOS or iOS, seeing that the media in Hidden album is usually personal and private. This is why we are very happy that HiddenLock14 came to the rescue of jailbreak users and offered this feature for all the jailbroken devices.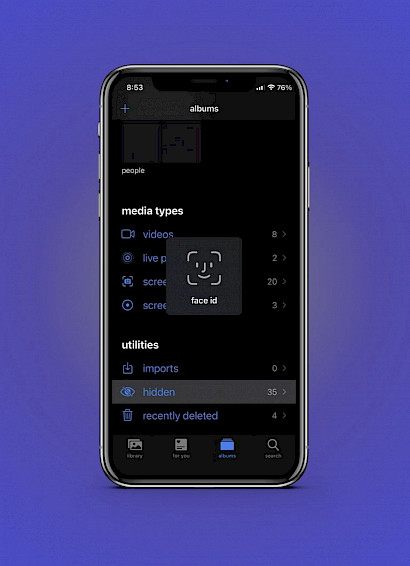 Well, it is no surprise but HiddenLock14 doesn't offer any configuration options. And don't worry, this jailbreak tweak still makes it easy to open the Hidden album in your Photos Library app. You simply need to open the Photos app, go to the Hidden album as you usually would and then authenticate yourself using your favorite method, which is Face ID in our case. And if you need to disable this tweak, then you simply need to uninstall this jailbreak tweak.
For the users who tend to use the Hidden album of Apple's native Photos Library app to hide sensitive media and wished Apple did more to protect the date, then HiddenLock14 is the perfect jailbreak tweak for you. You can download this jailbreak tweak for free from yan's personal repository using the favorite package manager. This tweak supports jailbroken iOS 13 and 14 devices.
If you aren't using yan's personal repository, then you can add it to your favorite package manager using this URL:
Are you planning to secure your sensitive data with the help of HiddenLock14 too? Let us know your thoughts in the comment section below!
You might also like