HappyMod is the latest in a long line of third-party app stores containing modified games and apps with premium and additional features. When you use HappyMod to install your games, you instantly get access to more coins, gems, paid features, and even premium subscriptions, all for free.
Download HappyMod APK today to gain access to all the premium and cracked Android apps you could possibly want, all free.
HappyMod Features
HappyMod offers all these features:
Mod Apps – HappyMod is one of the biggest stores for cracked and modified apps, providing premium apps for free
Old App Versions – if you cant use a mod on your version of Android, you can download an older version
Trending Apps – download cracked and premium versions of popular, trending games and apps, such as Tetris, PuBG, Subway Surfers, and many more
Simple, User-Friendly - with a simple UI, HappyMod is much like the official Play Store in looks and user experience
Mod Parameters – the app provides you with each modded apps parameters, so you know exactly what features to expect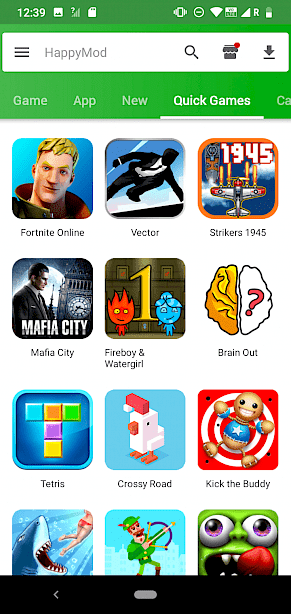 How to Download HappyMod on Android
Downloading and installing HappyMod on Android is simple but requires you to install the APK file onto your device:
1. Download the HappyMod APK file to your device
2. Open your Android Settings apps and go into Security
3. Tap to enable Allow Unknown Sources
4. Go to Downloads and tap the HappyMod file to start the installation
5. Once it's done, you can download whatever cracked games you want
How Does HappyMod Work?
While HappyMod functions in much the same way as the official Play Store, it does have extra benefits. While you might think you are downloading stock apps, for example, what you are actually getting is modified versions, new versions that have all the premium features unlocked, extra features added, and even offer premium subscriptions free of charge. HappyMod doesn't include tock apps, only the modified versions, versions that you won't find in the official app store.
Unofficial Apps – Take a game like Clash of Clans, for example. Normally, you would need to earn coins and elixir to continue through the game but, when you download it from HappyMod, you get unlimited amounts of coins and elixir. The same goes for any cracked app that you download from HappyMod; everything you need to purchase or earn in the official game version is provided free of charge.
Familiar UI – the user interface is very much like that of the official Play Store, too, providing users with an easy way to navigate the app. All the content is in categories, simply pick one and find what you want to download; it's as simple as that. You can choose from the Apps section, the Games section, and the New section, where you can find all the latest additions to HappyMod. Plus, you can use HappyMod alongside the official store, getting the best of both worlds.
Mod Changelogs – every cracked app in HappyMod comes with a changelog that tells you what has been added to it. That way, you can decide if the app is for you and go ahead and download it or find something else.
Disclaimer
We just want to remind you that, given the nature of HappyMod, it is a pirated app store and is not legal to use. We do not condone piracy in any form and would ask that you use HappyMod responsibly, as a way of testing apps before you decide whether to purchase them or not.
How to Update HappyMod
All applications need to be updated at some time or another, whether it is to fix a bug, add more security, or improve the app's performance. The developers will always notify you when there is an update, in much the same way as you get notified with the Play Store. Simply follow the directions in the update to install it.
Also, the app itself may receive an update to a newer version. It is down to you whether you update and use the later version or stay with an older one – it may be that compatibility issues force you to stay on an older version. However, you should be aware that choosing not to update means that you may not be getting all the latest security and, as such, the developers will not take any responsibility for any bugs or other issues that occur as a result.
You might also like