Download Happy Chick for iOS
kuba - Thursday, 3 October 2019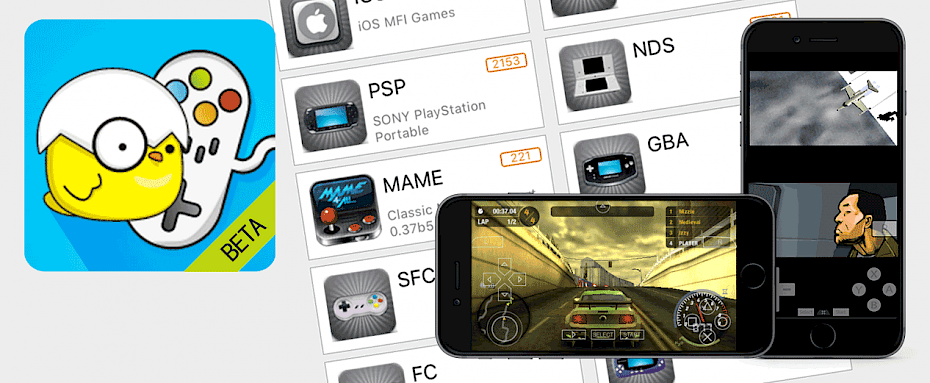 Download Happy Chick for iOS and play all popular games created for N64, Game Boy, PSP, MAME, and SNES in one app. When you are searching for a multi-platform emulator for iOS you should definitely install Happy Chick. The emulator works on both jailbroken and non-jailbroken iOS devices.
---
What is Happy Chick?
Happy Chick is one of the most comprehensive game emulators supporting arcade (MAME\FBA), GBA, GBC, MD, SFC (SNES), FC (NES), PSP, N64, NDS, PS1, and DC. Using this free iOS emulator you can not only play your favorite games but also download them directly to the iPhone.
The biggest advantage of this multi-platform emulator for iOS is access to all games directly from the app. You can download for free games available for supported platforms navigating through categories. Every game comes with a description, rating, screenshots, and download links.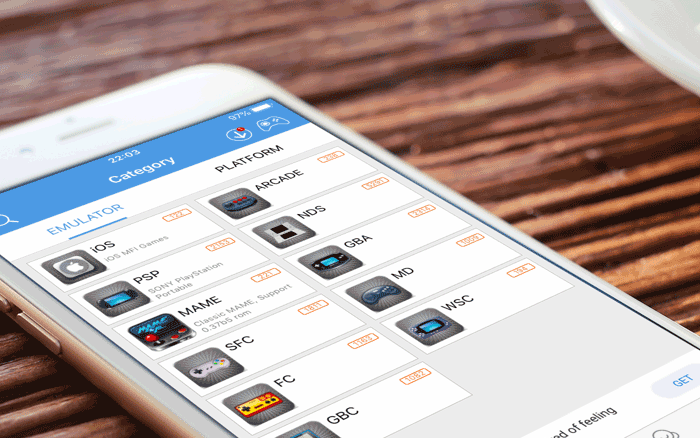 Moreover, Happy Chick offers full support for GameSir handle allowing you to connect the gamepad to your iPhone via Bluetooth. From app settings, you can configure handle scheme for all supported gaming platforms. Of course, you can also use the controls displayed on the screen.
Happy Chick offers features to automatically save game states (also in a cloud), create a list of favorites games for quick access, use cheat codes, adjust key position, take screenshots, skip frames for better performance, activate vibration on button press, or change controller opacity.
How to install Happy Chick on iOS
Happy Chick can be installed on iOS 12 and iOS 13 device like iPhone without the need of Jailbreak or Apple ID. You don't need a PC or Mac to install the app on iPhone.
Download Happy Chick without a computer. No jailbreak required!
When you get Happy Chick without PC it can happen that the app will stop working. The reason for this is that Apple will revoke the installed certificate. To make Happy Chick work again you will need to remove the app and reinstall it using the same steps from below.
Step 1. Click Install Happy Chick from your browser. (mirror 2, mirror 3, iOSNinja)
Step 2. Tap Install on message prompt "ignition.fun would like to install Happy Chick".
Step 3. Happy Chick App Icon will appear on your Home Screen.
Step 4. Navigate to Settings → General → Device Management.
Step 5. Find the newly installed Enterprise App Certificate.
Step 6. Click on the certificate name.
Step 7. Trust apps from the developer to run on your iPhone.
Step 8. Allow access to your data and tap Trust.
Step 9. Run Happy Chick from home screen.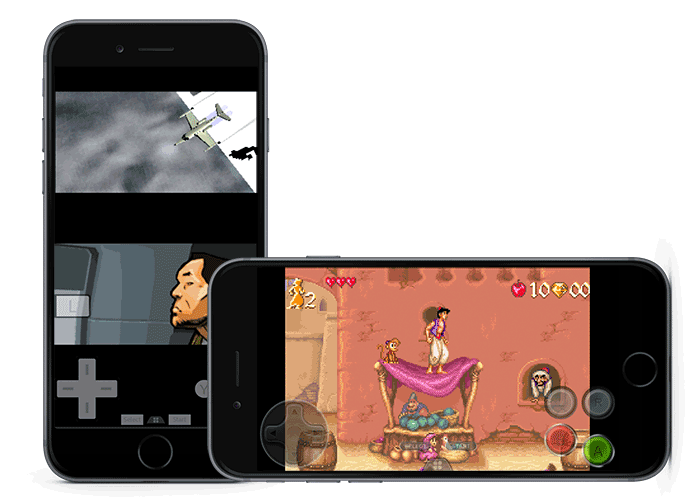 When you completed all step your Happy Chick App should be installed correctly on your iPhone. After Happy Chick App will be downloaded you can't run the app. An Untrusted Developers Message will appear and it's required to complete all tasks from Step 4 in our guide above.
If you have a problem installing Happy Chick App from our link you can also try alternative options and find the app via popular Cracked App Stores. Free Happy Chick emulator is available via Panda Helper or AppValley. Usually when the download will not start simply try again later.
---
Download Happy Chick IPA
Download Happy Chick IPA file and sign it using Cydia Impactor (Windows, Linux, Mac) and sideload the app. We provide a full step-by-step guide on How to use Cydia Impactor to install IPA files on iOS.
Step 1. Download Cydia Impactor, and unzip the file.
Step 2. Download HappyChick.IPA (113 MB).
Step 3. Open Cydia Impactor and navigate to Device → Install Package.
Step 4. Select the HappyChick.ipa version 1.5.6.4 file to install.

Step 6. Enter your AppleID and app-specific password to sign apps not provided by Apple.
Step 7. Add the certificate on iPhone to trusted from Settings → General → Device Management.
Impactor can install max 3 apps on your iPhone. Every 7 days after signing, you will have to connect your iPhone to your PC and repeat the install process, however, you do not have to delete the apps.