Have you ever run out of disk space and it was hard to determinate which files and folders take up the most space? Using free software like GrandPerspective it's easy to manage your disk and spot the largest files on your Mac. Download the free GrandPerspective application for macOS.
What is GrandPerspective?
GrandPerspective is a small utility app for Mac that shows graphically the disk usage within a file system. It uses so-called tree maps for visualization. Each file is shown as a rectangle with an area proportional to the file's size. Files in the same folder appear together, but their placement is arbitrary.
When the app starts it shows a Welcome window. Here you can select a folder that has been scanned before by double-clicking it in the list of recently scanned folders. Alternatively, you can select another folder by clicking Scan Other Folder. Select folder to scan to determine the size of all files in it.
The software offers hight configurable display of views. From GrandPerspective settings, you can select color mapping schemes and color files by their name, extension, file type, parent folder, top folder, level in the folder hierarchy, creation time, modification time, or last access time.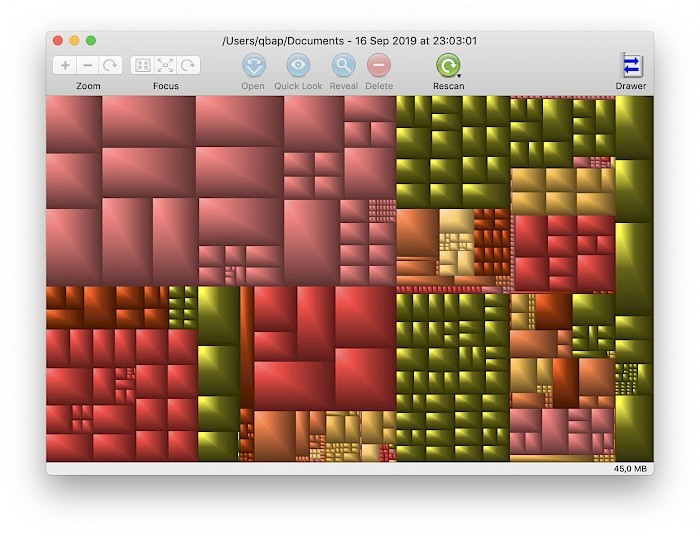 GrandPerspective download is available only for Mac users.
Other features include an option to choose of color palettes, configurable mapping by file type, select files and folders in the view, navigate to files and folders in Finder, delete files and folders from the view, preview files and folders using Quick Look, and analyze Time Machine back-ups.
Moreover, use advanced filters to mask files in the view, filter files from the view, exclude files and folders when scanning a disk. Filters and filter tests are automatically stored in the user preferences. Additionally, save images of configured views or compare results before and after clean-up.
GrandPerspective can optionally view package contents or view the entire volume, save results of disk scanning operations and reload and view again at any time, traverse up and down the folder hierarchy, and supports twin or duplicate a view for different displays of the same data.
Changelog
Version 2.2.3
new localization: Portuguese and Furthermore
the Start Window has been simplified
Version 2.2.2
fixes required to run the application on macOS Catalina
Catalina is currently in beta and changes how the System Volume is stored
file scanning algorithm has been adapted accordingly which should avoid crashes
Version 2.2.1
Version 2.2.0
improvements to Dark Mode
fix for a problem that could cause the app to crash
You might also like