If you tend to listen to a lot of music on your iPhone, then I am sure you are aware of how the iOS' Now Playing widget looks like. This widget is available on both the Lock Screen and the Notification Center interface but the iOS' Now Playing widget has had the same look and feel except for a few minor changes for a lot of years now.
So, if you are looking for a bit of a change in the aesthetics, then let me tell you that you won't find it with an Apple provided update. But there are many good jailbreak tweaks out there that would do the job including Gradi by iOS developer Ginsu. This newly released jailbreak tweak offers a little customization options to the user by offering a Google Music / YouTube Music-inspired Now Playing widget interface that can replace the iOS' native one.
One of the best things about Gradi widget is that it uses the color inspiration from the album artwork of the song that might be playing at the moment and a subtle motion can blur the transition of the media controls into the album artwork. Another important thing to note about this jailbreak tweak is that the Gradi widget will display the Apple Music icon just like it is displayed in the native widget.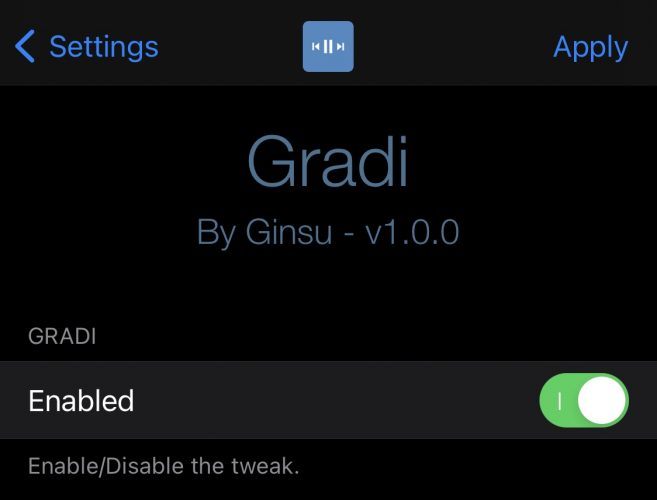 Moreover, Gradi offers support to all music and streaming apps that currently use the Apple's native Now Playing widget such as Pandora, Spotify, YouTube Music, and a lot more. Also, Gradi widget doesn't use as much of the display real estate of your handset as the iOS' native widget does. So, you end up having more space for the notification banners and can have other useful information on the display screen that you might prefer to see.
For the most part, Gradi is a fully-automatic tweak but it does add a preference pane in the Settings app after the installation so that users can easily enable or disable the tweak whenever they want. But apart from that, you don't have any major configuration options to change the tweak. Once you have made the changes in the Gradi tweak, you can click on the Apply button that is available at the top right corner to turn the tweak on or off.
Are you interested in trying out Gradi for yourself? If the answer is yes, then you can easily purchase this jailbreak tweak from the Packix repository using your favorite package manager. This tweak supports jailbroken iOS 14.2 or later versions and might work on the earlier versions of iOS 14 as well but that is not confirmed yet.
Do you like the iOS' native Now Playing widget look or the Gradi widget look? Let us know what you think in the comment section below!
You might also like