When the Apple Event was announced in the September of this year, many people believed this is the time Apple will release their new 3rd Gen Airpods along with other devices like Phone 13, iPad Mini, etc. But, this has not happened.
So, when will the new Airpods be released? Well, let's find out.
The Rumoured release date of Airpods 3
Although a few rumors suggested that we'd get AirPods 3 at theApple Event on September 14 (other suggestions include AirPods 3 and iPhone 13 coming out at the same time) However, this theory proved to be untrue.
So, we expect somewhere around the first quarter of 2022 could be the perfect time for Apple to drop this new device.
Design of Airpods 3
While some initial rumors are suggesting an entirely new AirPods 3 design, more recent rumors suggest it's likely to be built on those of the AirPods Pro. This certainly seems to be the case with this AirPods 3 leak of photos taken by 52 Audio.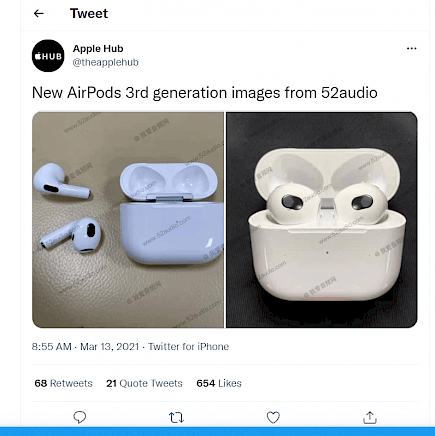 This, in conjunction with several matching, renders from the Chinese website also published that show the addition in the AirPods Pro style tips. It could also mean, in contrast to the present AirPods it is possible to customize the size to your needs with AirPods 3 through swapping various tips sizes inside and out.
Yet, more recent image leaks from Gizmochina and Leaks ApplePro could suggest an indication that AirPods 3 will stick with an open-ended design rather than making use of tips. This particular leak reveals what could be the latest AirPods design, which fits inside the charging case but not leaving room for any additional tips.
In the past, 52 Audio has also released images showing the same style as LeaksApplePro's images. They may be able to use the earphones with or without ear tips, but it would be weird to pull them out every time you put the earbuds back into their case to charge them, as suggested in the accompanying text. The tipping issue is still in the air, however, the AirPods Pro-style stems have been seen repeatedly in leaks. The Elec's post also focuses on an AirPods Pro-inspired design for the AirPods 3.
Ming-Chi's Kuo has also said that the buds could have an appearance "similar to AirPods Pro," according to a research note discovered from MacRumors. This speculation was verified in an October Bloomberg story, which also said that the AirPods 3 will have shorter stems than Apple's premium earbuds.
There's also the chatter that is backed by Elec's report concerning Apple having a similar system in package (SIP) design as seen in its ANC wireless earbuds. It allows the H1 chip and noise-canceling circuitry to be incorporated into an elongated design.
More recently an Apple leaker named Fudge posted a picture on Twitter of a brand-new audio testing tool that's believed to be being distributed to service providers to test AirPods. Close inspection shows it is fixed at the base of "a new iPhone holder," close to where the phone's microphones are.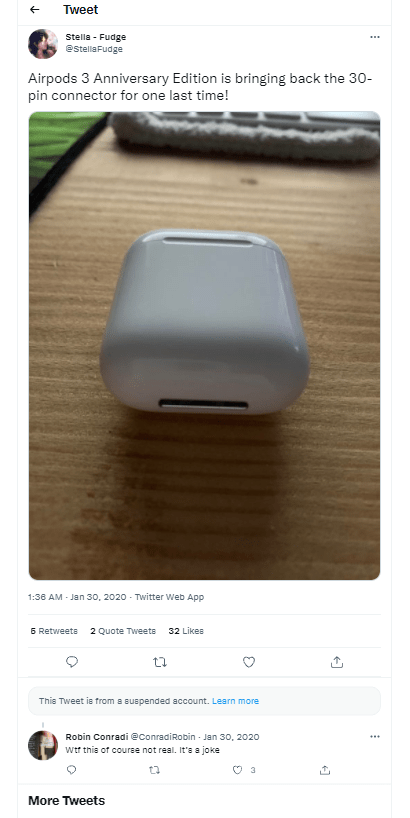 The idea is believed to reduce the needless AirPods services such as deep cleaning. Fudge says the tool is designed for currently available AirPods models, however as far as we know the possibility is that it could be a test tool for AirPods 3. AirPods 3.
Features
While they'll look similar to the AirPods Pro, AirPods 3 will not have high-end features, such as Active Noise Cancellation or Transparency Mode. These new earbuds have an entirely different design and will have some enhancements in connectivity and performance and some new features.
Apple is likely to promote the use of Dolby Atmos and Spatial Audio with this next generation so that people can appreciate more clearly the differences between the new model and the previous AirPods.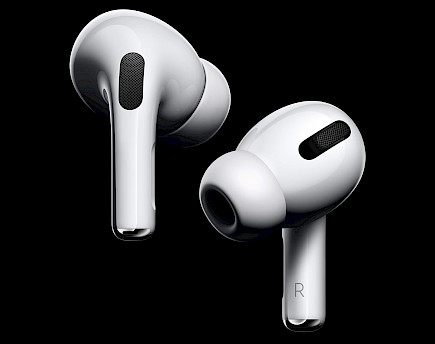 Improvements in battery life and improved microphones are also important features people are hoping to see. With the AirPods Pro beta firmware, Apple is testing a brand new conversation Boost feature that could be added to the new headphones.
Price
For the AirPods 3 price, Apple is expected to put prices in the $150-$200 price range.
One source says, Apple might release 2 different versions of the new Gen 3 Airpods. One that comes with a wireless charging case, and another one is just an ordinary case or only one equipped with a wireless charging case.
Winding-up
The delay of the new Airpods has been kind of a bummer for a lot of people who like Airpods but, needless to say. When it releases it will be welcomed with a massive fan reception.
You might also like