Apple introduced GarageBand for iOS/iPadOS. The most widely used music creation app, GarageBand, allows users to unlock more of their musical creativity through all-new sound packs from today's top producers and artists. In addition, two new Remix Sessions allow users to learn how to remix right inside the app. They include step-by-step instruction and songs by Grammy Award-winning artists Lady Gaga and Dua Lipa.
Seven new Producer Packs are now available for GarageBand. They contain beats, loops, and instruments from some of the most respected producers in the world, such as Oak Felder and Soulection. In addition, a second Producer Pack is available as a companion experience to Apple Original's "Watch The Sound With Mark Ronson," which premieres Friday, July 30, on Apple TV+. It allows viewers to create sounds inspired by the music featured on the show.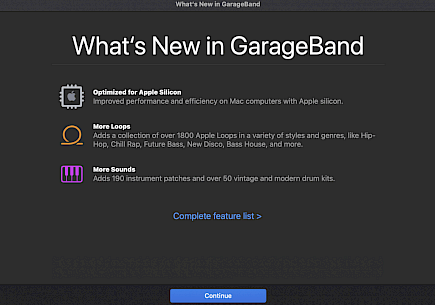 "GarageBand remains a catalyst to music creation--making seasoned pros and novices alike easy to start their own ideas while making it simple for beginners to create their own," stated Bob Borchers, Apple's Vice President of Worldwide Product Marketing. He further said that "We've teamed up with an incredible collection of producers and artists to bring musicians a new set of sounds. We hope that more people will feel inspired to use GarageBand to express their creativity".
To download the latest version of GarageBand. Click "here"...
New music sound packs
Dua Lipa and Lady Gaga's Art of the Remix
GarageBand now offers two in-app Remix Sessions that allow anyone to improve their remixing skills. Each session features inspirational videos featuring each artist telling their stories behind the hit songs "Break My Heart" and "Free Woman" (Lady Gaga), along with step-by-step remix instructions by an Apple Retail Creative Pro using GarageBand Live Loops versions of each song.
These sessions allow anyone to interact with the songs just like an artist would.
They can hear the beats and isolated vocals that make up the core of the song. GarageBand has thousands of Apple Loops and touch instruments that allow users to express their creativity. Users can take their remixes in any direction, from Hip Hop to EDM, or any combination thereof.
These Remix Sessions are easy and fun for all levels. They expand on Apple's Today at Apple educational sessions, which take place at Apple Stores around the globe. Today at Apple Music Labs has featured many top artists, including Alicia Keys and Billie Eilish and Madonna, Pu Shu, Taylor Swift, Khalid, and Madonna.
Creative Inspiration from the Biggest Hitmakers
With seven new downloadable Producer packs, GarageBand's top music producer packs have made it possible for musicians to create their own songs. Every Producer Pack contains hundreds of royalty-free loops and beats, instruments and drum kits, as well as synth patches and samples that reflect the style and vibe of each producer. In-app videos offer insight into the creative process of each producer and words of encouragement for beginners.
"Watch the Sound With Mark Ronson" Companion Experience
"Watch the Sound With Mark Ronson," a new Apple Original docuseries," Scar and Grammy Award-winning producer-artist Mark Ronson, investigates the intersection of technology and musical production.
Users may expand their watching experience by engaging with GarageBand versions of every episode of the music technology, including synthesizers, reverb, and voice effects, with the special GarageBand Producer Pack "Watch the Sound with Mark Ronson."
Mark Ronson, artist, producer
"Watch the Sound With Mark Ronson" is our new series. GarageBand brings the sounds and beats of the show to anyone who's inspired to make their own music. The Producer Pack brings the excitement and creativity of the show in a way that I couldn't have imagined".
Apple has been great at everything. Apple keeps on improving everything and making it better and better. That is the thing I like the most about Apple. It was innovative, and it will always be. We are sure no other competitor has been doing this as much as Apple always does. Users of GarageBand must be happy after seeing the added features.
You might also like