g0blin Jailbreak for iOS 10 - no computer required
kuba - Monday, 8 July 2019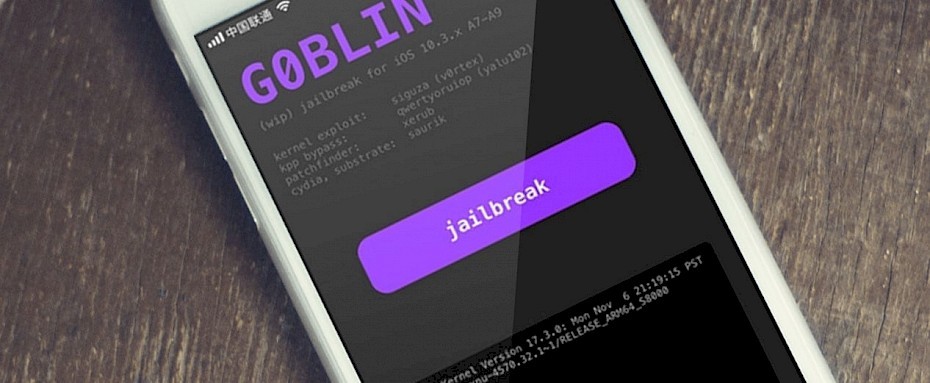 13 Jan 2018 is the initial release date for the first version of g0blin Jailbreak tool for A7-A9 devices. When you are own an older iPhone or iPad with iOS 10 you can use this tool to jailbreak your device and install some hack and tweaks. Download g0blin Jailbreak without a computer or sideload IPA file.
What is g0blin Jailbreak?
g0blin Jailbreak is using exploits and kernel patches to Jailbreak iOS 10.3 - 10.3.3 devices running on iPhone, iPad, and iPod devices with 64-bit chipsets. After jailbreaking the tool installs Cydia app on the device allowing you to download tweaks, apps, libraries, and themes from Cydia Repositories.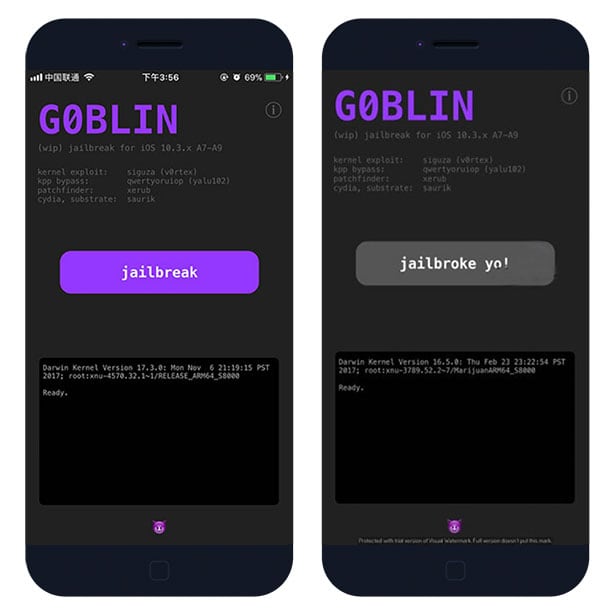 The semi-untethered jailbreak for 64-bit A7-A9 devices works by sideloading an IPA or downloading the app via 3rd-party AppStore. g0blin is no longer updated due to the release of stable doubleH3lix.
Supported devices:
iPhone 5S (10.3-10.3.3)
iPhone 6/6 Plus (10.3-10.3.3)
iPhone 6S/6S Plus (10.3-10.3.3)
iPhone SE (10.3-10.3.3)
iPad Mini 3 (10.3-10.3.3)
iPad Mini 4 (10.3-10.3.3)
iPad Air 2 (10.3-10.3.3)
iPad Pro 12.9-inch 1st generation (10.3.3)
How to jailbreak iOS 10 with g0blin
Download g0blin IPA file and sign it using Cydia Impactor (Windows, Linux, Mac) and sideload the app. We provide a full step-by-step guide on How to use Cydia Impactor to install IPA files on iOS.
Step 1. Download Cydia Impactor, and unzip the file.
Step 2. Download g0blin.IPA (38 MB).
Step 3. Open Cydia Impactor and navigate to Device → Install Package.
Step 4. Select the g0blin.ipa version RC2 file to install.

Step 6. Enter your AppleID and app-specific password to sign apps not provided by Apple.
Step 7. Add the certificate to trusted from Settings → General → Device Management.
Step 8. Open g0blin app and tap Jailbreak.
---
Download g0blin Jailbreak without a computer
Step 1. Install Panda Helper Store.
Step 2. Navigate to Utilities category.
Step 3. Install g0blin app on your iOS device.
Step 4. Lunch g0blin from Home Screen.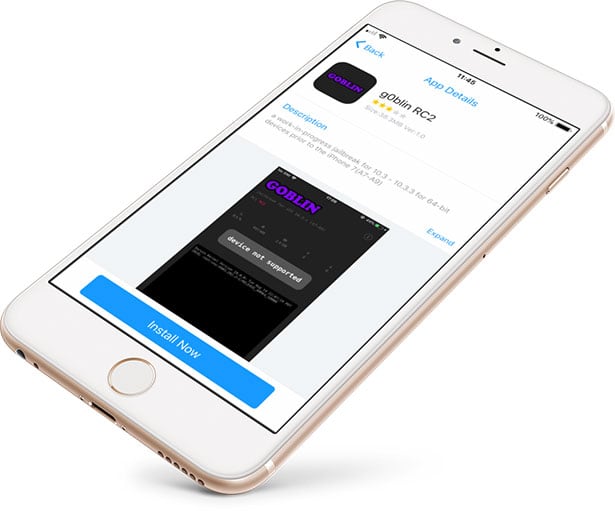 Changelog:
release candidate 2
fix respring panic
uninstalls dropbear, you can install OpenSSH instead
fix Cydia icon not always appearing
supports more device/OS version combos
release candidate 1