Are you bored of the same old Camera app and its interface? If yes, then you should try out this new jailbreak tweak dubbed FuturistiCam. Created by iOS developer PlatYkor, FuturistiCam turns the iOS' native Camera app interface into a science fiction movie. It offers custom aesthetics to the handset along with interesting sound effects so the Camera app is extremely fun to use for the end user and picques interest of others who are around you.
FuturistiCam brings a lot of amazing effects to the table such as a Stargate-themed overlay for the viewfinder frame, histogram effects on the borders, an onscreen guide, improvement to manual focus effect, and a lot more. Another thing to note is that FuturistiCam complements these amazing effects with special theme sound effects that go well with the theme too. Moreover, the developer ensured that these sounds are few and far in between so that it doesn't become annoying for the end users.
Once you install FuturistiCam, you get a dedicated preference pane in the Settings app and the users can easily configure the tweak to suit their liking. In these Settings, you can perform the following things:
Turn on or off FuturistiCam
Enable or disable Trix voiceover
Enable or disable Trix message
Enable or disable Histogram effects
Enable or disable Stargate overlay effects
Enable or disable the complementary sound effects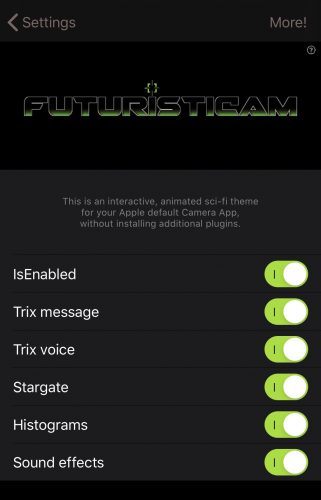 One of the best things about FuturistiCam is that the sound effects can be turned off and you can easily enjoy the aesthetics. Although if you enable both the features, it will give you the best user experience but some users might want to enjoy a silent Camera app experience and this is where these features come handy for the user.
If you are interested in getting FuturistiCam tweak on your handset, then you can get it from the Packix repository for $1.40 using the favorite package manager. FuturistiCam tweak is currently supported on jailbroken iOS 12, 13, and 14 devices although it has officially been tested on a few devices only.
What do you think about FuturistiCam as an enhancement for the native Camera app? Let us know your thoughts in the comment section below!
You might also like